Several factors play into a player's ability to grow from year-to-year, some of which include health, their surroundings, and most importantly opportunity. Last season was a collective success for the Buffalo Bills organization as a whole, but the only way they can build from that heartbreaking loss in the AFC Championship is if multiple players take a step forward with their play.
Everyone always has the potential to be more productive than they were the year before, but considering the aforementioned factors listed above, these players stand out amongst the rest:
Josh Allen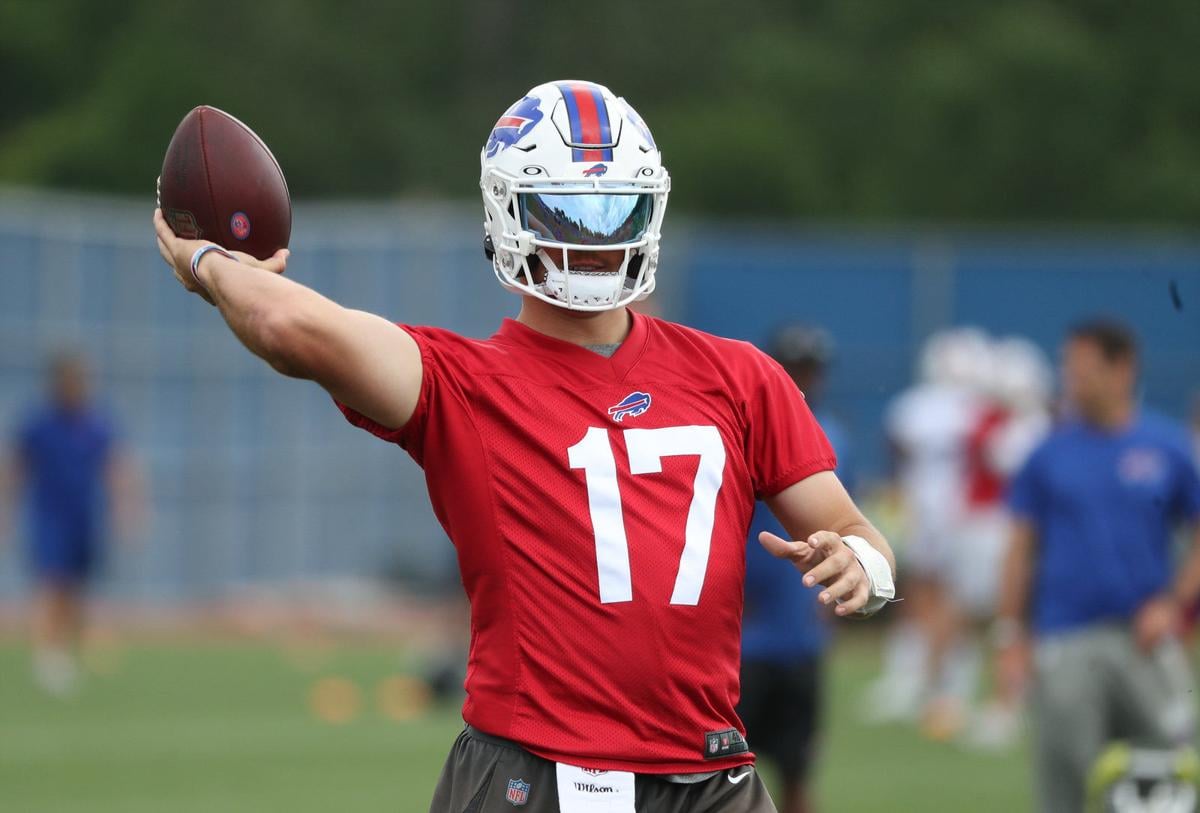 Believe it or not, Josh Allen's ceiling has the potential to be even higher than it was last season. This is a startling thought for the rest of the league, considering that Allen accounted for 46 touchdowns and nearly 5,000 yards of total offense. Given his trajectory over the past three seasons, all signs point towards Allen taking yet another jump in year four.
Allen's supporting cast is as strong as it has ever been, with essentially the entire starting lineup from last year's third-highest scoring offense returning for another year. Two-time Pro Bowler and former Super Bowl Champion Emmanuel Sanders will be added to the mix, giving Allen another dangerous weapon to throw to this season opposite Stefon Diggs. The addition of former number two overall pick Mitchell Trubisky at backup QB should also light a fire underneath Allen, even if he is not actually a threat to take his job. The competitor in him will likely feel otherwise.
During the offseason, Allen has focused on improving his ball placement on in-breaking routes while working with personal QB coach, Jordan Palmer, who has trained him every offseason in California since getting to the NFL. Despite his success in nearly every area of his game last season, Allen did struggle with in-breaking routes more than any other throw. According to Sports Info Solutions, only 58.1 percent of Allen's passes on in-breaking routes were on target, and his accuracy on those throws diminished the further the depth of target became. Clearly, Allen correctly identified a weak spot in his game, and his commitment to growing in that facet of the game could pay off big time for the Bills, just as his focus on improving his deep ball did in 2020.
Dane Jackson
Opportunity. No one on this Bills roster captures the essence of the word "opportunity" more than Dane Jackson. After being selected with the 239th overall pick in last year's draft, Jackson sat on the shelf for most of the season. However, when opportunity called, Jackson stepped up to the plate.
Jackson was elevated from the practice squad for five games, starting in two of them. In those games, Jackson recorded 15 tackles, one interception, and one fumble recovery. Additionally, Jackson had five passes defended during that span. In comparison, Tre'Davious White had 11 PD in 14 games, so Jackson clearly displayed a knack for being around the football. Jackson was reverted back to the practice squad after each game he played due in part to the unique rules surrounding practice squad protections last season. However, that does not mean that the Bills' brass was not impressed by the rookie. Bills GM Brandon Beane has publicly expressed a ton of belief in Jackson moving forward, sharing glowing reviews to several different media outlets. Buffalo's apparent belief in Jackson is amplified by the clear opportunity they have presented him, as they have been reluctant to add a veteran CB as they normally like to do. Only Levi Wallace stands in the way of a starting spot for Dane Jackson as of now, so that leaves a wide open window for him to stand out in a larger role this season.
Dawson Knox
Similar to Dane Jackson, sometimes the biggest vote of confidence an organization can give a player is to not bring in a more established name to compete for their spot. Despite months of rumors circulating about the Bills' reported interest in Eagles tight end Zach Ertz, the fact that Buffalo has not made a move to this point shows that they are more than comfortable moving forward with Dawson Knox as their starter once again in 2021.
Knox has been a huge talking point this offseason, as many still question how reliable he can be given his unsteady hands. Last season, the young tight end struggled with drops once again, catching just 54.5% of his targets.
Tight end has a reputation for being a slow developing position, but Knox's regression from year one to year two was certainly alarming. As the lead tight end, Knox finished with just 24 receptions for 288 yards. Even with his lack of production, Buffalo's reluctance to bring in a high-priced tight end signals that Knox will have every opportunity to prove his worth in 2021.
Knox recently attended "Tight End University", a three-day summit organized by Travis Kelce, George Kittle, and Greg Olsen for tight ends to gather, workout together, and learn from one another. Perhaps being surrounded by the league's best will give Knox the confidence he needs to grow in year three.
Ed Oliver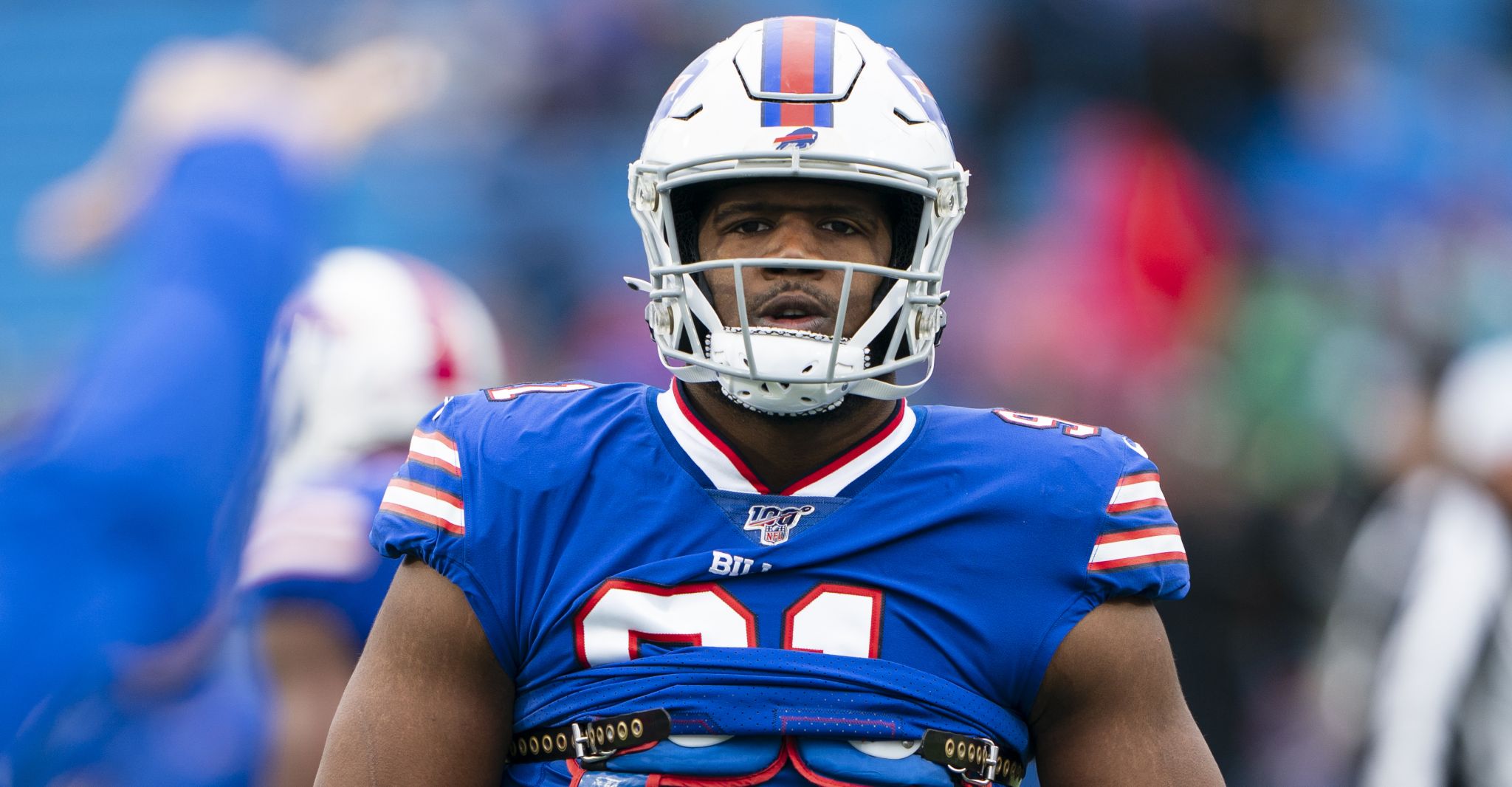 Another player that should benefit immensely from Lotulelei's return is Ed Oliver, who lines up directly next to him on the defensive line. Oliver is a wrecking ball at 3-technique, but due to him being a bit undersized for a defensive tackle, he struggled to produce without the presence of a legitimate 1-technique to take on double teams next to him. As a result, Oliver finished his sophomore campaign with just 33 tackles and three sacks on the season, a noticeable step back from his production as a rookie.
Fans have anxiously waited for Oliver to finally showcase the disruptiveness that the former ninth-overall pick knows he can bring to the table. Recently on Instagram, Oliver uploaded a story highlighting an NFL Network segment on TV which discussed Buffalo's hopes of improving their defensive front. Oliver captioned the photo, "challenge accepted," showing a glimpse of his motivation to live up to the expectations of fans this season.
The return of Lotulelei by Oliver's side should free up more favorable one-on-one matchups for the high motor pass rusher, but he may also benefit from Buffalo's new additions on the edge as well. If Greg Rousseau and Boogie Basham gain the attention of opposing offenses early on, Oliver can be more free than ever to wreak havoc in the middle of that front. Oliver arguably has the most to prove out of everyone on this list, so time will tell whether or not he will live up to the billing of a top-ten pick.
The 2021 Buffalo Bills are loaded with promise, but their Super Bowl aspirations will only come to fruition if the players, coaches, and team as a whole show growth from last season. If each of these players can stay healthy and play to their capabilities, this team could become, as legendary Buffalo Sabres broadcaster Rick Jeanneret would say, "scary good".
Tremaine Edmunds
At just 23 years old, Tremaine Edmunds is still younger than half of the Bills' incoming draft class despite the fact that he is now entering his fourth NFL season. Edmunds stepped into a leadership position early on with the Bills, leading team meetings since his rookie season as former DT Kyle Williams encouraged him to do. Taking command of a locker room at such an early age is no easy task, but Edmunds embraced the challenge, and his teammates rewarded him by naming him a captain in each of the past two seasons.
Edmunds' career to this point has been filled with ups and downs, being named to two Pro Bowls at Middle Linebacker while also experiencing some growing pains along the way. There is still plenty of room for Edmunds to grow in all phases of the game, including pass coverage, play recognition, and shedding blocks. Considering his age, there is no reason to believe he cannot continue to improve in each of those areas.
One thing that will benefit Edmunds is the return of Star Lotulelei, who decided to opt out last season. While he does not show up much in the stat sheet himself, Lotulelei's ability to plug up holes in the run game is a key reason why Edmunds has had so much success. Without Lotulelei in the fold last year, Edmunds struggled to halt the run, but now he gets the chance to work with him once again in 2021.