The Buffalo Bills appeared to strike gold in the 2019 draft when they landed Ed Oliver
and Cody Ford with their first two picks. Early on in the draft process Oliver was
considered by some evaluators to be a potential #1 overall pick. He was that athletic,
that powerful and flashed that rare of ability. When Oklahoma Sooner product Cody
Ford declared, the highly respected draft expert Mel Kiper had him ranked as the 3 rd
best guard in the class. Early indications were that Brandon Beane had crushed the
draft. He received praise from many notable analysts as well as high marks from
several of the top football outlets. USA Today and Bleacher Report both graded the haul
with an (A) while NFL.com settled on an (A-). Unfortunately, post draft grades are a
hollow evaluation, based solely on projection and guesswork. No scout or analyst truly
knows how a player will translate into the league. There is no crystal ball telling which
top guys will bust or which undrafted player will go on to have an amazing career. One
thing is for certain, for all of the hype and praise that has surrounded this draft class
Oliver and Ford have yet to live up to their billing as top picks. This has many Bills
faithful concerned as they enter their 3 rd season. The question is which of these two
players is under the most pressure to perform in 2021?
Ed Oliver: Oliver was sold as the second coming of Arron Donald, which is an unfair
comparison to be made of any rookie, given he is a generation type of player. While
some were hoping for a Donald type of presence from Oliver, many were content for
him to just play like the second defensive tackle selected in the draft, neither got what
they wanted. Last seasons was set to be the breakout year for many Bills players, none
more so than Oliver. Fellow defensive tackle Jordan Phillips left for Arizona in free
agency, slating Oliver to take on a larger role and become the starter alongside Star
Lotulelei. Then Covid-19 hit America, disrupting the normal function of every institution,
and the NFL was no exception. Many players were afforded the opportunity to optout of
the season penalty free. Lotulelei was one of these optouts and his absence would have
a ripple effect, stunting the progression of several young players none more so than Ed
Oliver. With Lotulelei out of the line picture Beane was hard pressed to sign a late
replacement, finding comfort in former Carolina DT and first round pick Vernon Butler.
Though Butler arrived as a big bodied tackle (6'4-330lbs.) fresh off his best season as a
pro he did not have near the impact as Lotulelei, and McDermott and Frazier forced
Oliver down into the 1-Tech where he would face more double-team situations, limiting
his natural ability to be disruptive and get after the QB. Credit to Oliver he never
verbalized his frustration with his usage, he played hard but by all accounts, he did not
take that next step as was expected. "At the end of the day, when you look at the film, I
think Ed has made improvements in his second season. Do I think there is more work to
be done? Absolutely, just like there is with our entire football team." Head Coach Sean
McDermott offered on Oliver's progress.
Oliver finished 2020 with a slight decrease in production across the board, tallying 30
total tackles, 3 sacks and 1 forced fumble, while his statistics dropped unfortunately so
did his PFF grade, dropping down nearly 16 points from his rookie year finishing with a
48.0 overall. What was troubling but somewhat expected was that his run-defense
grade was just 30.1 this season, but the silver lining was his pass-rush grade jumped
more than 10 points while he did not tally as many sacks as 2019, he had an increase in
pressures with 36. "Ed's playing really well, and if people want to just look at sack
numbers, he doesn't have those" General Manager Brandon Beane said. "But he
impacts the game, not only the pass game, but the run game, and he's growing, he's
learning. But at the end of the day, the sacks will come, I think, as he continues to learn
the game and learn how people are playing him and blocking him. Ed faces a lot of
doubles, too, so it's not the easiest road for him. But I thought he definitely took a step
up from year 1 to year 2. He might have started slow, this year but I thought three-
quarters of the year he played really well and helped our defense."

With two full seasons under his belt 2021 is set to be the year we see the return on the
Oliver investment, Star Lotulelei the block eating veteran returns and Oliver should find
himself almost exclusively playing the 3-technique, a place where his skills are best
utilized. Also, yet to be factored into the equation is the addition of an upgraded pass
rush. Beane drafted two young studs in Rousseau and Basham and signed Efe Obada.
With more size and speed to pair with Hughes and Epenesa, offenses will have a
difficult time zeroing in on one player to negate. This will certainly propel Oliver's
progress and make a breakout year a very real possibility. A player with his abilities, his
power, his quickness should be problematic for NFL guards to contain one-on-one. Bills
fans gave Oliver a pass for mediocre production his rookie year because he was a raw,
in year two they gave him another pass because he was out of position, there will not be
another pass afforded to Oliver in 2021. This has to be his year and I believe the former
number 9 overall pick is poised to have a major breakout this year.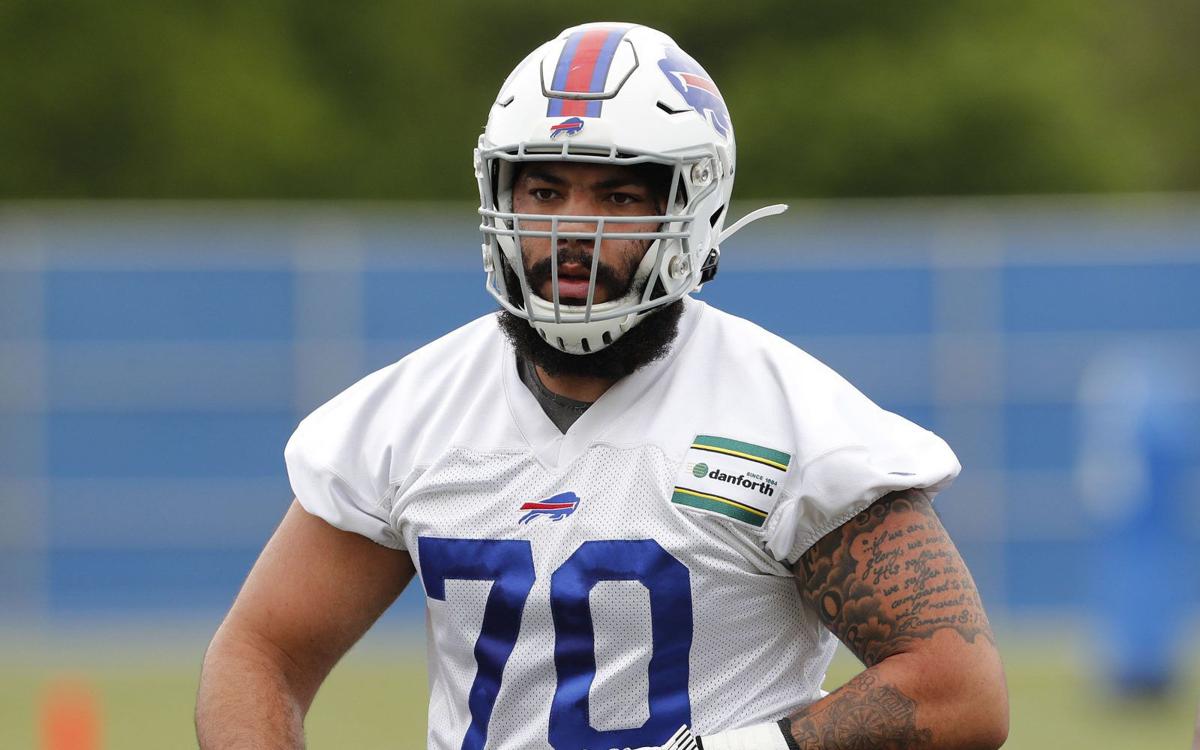 Cody Ford: In 2019 Ford appeared in all 16 regular season games at right tackle,
starting 15 of them including the playoff loss to Houston, while he logged the majority of
the team's snaps at right tackle (68%) he did have an occasional rotation with swing
tackle Ty Nsekhe. While McDermott made it apparent from the onset that Ford would be
the starter, that the offense was willing to deal with some of the rookie growing pains.
The grades show that in his limited role Nsekhe was the better performer finishing with
a PFF grade of 67.3 while not allowing a sack over 358 snaps. On the other hand, Ford
finished his first season as a professional ranked 78 th out of 89 qualifying players
earning him a lackluster 52.4 PFF grade. On the season he allowed 7 sacks accounting
for 18.5% of the team's total while also committing 10 penalties. Ford had some difficult
match ups, facing Demarcus Lawrence, Von Miller and both Watt brothers as a rookie.
According to Next Gen Stats he finished with an 85.2% Pass Block Success Rate
(sustaining a block for 2.5 Seconds or more) which placed him near the bottom of the
barrel. Ranking him 145 th out of 171 to be exact. While his rookie campaign left many
soured with the 38th overall pick's performance things seemed to grow gloomier. Just days after the season finale it was announced that the rookie was undergoing right
shoulder surgery. This news came after he had spent the entire second half of the
season nursing a left elbow injury which he sustained in the Eagles game.
That offseason GM Brandon Beane signed the former Carolina Panther starting tackle, Darryl
Williams who played well before an injury laden season diminished his value on the
market and veteran Ty Nseckhe who out preformed Ford the year prior was also still
very much in the mix at tackle. There was also the depth at guard, where both starters
Jon Feliciano and Quentin Spain were set to return after Spain signed a very team
friendly deal to remain in Buffalo. As fate would have it, Feliciano suffered a pectoral
injury in camp which would require him to be sidelined for 2-3 months forcing him to
miss the first half of the season. with Williams playing well at tackle the decision to
bump Ford inside seemed to be an obvious one. Ford started the season as the right
guard unfortunately the position change did not produce a higher level of play from the
2 nd year lineman. Though there were some noticeable improvements, he appeared more
stable, seeming more comfortable on the interior, his overall technique issues continued
to haunt him. He played high, he struggled to uproot defenders and was often a limited
factor pulling and blocking out in space. After only a few games, the line-up was
shuffled once again and Ford found himself flipping to the left side of the line. A move
many felt was done so that LT Dion Dawkins could protect him. The move however,
offered little redemption as Ford's mediocrity continued until a season ending injury in
week 9. Ford earned a PFF grade of 53.8 which was microscopically better than the
year prior, ranking him in the lower echelon of NFL guards. With minimal positional
competition and with both McDermott and Beane still high on Ford he is slated to be the
starter again in 2021.

The Answer: While the need for Ford to live up to his potential is still great, he now
plays a position (guard) that is not considered a priority by this regime. The hopes are
that with a full offseason and a regular preseason Ford can find his traction on the
interior and be a stable presence on this line, helping to open up the run game and keep
Allen upright.

All the pressure is on Oliver, his role in this defense is of greater importance than
Ford's. Expectations are for him to be dominant, for him to be a double-digit sack maker
and to be a force on the interior. This is the year Ed Oliver must emerge as a star.