The NFL has seen very few prospects with a more freakish set of skills than that of the Buffalo Bills Tremaine Edmunds. The 22-year-old stands 6 foot 5 inches tall and weighs 250 pounds, which is abnormally large for a middle linebacker considering the average measurement for the position is roughly 6 foot 1 inches and 220 pounds but what is truly frightening about him is his ability to move. At the 2018 combine, a then 19-year-old Edmunds showed off his rare talents for scouts, clocking in with an absurd 4.54 seconds in the 40-yard dash cementing his place as one of the top specimens at the combine. After a solid career at Virginia Tech and an impressive combine many of the big names in the draft world touted Edmunds and his immense potential. Draft guru Mel Kiper said this about Edmunds "I think Tremaine is a physical and athletic specimen, you could say freakish talent. Just a top-level athlete." Todd McShay said this of him "I think he's one of the best six or seven players in this entire draft, I just don't see many like him. It's difficult to find a comparison for him because how many guys are 6-foot-4½ and 253 pounds and can play off the ball the way he does." Former draft analyst turned GM Mike Mayock said this "He has a scary skill set as an edge rusher, which he did a little bit at Virginia Tech, and I know for sure he's working on that now, so I see incredible upside."
It would seem that the boy wonder was a sure fire, can't miss prospect and a player Brandon Beane was wise to build his defense around, but many fans are not completely sold on the notion that Edmunds is a franchise linebacker. With three NFL seasons now under his belt there is enough film on him where a serious evaluation can be conducted, and the difficult question can be asked: Is Tremaine Edmunds really The Man or is he The Myth? Some fans will tell you he is a super star, that he is a tackling machine, they will point to his recent Pro-Bowl nod as proof he is everything the analysts promised us and more. While the others will harp on his inability to navigate the middle of the defense and his lack of impact plays. The truth, however, may be revealed somewhere inside the numbers.
If tackles were the lone statistic that defines a great linebacker than Tremaine Edmunds would easily be one of the NFL's best, finishing 14th overall in 2020 with 119 total tackles while averaging over 100 in each of his first three seasons. Unfortunately, tackles are often a misleading statistic for the position, often times they do not tell the full story. By design middle linebackers are expected to generate tackles, especially in the 4-3 scheme that McDermott employs, the front four are tasked with controlling their designated gaps and subsequently their intended blocker permitting the LB to move freely to the football putting him in the position to be the primary play maker. While this works in theory and in practice it does not always translate to real games, especially when members of the front four are not consistently obstructing blockers. When reexamining 2020 and the defensive play, one could argue our defensive line was not winning battles regularly and blockers were sometimes allowed to pass unimpeded to the next level, or that members of the interior were getting uprooted and driven to the second level creating obstacles in the middle that Edmunds seemed ill equipped to overcome. The absence of Star Lotulelei on the interior clearly contributed to some lack of meaningful production and the players tasked with filling Lotulelei's role were clearly not as adept at eating blocks as him. I will also note that Edmunds was dealing with an injury in the earlier part of the season and his ability to press blockers back and fend them off was hindered some but as his pain subsided and his health returned his issues still remained.
The coaches and fans are not the only ones taking notice either, according to Pro Football Focus (PFF) a third-party evaluator of the NCAA and the NFL, of the 52 linebackers who played a minimum 50 percent of their teams' snaps, Edmunds ranked 44th overall earning a grade of 47.9. They also ranked him 36th in tackling efficiency which is determined by taking a player's total tackles and dividing them by their total snaps played, a fancy way of calculating a player's production. In coverage things got worse, much worse, Edmunds did not record a single interception, and only managed to break up 3 passes on the year while receivers who caught a pass against him averaged nearly 13 yards per catch. When targeting Edmunds' area of responsibility quarterbacks posted an eye-popping 129.9 passer rating, ranking him dead last among linebackers with at least 400 snaps in coverage. These numbers do not seem to add up given Edmunds speed, agility and his condor-like wingspan yet the numbers don't lie, his presence in coverage has been more of a liability than the asset we had hoped for.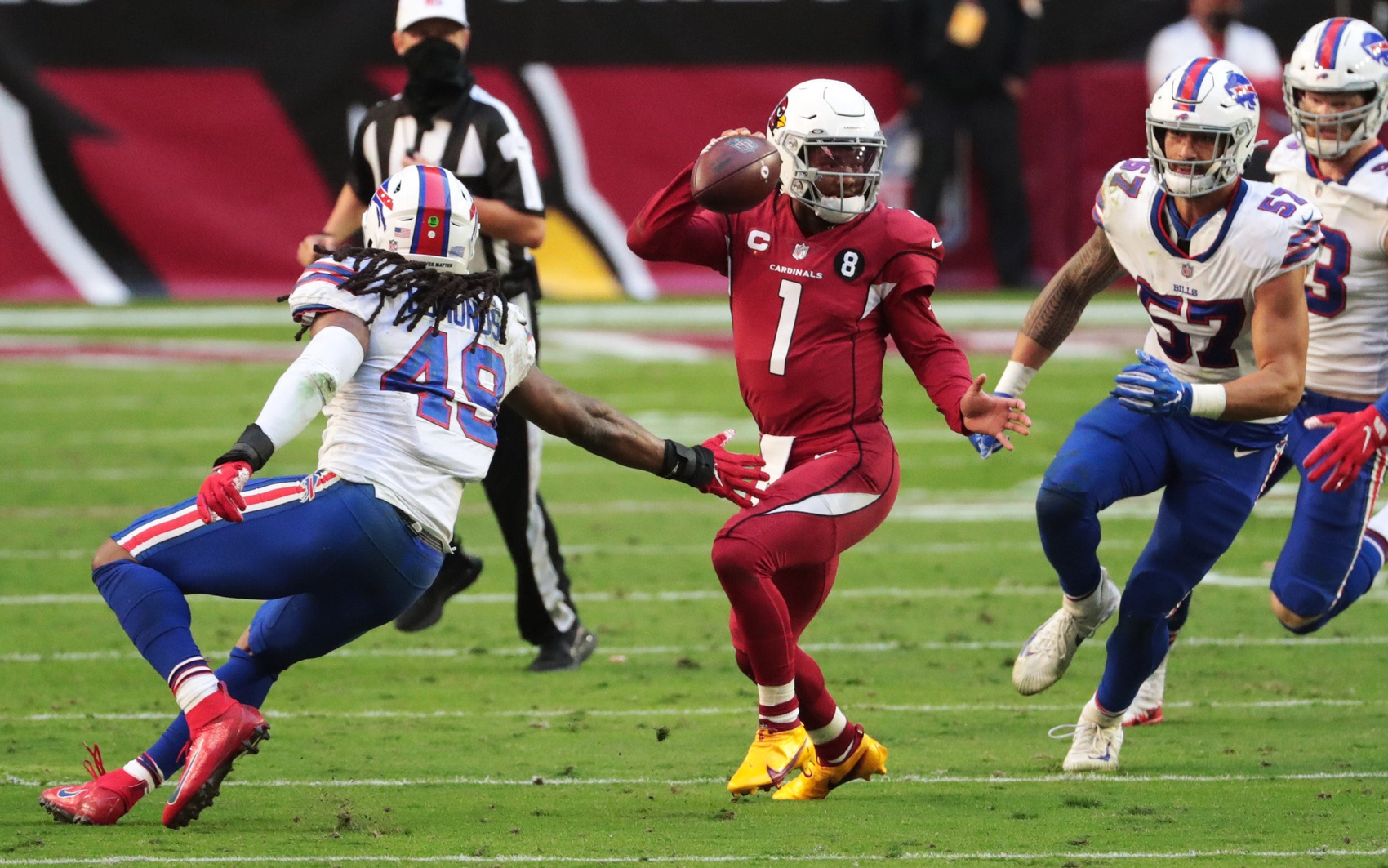 Though there is no statistic for it, not yet anyhow all throughout the 2020 film you can find plays where Edmunds seems overwhelmed, where he appears hesitant, where his eyes mislead him or when all instincts seem to fail him. These are the instances that Bills fans often right off as "growing pains" or dismiss as issues because he is only 22-years old. In 2020 Edmunds posted a 9.2% missed tackle rate, which was slightly above the league average but for a 1st round pick and a player with his physical abilities at the end of his 3rd season the percentage is a bit concerning, a franchise LB, the heart of our defense should be better at bringing down the ball carrier, period. What is also a cause for great concern is Edmunds lack of success a blitzer. In 2020 he was sent on 72 blitzes, where his only responsibility was to find the football and make a play, every linebacker's favorite call. In those 72 attempts he only managed 2 tackles for a loss, 2 sacks and 3 QB knockdowns giving him a meager 10% blitz production rate, meaning out of every 10 blitzes Edmunds only altered the outcome of 1 play. Again, a player with Edmunds skill set, his incredible length, his agility and his elite speed should be a recipe for havoc on a blitz, yet 90% of the time Edmunds is sent by Frazier, where he can just go and be an athlete, he is irrelevant.
With Edmunds rapidly approaching the end of his rookie deal, McDermott and Beane have some serious evaluating to do in 2021 as they decide whether or not to extend him. Up until now we have only seen small doses of his ability, scattered flashes of star power over his short career but much of that has been marred with mediocrity and inconsistency. He is only 22 years old and the immense potential is clearly there but at what point does production out value potential, if next season is comparatively similar to his 2020 production do you extend him? Though much is yet to be settled about the future cap, with the looming TV deal and a new bargaining agreement to be sorted out the market value for Edmunds, looks to be somewhere in the $14M per year range. That is a ton of money to be tied up in a LB who as of right now struggles in coverage, who is a non-factor on the blitz, who has issues processing and reacting to plays and offers little to no impact production. Right now, the numbers speak for themselves, Edmunds is more The Myth than he is The Man but with a new season comes new hope, perhaps 2021 will be the massive breakout that we have all been waiting on, one can only hope.