The wait is finally over, no more speculating, no more debating no more reading through dozens and dozens of mock drafts to gauge who the Bills will be selecting. We now know that we've landed DE Gregory Rousseau with the 30th overall pick, and if you're not familiar with him here is my evaluation of the newest member of the Bills family.

Position: Defensive End
Height: 6'6
Weight: 265lbs.
Age: 21
School: Miami
CFR Position Rank: 5th
Career Statistics
Games: 14
Tackles 54
Sacks: 15.5
TFL: 19.5
PROS
Rousseau is a freakishly big specimen who at 6 foot 7 towers on the field and though his frame can handle more bulk, he does possess the needed thickness to anchor down in the trenches and set the edge in the NFL. With all that height comes the gift of extraordinary length; his wingspan is similar to that of a condor's measuring 7 feet outstretched with (34 3/4in) arms which places him in the 97th percentile of this year's draft class. While Rousseau is a work in progress, he has shown the tendency to utilize his uncanny length on the edge, he delivers good strong strikes, latches onto blockers with his massive hands and presses them away from his frame as he reads the action in front of him. He does not only use his length to fend off blockers he relies on it to hawk down ball carriers, in 2019 he routinely made plays behind the line of scrimmage that shorter players could simply not make by extending across the field, diving out and tripping up players from the backside.
While his length is his intrigue, Rousseau also uses leverage well, even for a player of his stature he regularly squats under pads and bullies lineman backwards to collapse pockets with his power. He has also shown the versatility to move around the front, aligning outside in the 6-Tech, flexed out as a stand-up rusher or bumped down inside where he spent a lot of reps lining up over guards and centers where he was gamed, twisting and stunting ripping across and finding immediate lanes to the backfield. His mobility is not off of the charts, but he possesses enough of it that when paired with his long strides he consumes ground and is able to get where he is needed. Potential is the selling point with Rousseau, if he can put all of his tools together, if he can accelerate his learning curve and find his groove he can be a dangerous edge defender for the Bills.
CONS
There are physically raw prospects and then there are inexperienced prospects, Gregory Rousseau happens to be both physically raw and tremendously inexperienced and may be without question the rawest player taken in round one. After playing in only 13 career games where he was a key contributor on the defensive line Rousseau decided to opt out from the 2020 season; later declaring for the NFL Draft. What is even more concerning regarding his readiness is reexamining his breakout 2019 season, despite his gaudy production Rousseau was limited to a rotation and used primarily as a situational player throughout the season. In summary, Rousseau comes to the Bills having played limited snaps in limited games. While it is true, he rotated with NFL caliber players in Shaquille Quaterman and Johnathan Garvin, Rousseau proved that he was not best suited on the edge, a place where he is expected to play in Leslie Frazier's defense, he played his best snaps and produced the most when he was aligned inside, over the guard or even the center. On the edge Rousseau lacks pass rushing instincts, he struggles to disengage from blockers often times finding himself trapped in wrestling matches as the action flows away. As an edge rusher he relied almost exclusively on his bull rush, failing to offer any counter moves to his power. Aside from Rousseau's lack of experience and pass rush arsenal, is his athletic limitations. While he was billed as a freakish athletic specimen some of his testing numbers from his Pro-Day have brought into question his ability to provide consistent pressure and bend the edge at the NFL level. Rousseau did not help himself with his lack luster 40 times, as he recorded a 4.71 and a 4.69 which is by no means abysmal but it is certainly not qualifications for being a dynamic athlete. Even more disparaging than that was his performance in the 3-cone drill which reflects his short area quickness and ability to burst through change of direction. Not only was his time considerably slow (7.50) but he showed a clumsiness, on one attempt he knocked over a cone and on another he nearly tripped over his feet.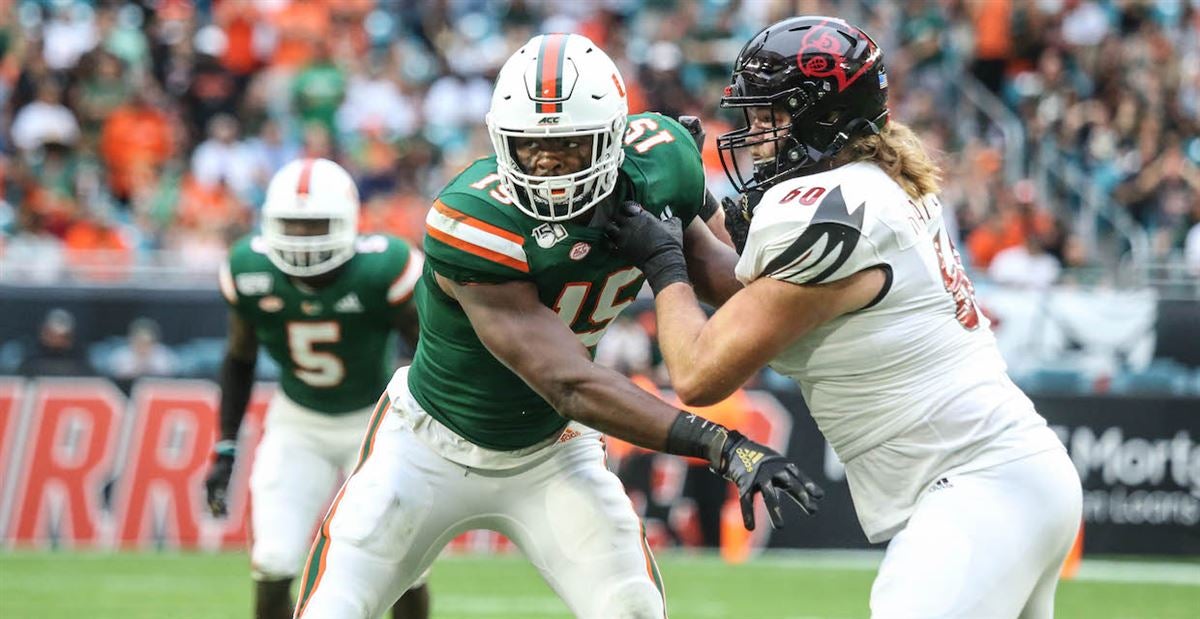 Bottom Line
The Bills were in need of a pass rusher and they addressed that here with Rousseau, who now finds himself in a good situation to develop and be brought along slowly as an early rotational piece while he works and learns from veterans like Hughes and Addison until he becomes their eventual successor. Rousseau has a lot of likeable traits, his length, his frame, his production and his character fit but he is going to take some time to mature into the player Sean McDermott and Brandon Beane envision him becoming. The question is how long if ever will it take this regime to develop him, we're still waiting on the arrival of Ed Oliver don't forget. Rousseau has all the making of a boom or bust prospect who will either help or hurt this Bills Superbowl run.