Written by Greg Boucher
The Bills open the 2021 season at home against the Pittsburgh Steelers and the reigning AFC North Champions who finished last season at 12-4. The Steelers were the last remaining undefeated team in the NFL, having won 11 straight before an untimely collapse. They eventually dropped four of their last five before being bounced from the play-offs by division rival, Cleveland Browns 48-37 in the Wild Card game. Despite how things ended the 2020 Steelers managed a successful season, winning arguably the toughest division in football. They won 5 games against eventual play-off teams (BAL x2, CLE, IND, TEN) and a vast majority of those players are returning. Here is how the Bills and Steelers stack up in 2021.
STEELERS
Scoring Defense: 3rd
Takeaways: 3rd
Rushing Yards Allowed: 11th
Passing Yards Allowed: 3rd
Scoring Offense: 12th
Rushing Yards: 32nd
Passing Yards: 16th
Steelers Draft Bills Draft
RD 1 RB Najee Harris ALA
RD 2 TE Pat Freiermuth PSU
RD 3 G/C Kendrick Green ILL
RD 4 T Dan Moore TAMU
RD 4 LB Buddy Johnson TAMU
RD 5 DT Isiah Loudermilk WIS
RD 6 DE Quincy Roche MIA
RD 7 CB Tre Norwood OKL
RD 7 P Pressley Harvin GT
Key Additions
G Trai Turner
OLB Melvin Ingram

Key Losses
OLB Bud Dupree (TENN)
C Maurkice Pouncey (RET)
T Alejandro Villanueva (BAL)
CB Mike Hilton (CIN)
BILLS
Scoring Defense: 16th
Takeaways: 5th
Rushing Yards Allowed: 17th
Passing Yards Allowed: 13th
Scoring Offense: 2nd
Rushing Yards: 20th
Passing Yards: 3rd
Bills Draft
RD 1 Gregory Rousseau MIA RD 2 DE Carlos Basham Jr WF
RD 3 OT Spencer Brown NI
RD 5 OT Tommy Doyle MIA (OH)
RD 6 S Damar Hamlin PITT
RD 6 WR Marquez Stevenson HOU
RD 7 G Jack Anderson TEX Tech

Key Additions
WR Emanuel Sanders
DL Efe Obada
RB Matt Breida
Key Losses
WR John Brown (FA)

Steelers Strengths
⦁ The Defensive Front
Despite losing pass rush specialist Bud Dupree to free agency this off-season, the Steelers return one of the best defensive fronts in the NFL. This unit helped the Steelers to finish 3rd in the NFL in scoring defense, allowing 19.2 ppg. For them it all starts with All-Pro and reigning sack leader, TJ Watt who finished with 15 on the year and 23 Tackles for Loss. On the interior the Steelers appear to be without DE Stephon Tuitt (6'6/303lbs.) who registered 11 sacks on the year but Cameron Heyward (6'5/ 295lbs.) returns, who even at 31 is still one of the leagues more physical lineman in the league. Veteran DT Tyson Alualu does not have the sexy stat sheet to boast but he is a block eater in the middle and a player who can disrupt things up front for opposing offensive lines. The Steelers also signed veteran pass rusher Melvin Ingram late this off-season to help with the loss of Bud Dupree, it is not known what he has left in the tank at this juncture in his career but he could provide a solid situational pass rush.
⦁ Quarterback Play
While Ben Roethlisberger is no longer the "Big Ben" of old he is still a top 10 quarterback from a production stand point. After missing almost all of the 2019 season, the then 38-year-old returned in 2020 to throw for 3,800 yards 33 TD and 10 INTs. Ben's arm may not be the cannon it once was and his legs may not be as nimble but he is still a highly intelligent quarterback who knows how to distribute the football, how to set up defenses and work his receivers open. While the offense as a whole is in a transition of identity, with Big Ben under center this team still poses a threat to any defense.
⦁ Physical Mismatches
The Steelers have several players on both sides of the ball who pose physical mismatches for opponents. TJ Watt with his length, his speed and deep arsenal of pass rush moves poses a threat to even the most elite pass protectors. While RT Darryl Williams fared extremely well against him in last seasons showdown, the likelihood of containing Watt for another 4 quarters is an improbable task. On the offensive side of the ball WR Chase Claypool is a nightmare match up, standing at 6'4-238lbs. with sub 4.5 speed and uncanny athleticism. As a rookie Claypool snagged 62 balls for 873 yards and 9 TDs. The Bills cover guys are not particularly long, nor physical on the boundaries, while Claypool was a non-factor in 2020 vs the Bills his size and speed can still be unleashed at any time.
Bills Strengths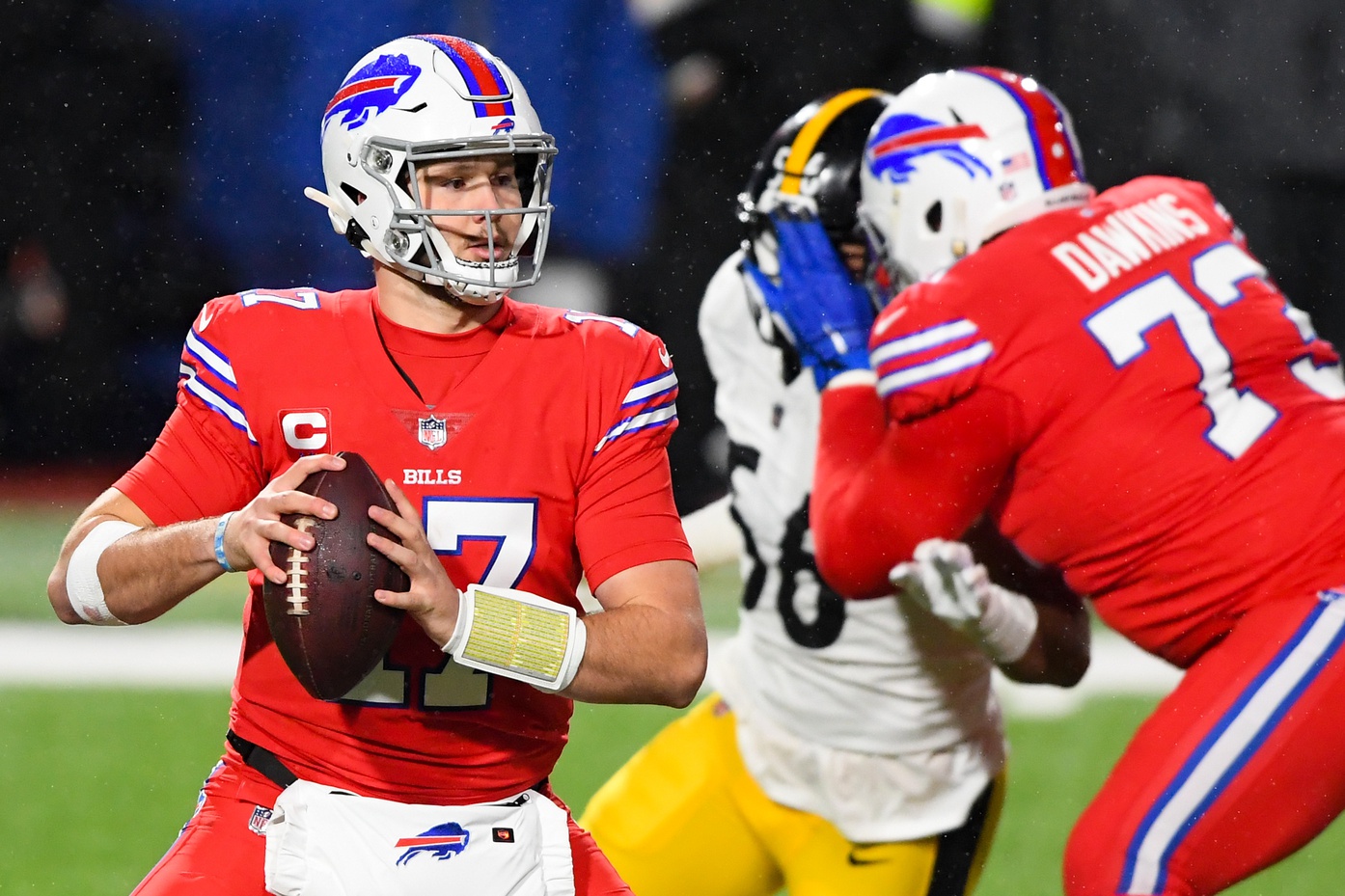 ⦁ The Passing Attack
This Josh Allen led offense is coming off a stellar showing in 2020, one that averaged nearly 31 points per game and it just so happen they are returning the entire cast, with the addition of veteran Emanuel Sanders. Few if any teams are as deep the Bills at wide receiver, it starts with Stefon Diggs who is one of the league's best. Diggs feasted in this offense last year racking up 1,535 yards and 8 TDs on 127 catches. Cole Beasley is considered one of the league's best slot receivers and is always clutch. Emanuel Sanders has carved out an impressive career for himself, and with his savvy route running and dependable hands he will be a major factor in this pass heavy offense. Gabe Davis, the second-year man from UCF has had an outstanding preseason and would be the number 1 receiver on several teams. This attack is deep, this attack is diverse and this attack is scary when it is in sync, pick your poison.
⦁ The Newfound Pass Rush
This is a newfound strength for the Bills that was not there last season. With the draft additions of Gregory Rousseau and Carlos Basham and the emergence of 2020 2nd round pick AJ Epenesa and free agent signing Efe Obada this unit is larger, longer and far more athletic than they were a year ago. While this pass rush has not had a chance to work in the regular season, what we have seen from them this preseason is enough to know they will be vastly improved. Jerry Hughes is 33 years old but is still a capable pass rusher, who can now benefit from a legitimate counterpart in any number of guys.
⦁ Experienced Offensive Line
The Bills return all five starters from a year ago and most of their key depth players behind them. While this unit may not bolster any All-Pro level players, they are a solid unit that can protect Josh Allen and give him the needed time to carve up opposing defenses. While last year they did battle injuries and struggled to keep continuity, rolling in a dozen different line ups they still fared very well. Cody Ford has been the biggest question mark all offseason but through three preseason games he appears to have found his groove at the left guard position. This unit as a whole was not a fluid run blocking team last year, but fixing that has seemed to be part of the off-season workload.
Steelers Biggest Weakness
For an offensive line that provided the league's best protection in 2020 they now appear to be one of the leagues weakest units, as they are set to roll out two mid round rookie starters. Third round pick C Kendrick Green and fourth round pick RT Dan Moore will join a mix matched cast of linemen. Last year this unit struggled to sustain blocks forcing Big Ben to utilize shorter throws and quick hitters as a bulk of the offensive production. In the run game they were unable to pave the way for a serviceable run game that ranked dead last in the NFL. Sure, addition of Naje Harris can help matters but the struggles have persisted in the pre-season for this revamped unit, missing blocks, failing to establish the run game and keep their quarterbacks clean.
Bills Biggest Weaknesses
Playing a consistent defense for four quarters is the Bills biggest weakness going into 2021. In 2020 they routinely fell victim to fundamental lapses, struggling to get off the field at times. Tackling has also plagued them, for all their talents linebackers Matt Milano and Tremaine Edmunds have not been dependable tacklers in the box. While the Bills have vastly improved the pass rush on paper, it is still a question as to whether or not the Bills can create enough pressure up front to take the stress of their secondary and prevent the big play. The Bills too often relied on bending but not breaking.
Who Has the Edge?
QB Play: Bills
Run Game: Draw
Offensive Line: Bills
Tight Ends: Steelers
Defensive Line: Bills
Linebackers: Draw
Secondary: Bills
Depth: Bills
Special Teams: Bills
Coaching: Draw
Pivotal Matchups
TJ Watt vs. Darryl Williams
Last season this was a hallmark performance for Darryl Williams who shut down the All-Pro and eventual NFL sack leader, keeping him from registering a sack or a tackle for a loss on the night. Williams kept Watt in check for the better part of the game, as Watt recorded his lowest performance grade of the season (64.3) according to PFF. If the Bills hope to keep to their strengths, passing the ball, they are going to need a similar performance from Williams this year. The winner of this matchup could very well determine the outcome of the game.
Tremaine Edmunds vs. Najee Harris
The Steelers look to return to their glory days, when they pounded the ball on opponents. They made this clear when they drafted Najee Harris 23rd overall. Harris is a large back (6'2-230lbs.) with exceptional power and speed and though we did not see much of him this preseason it is no secret that he will be the Steelers workhorse come kickoff. LB Tremaine Edmunds will have to play his best game between the tackles, meeting Harris in the hole, wrapping him up and limiting his yards after contact. Tremaine Edmunds has all the physical tools to rise to this challenge, he just needs to bring his A game.
Anyone vs. Stefon Diggs
Diggs is one of the best route running pass catchers in the entire NFL, his ability to beat man coverage or find the seam in zone is second to none. Whichever Pittsburgh corner, Joe Hayden or Cameron Sutton draws the assignment it will be a difficult task trying to limit Josh Allen's favorite target. Last season Diggs put on a clinic vs the Steelers grabbing 10 balls for 130 yards and a score. Josh Allen has no limit of capable hands to throw to but the tone of this offense is set by Stefon Diggs. If Diggs heats up so will this offense but if the Steelers secondary is able to contain him, they could edge out the Bills.
Boucher's Take
Despite only being on the field together for less than three quarters this preseason, the Bills starting offense appears to be operating like a finely oiled machine. Josh Allen looks extremely confident and comfortable entering his fourth year in this offense and he and his receivers look to be in sync heading into Week 1. While I deem the Steelers a worthy opponent, capable of giving the Bills some trouble, I believe the Bills high powered offense is going to prove too much to handle, especially with the improved run game. My prediction: The Bills use the home field advantage and beat out the Steelers 31-17.