Written by John Sparaco
This Sunday at 1 p.m. ET, the defending AFC East Champion Buffalo Bills will take on the Pittsburgh Steelers in Orchard Park, marking their first official test of the 2021 season.
Over 70,000 screaming fans will once again fill the seats at the recently renamed Highmark Stadium, a sight that has not been seen in the regular season since December of 2019. In a battle of two AFC heavyweights, the energy in the stadium is certain to be electric.
Last season was filled with both really high highs and rather low lows for Pittsburgh, who began the season with an 11-0 record before dropping five of their last six games, including a 26-15 defeat in Week 14 at the hands of the Buffalo Bills. Though Pittsburgh still managed to hold onto the AFC North title, their season ended on a sour note when they were dismantled by their division rival Cleveland Browns in the Wild Card round.
Pittsburgh returns with mostly the same cast and crew from last season led by 39-year-old quarterback Ben Roethlisberger, though there were some notable departures. For instance, starting LT Alejandro Villanueva (left in FA), C Maurkice Pouncey (retired), and RG David DeCastro (released/expected to retire) are now all out of the picture. Three multi-time Pro Bowlers, all gone from Pittsburgh's o-line in just one offseason. Not to mention starting edge rusher Bud Dupree and cornerback Steven Nelson, who also signed elsewhere. Though they are still loaded with names such as Minkah Fitzpatrick, TJ Watt, Cameron Heyward, Juju Smith-Schuster, Chase Claypool, and so on, this is a different team than the one Buffalo last saw.
As for Buffalo, they managed to retain all of their key free agents, including LB Matt Milano, RT Daryl Williams, and LG Jon Feliciano. They released WR John Brown, who was replaced by former Steeler Emmanuel Sanders shortly after. Other than that, the only notable departure on Buffalo's end was kick/punt return specialist Andre Roberts, whose role will be filled by Isaiah McKenzie.
Players to watch:
RT Daryl Williams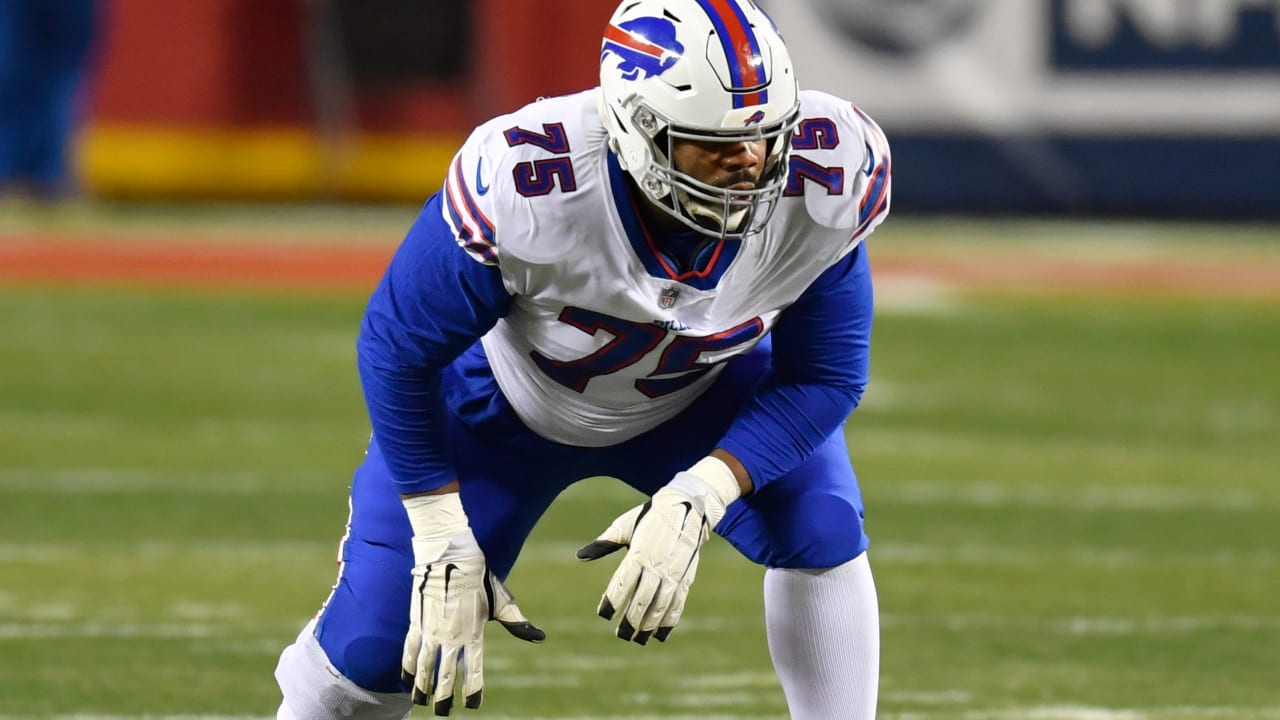 The last time these two teams met, Daryl Williams proved to be one of the game's top performers. Lining up directly across Steelers' All-Pro pass rusher and defensive player of the year candidate, TJ Watt, Williams stymied his opponent all night long. Watt was only able to register one tackle on the stat sheet but never came close to pressuring Josh Allen.
Williams' strong play was a huge factor in the Bills' success last season, leaving it as no surprise when the Bills rewarded him with a three-year, $28.2 million extension this offseason. Once again, Williams will be tasked with slowing down Pittsburgh's star pass rusher.
Watt is currently in pursuit of a contract extension of his own. The only catch? Watt has hardly practiced due to the holdup in negotiations. If a resolution cannot be met soon, there is a slight risk that Watt will be unavailable to play in Week 1 due to a lack of practice time. However, the Steelers remain optimistic that he will play this weekend.
RB Najee Harris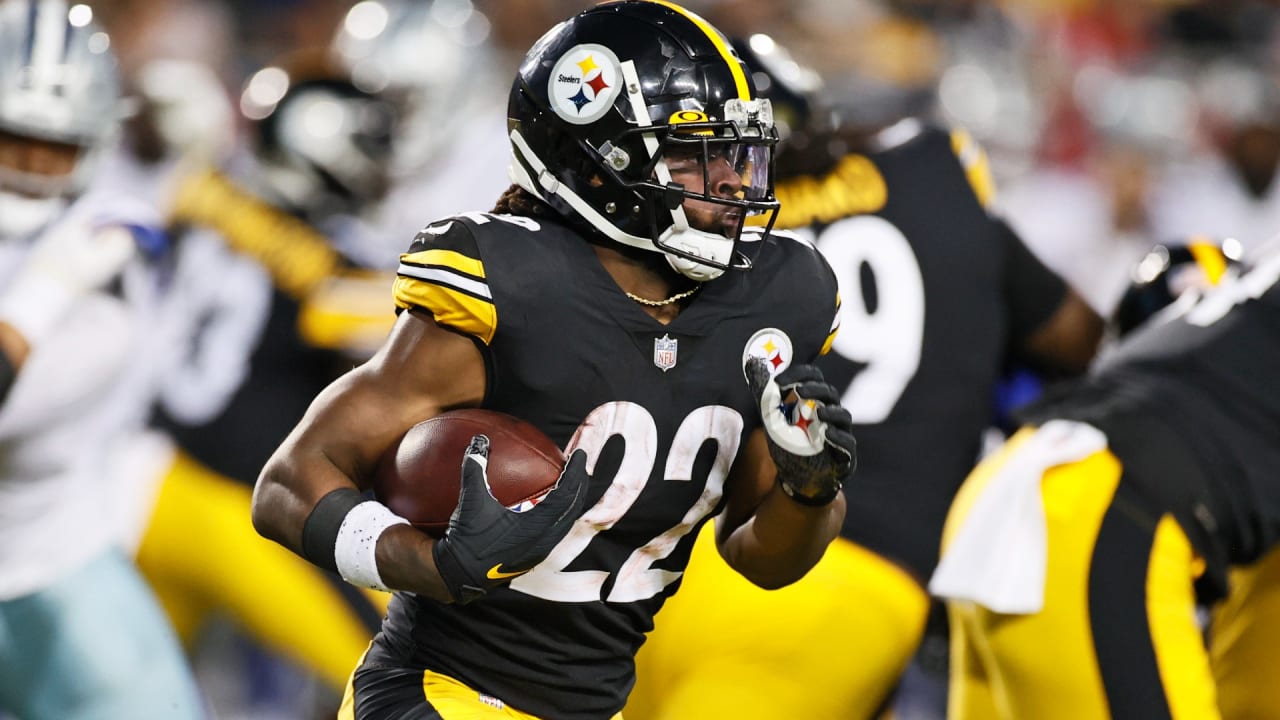 The Steelers were in desperate need of a running back this offseason, and they addressed the issue by taking the top rusher off the board with the 24th overall pick in the first round of the NFL Draft. Najee Harris is a two-time National Champion and former All-American from the University of Alabama, shining in both the running game and passing game for the Crimson Tide in the past four years. In his senior season, Harris rushed for 1,466 yards and 26 touchdowns in 13 games, also accumulating 43 receptions for 425 yards and four touchdowns through the air.
Harris received limited touches during the preseason, but he is expected to provide a significant jolt to Pittsburgh's run game. Despite the return of DT Star Lotulelei, Buffalo's run defense still appeared to be a concern in the preseason finale, which could be a weakness that Steelers HC Mike Tomlin tries to expose with his game plan this Sunday.
WR Stefon Diggs
Stefon Diggs is technically an easy choice to mark as a "key player to watch" every week. However, the reasoning for highlighting Diggs this week is much more than simply stating the obvious.
In the first half of last year's battle between these two teams, the Bills' offense was unable to get into a rhythm against the Steelers' stout defensive unit. That immediately changed in the second half once Buffalo began force-feeding their superstar receiver. Diggs rose to the occasion, making his mark play after play on each drive. He finished the game with 10 receptions for 130 yards and one touchdown, proving to be unguardable by Pittsburgh's talented secondary.
Bills offensive coordinator Brian Daboll has not shied away from calling pass plays for a majority of the game when necessary. Given the success of his second-half adjustments last year, it would not be surprising if he comes out of the gates firing. When he has a game-changing quarterback like Josh Allen and one of the deepest receiving corps in the league at his disposal, there is no justifiable reason not to. Watch out for Diggs to be an X-factor once again this Sunday.
TE Pat Freiermuth
Another high draft pick for the Steelers, Pat Freiermuth has the potential to emerge as a big-time playmaker in their offense. One of the premier tight ends in this year's draft, the Penn State product possesses all the tools coveted at his position. Freiermuth stands at 6'5" and has been referred to as "Baby Gronk" due to his build and talent, though he has stated that he hates the nickname.
In the Steelers' preseason game against the Lions, Roethlisberger connected with Freiermuth for two first-quarter touchdowns, showing early signs of trust in the rookie. Freiermuth will share the field with another notable tight end, Eric Ebron, who is more proven as of now, though he does struggle with drops from time to time. Covering tight ends has been a challenge for the Bills in the past, especially against Chiefs TE Travis Kelce and even Dolphins TE Mike Gesicki, who Freiermuth is eerily similar to in terms of build and athleticism. Roethlisberger could lean on his young tight end early if Buffalo continues to struggle to defend that area of the field.
DE Greg Rousseau
One of the shining stars throughout both camp and preseason, Bills' first-round pick Greg Rousseau showed that he is much further along in his development than most anticipated.
Every opportunity Rousseau received, he did not hesitate to make his presence felt. Rousseau used every bit of his 6'7" 266lb frame to wreak havoc, recording two impressive sacks in limited preseason action.
Though he is listed as a backup on the team's first unofficial depth chart, it is important to note that Rousseau lined up with the starters at left defensive end in the preseason finale while Jerry Hughes started on the right side. This was the lone preseason game where most of the Bills starters appeared together, which may be an indication that Rousseau has earned his way into a starting job.
Regardless, the Bills have no shortage of talented defensive ends to rotate, keeping an unprecedented 11 players (6 DE's) on their defensive line. No matter who ends up starting, Rousseau will certainly see his fair share of snaps. Rousseau's first matchup will be a favorable one, as Steelers starting RT Zach Banner will not play after being placed on short-term IR, leaving former 2018 third-round pick and current backup tackle Chukwuma Okorafor to start.
Each of the Bills' past two meetings with the Steelers has been ultra-competitive, so this should be a nice challenge right out of the gate for Buffalo. Both defensive-minded head coaches Sean McDermott and Mike Tomlin do know each other well dating back to their time as college teammates at William & Mary. This game could easily become another chess match, but if Buffalo's improved pass rush can take advantage of Pittsburgh's depleted offensive line, the Bills may be able to overwhelm them early on.