Written by John Sparaco
Buffalo Bills GM Brandon Beane made it abundantly clear when discussing the team's tight end production in his end-of-season press conference: they need to be much better.
"It was never where I felt the opposing defense was like man, we got to stop their tight ends from going off," said Beane. Shortly after, Beane added that he would "love" to have a tight end like the one they had just faced in Kansas City, Travis Kelce, but those types of players do not come around often.
While the lack of production from their tight ends did not prevent the Bills from reaching new heights as an offense this season, it was certainly alarming how non-threatening their options were at the position. 
Dawson Knox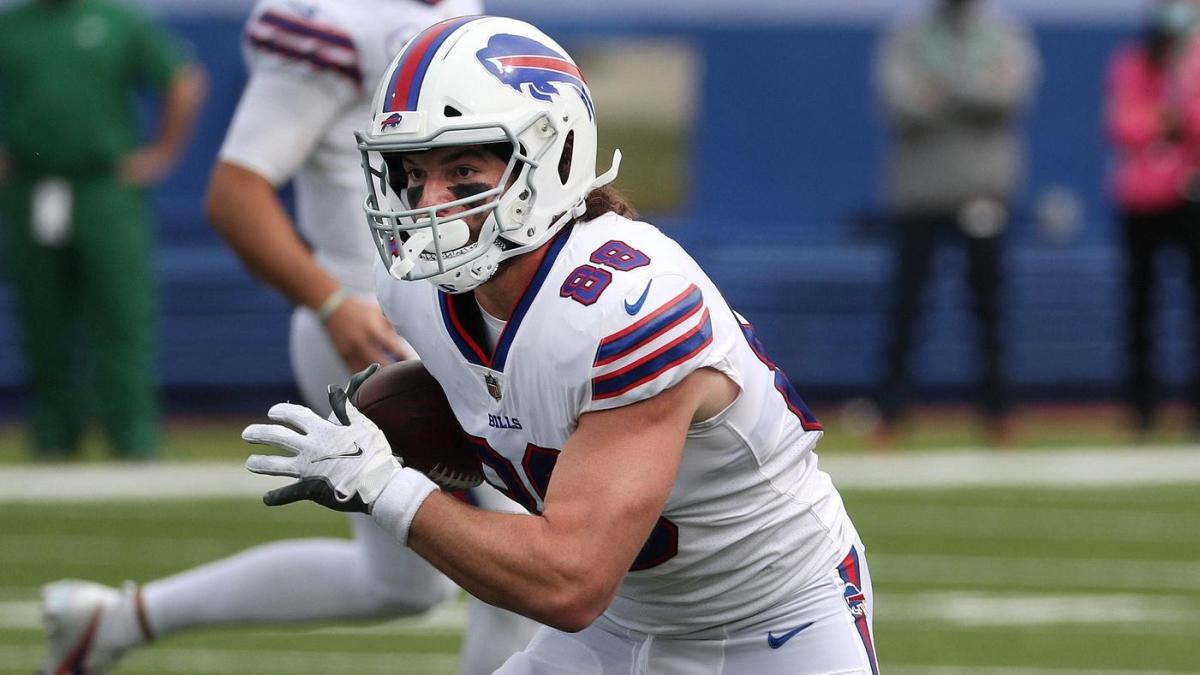 Following a solid rookie campaign in which he recorded 28 receptions for 388 yards and two touchdowns, many expected Dawson Knox to continue developing into an even more potent threat on this Bills offense in his second season. However, things did not work out that way for the young tight end, as Knox witnessed his production drop significantly in 2020. Knox struggled to hold onto the football this past season, catching only 54.5% of the passes thrown his way while also fumbling twice. He finished the regular season with only 24 receptions for 288 yards in 12 games. That being said, there is still plenty of upside to be found with Knox. Plenty of players have bounced back from sophomore slumps and went on to have productive careers, such as Franco Harris, Steve Young, and more recently Ndamukong Suh. In fact, although their struggles were not nearly as severe, Tre'Davious White, Dion Dawkins, and Matt Milano all faced their own share of adversity in their sophomore seasons. Now, each of those players have cemented themselves as franchise cornerstones, all signing long-term extensions within the past year. Knox has the tools to become a very effective tight end in this league, but he will need to improve in all phases if he is going to be a factor for the Bills moving forward.
Tommy Sweeney
Brought on board as a seventh round pick out of Boston College in the 2019 NFL Draft, Tommy Sweeney experienced an unfortunate turn of events in his second season as a pro. After being placed on the physically unable to perform (PUP) list due to a foot injury in July, Sweeney missed most of training camp as well as the beginning of the season. Before he could make his return, Sweeney became one of the tight ends affected by the mild COVID-19 outbreak within their position group towards the end of October, landing him on the reserve/COVID list for the next two weeks. It was later uncovered that Sweeney developed myocarditis, an inflammation of the heart as a result of the virus, ruling him out for the rest of the season. Sweeney flashed plenty of potential during his limited playing time in 2019, catching eight passes for 114 yards in six games. It is uncertain how Sweeney will look on the field when he returns, but he figures to be in the mix as one of three or four tight ends that will end up making the 53-man roster next season.
Reggie Gilliam
The lone undrafted player to crack the Bills' 53-man roster out of training camp this season, Reggie Gilliam made a positive impression on the coaching staff thanks to his versatility and unselfish approach. Initially viewed as more of a fullback, Gilliam made the transition to tight end during training camp. Gilliam did not see the field very often on offense, but when he did, he made the most of his opportunities. Gilliam finished the season with only two catches for 16 yards, but one of those went for a touchdown in Week 2 against Miami. Additionally, Gilliam showcased his unselfish approach to the game in Week 15 against Denver, landing not one but two huge blocks to help Josh Allen scramble 24 yards untouched for the score. Gilliam brings value on both offense and special teams, keeping him an intriguing piece for the Bills moving forward.
Lee Smith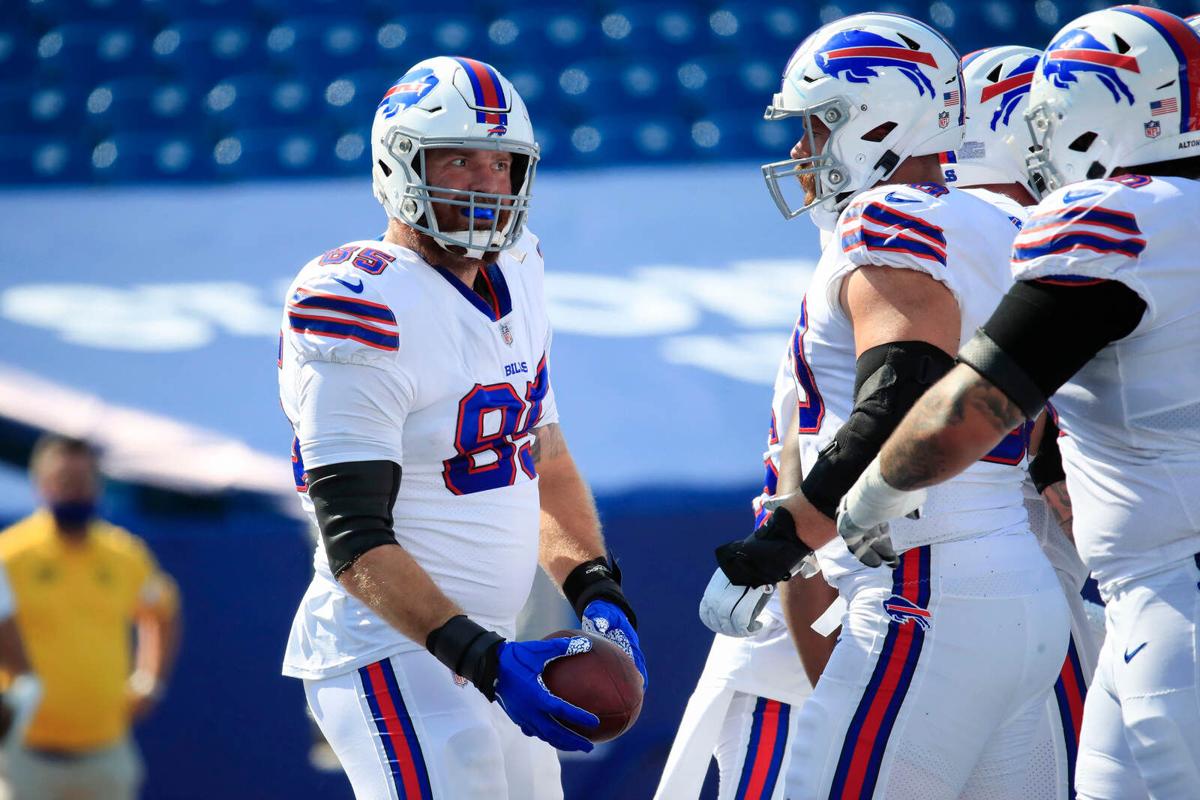 Lee Smith is a bit of a wild card in the tight end mix due to the uncertainty of his NFL future. In an appearance on the Nashville radio station 104-5 The Zone in February, Smith alluded to the possibility of calling it a career after 10 seasons. Making his second stint with the team after spending his first four seasons with Buffalo, Smith has brought tremendous value to the team as a veteran leader and tough blocker. While never viewed as a receiving threat, Smith has had the ability to catch opposing teams off-guard at times, managing to find the end zone twice on four catches for 35 yards this season. Due to the salary cap situation, many expect Smith to be released by the team even if he ultimately decides to keep playing in 2021. If that is the case, Buffalo will need to find a way to replace the value Smith brings as a blocker.
Nate Becker
After signing with the team following his release from the Lions as an undrafted free agent in 2019, Nate Becker has spent the past two seasons with the Bills' practice squad. Becker was promoted to the active roster in Week 17, where was able to receive a limited amount of snaps in his first taste of regular season action. Given his reputation as a blocking specialist, perhaps the Bills view Becker as someone who could potentially fill the void left by Lee Smith should he depart this offseason. Becker signed a reserve/future deal with the team at the conclusion of the season and is expected to compete for a spot during training camp.
Impending Free Agents
Tyler Kroft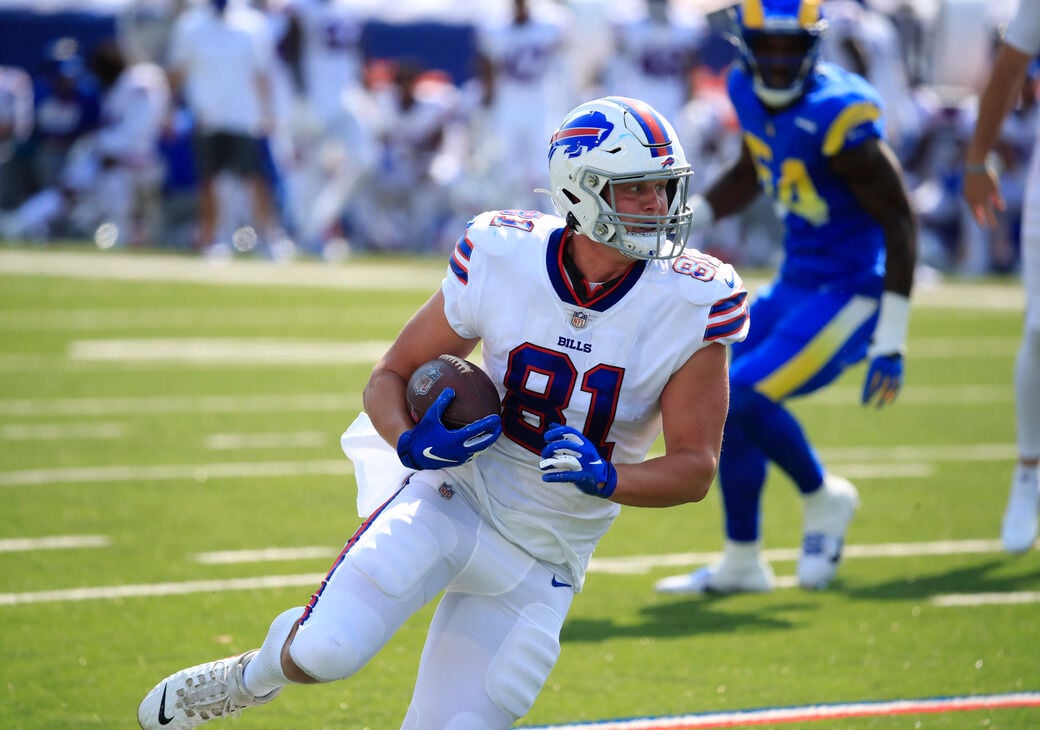 Part of the Bills' free agent haul in 2019, Tyler Kroft never quite lived up to the expectations of his contract. At 6'6", Kroft figured to be a prominent red zone threat for the Bills. However, he could not manage to stay on the field. Kroft missed five games in 2019 while only catching six passes on the season. His production increased by a little in 2020, catching 12 passes for 119 yards and three touchdowns in 10 games. Kroft was designated as a healthy scratch for most games towards the end of the season as the Bills tried to solve their issues in the run game. After restructuring his contract last offseason, Kroft is set to hit the market as an unrestricted free agent. It would be a massive surprise if the Bills brought back Kroft given his disappointing tenure with the team. Despite his struggles, Bills fans can still thank Kroft for making some huge catches when it mattered most. Kroft caught two touchdown passes in Week 17 with the Bengals to help end the Bills playoff drought in 2017. Additionally, Kroft caught the game winning touchdown on Sunday Night Football in 2019 to help the Bills clinch the playoffs once again as well as the game winner in a roller coaster 35-32 victory over the Rams this past season.
Tight end is certainly a position that the Bills will look to upgrade this offseason, whether they choose to address it in either free agency or the draft. There are plenty of notable options to be had in free agency such as Jonnu Smith, Hunter Henry, Kyle Rudolph, Jared Cook and Gerald Everett. Depending on the asking prices of those players, Brandon Beane may opt to wait to fill their need with one of the many intriguing tight end prospects available in this upcoming draft, but the answer to that will become very clear once free agency opens in a few days.