In a season which was dominated by the Bills passing game, the struggles of the Bills running game has managed to become a hot topic of discussion amongst fans this offseason. Historically notorious for being a "run-first" team, the Buffalo Bills decided to reverse that trend in 2020, handing the reins over to the powerful arm of QB Josh Allen to carry the offense. This strategy worked wonders for Buffalo, transforming a unit that averaged a mere 19.6 points per game in 2019 all the way to a dominant 31.3 points per game in 2020, which was good for second best in the NFL. While the passing game prospered, the Bills run game left a lot more to be desired. Fans and analysts have debated for months who is more at fault for their struggles: the running backs or the run blocking? The answer to that question depends on who you ask, but the decisions made by GM Brandon Beane in the coming months will make it very clear how the organization feels about their current backfield. Before making any final judgements, it is important to take a closer look at each of the Bills RB's individually.
Devin Singletary
Following an impressive rookie season in which he split carries with Frank Gore, fans had high hopes that Devin Singletary would break out with an increased role in his sophomore season. However, those expectations were not met as Singletary fell short of the 775 yards rushing he had in 2019 with only 687 yards on 5 more carries. Obviously, Singletary's involvement in the offense was much lower than most expected it would be headed into the season, as hardly anyone predicted that OC Brian Daboll would completely innovate the offense into an air raid attack. Still, the Bills would have benefited from more consistent production from their lead back. At 5'7" and 203 pounds, Singletary is not necessarily an imposing presence in the backfield. While Singletary lacks the breakaway speed needed to create chunk plays, he makes up for it with his shifty footwork and ability to break tackles with his toughness. Singletary might never be the game changer that LeSean McCoy was in Buffalo, but he can still be serviceable with strong run blocking in front of him. Assuming the offense continues to lean pass-heavy in the near future, the Bills will need more production from Singletary as a receiving threat as well.
Zack Moss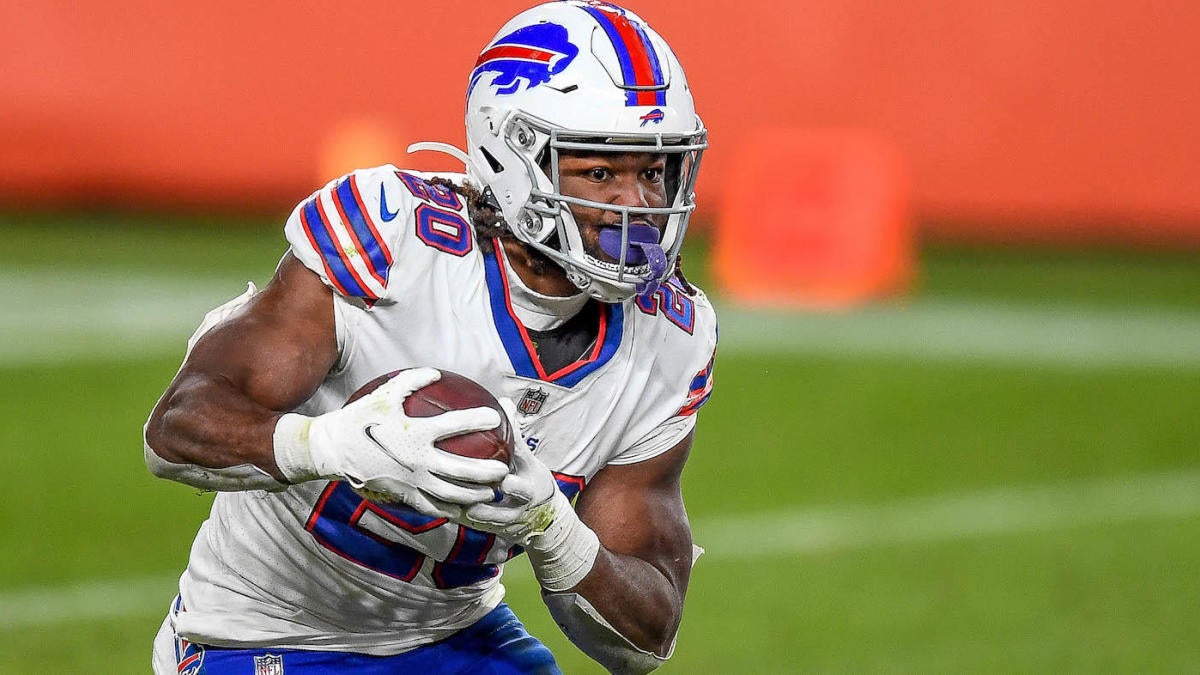 Given his nearly identical stature and downhill running style, Zack Moss was brought to Buffalo to be the heir apparent to Frank Gore. The plan seemed to be to form a "thunder and lightning" duo with the two young backs, as Moss would be the change of pace back differing from Singletary's elusive running style. After their first full season together, Singletary and Moss appear to be a lot more similar than they are different. The two have very comparable speed, which makes the change of pace much less noticeable than one would imagine. In reality, the difference between them comes from their approach, as Moss is never afraid to seek out contact and run over defenders as the bruiser he is. At times, Moss appeared to be better suited as the Bills lead back, but he did have his share of struggles as well. There were several games where, much like Frank Gore, Moss was repeatedly stifled at the line of scrimmage before a hole would open up. However, Moss also had his fair share of standout games, most notably both games against New England. In two games versus the Patriots, Moss rushed for a combined 138 yards on 5.3 yards per carry, scoring 3 touchdowns in the process. Consistent performances like that against Bill Belichick & Company will certainly endear Moss to the fan base for a very long time. Moss' season ended prematurely with an unfortunate ankle injury in the Bills' Wild Card victory against the Colts, but he is sure to return for another crack at it in 2021.
Antonio Williams
One of the most intriguing stories on the Bills roster this season, undrafted rookie RB Antonio Williams bounced on and off the practice squad 4 times before ultimately getting his first game action in Week 17 against the Dolphins. When Williams' number was called, he did not fail to impress. Williams rushed for a team-high 63 yards and two touchdowns on 12 carries while catching a pass for 20 yards en route to a 56–26 win against the league's top ranked defense heading into the game. As expected, fans went gaga for the rookie, calling for him to be the starter moving forward. Given the small sample size of game action, such a move was far too risky heading into the playoffs. However, Williams' combination of burst, vision, and power while carrying the football certainly warrants a longer look next season. Williams signed a reserve/futures deal with Buffalo at the conclusion of the season, and he should have every opportunity to carve out a bigger role for himself in 2021. Some may claim that Williams "went undrafted for a reason" and point to that as reasoning to dampen hopes for the young back. However, those people are often the same ones that are vehemently against drafting a running back in the first round. If you truly believe that good running backs can be found anywhere, just as star undrafted rookie James Robinson did with Jacksonville this season, then there is no reason to count out Antonio Williams in 2021. 
Christian Wade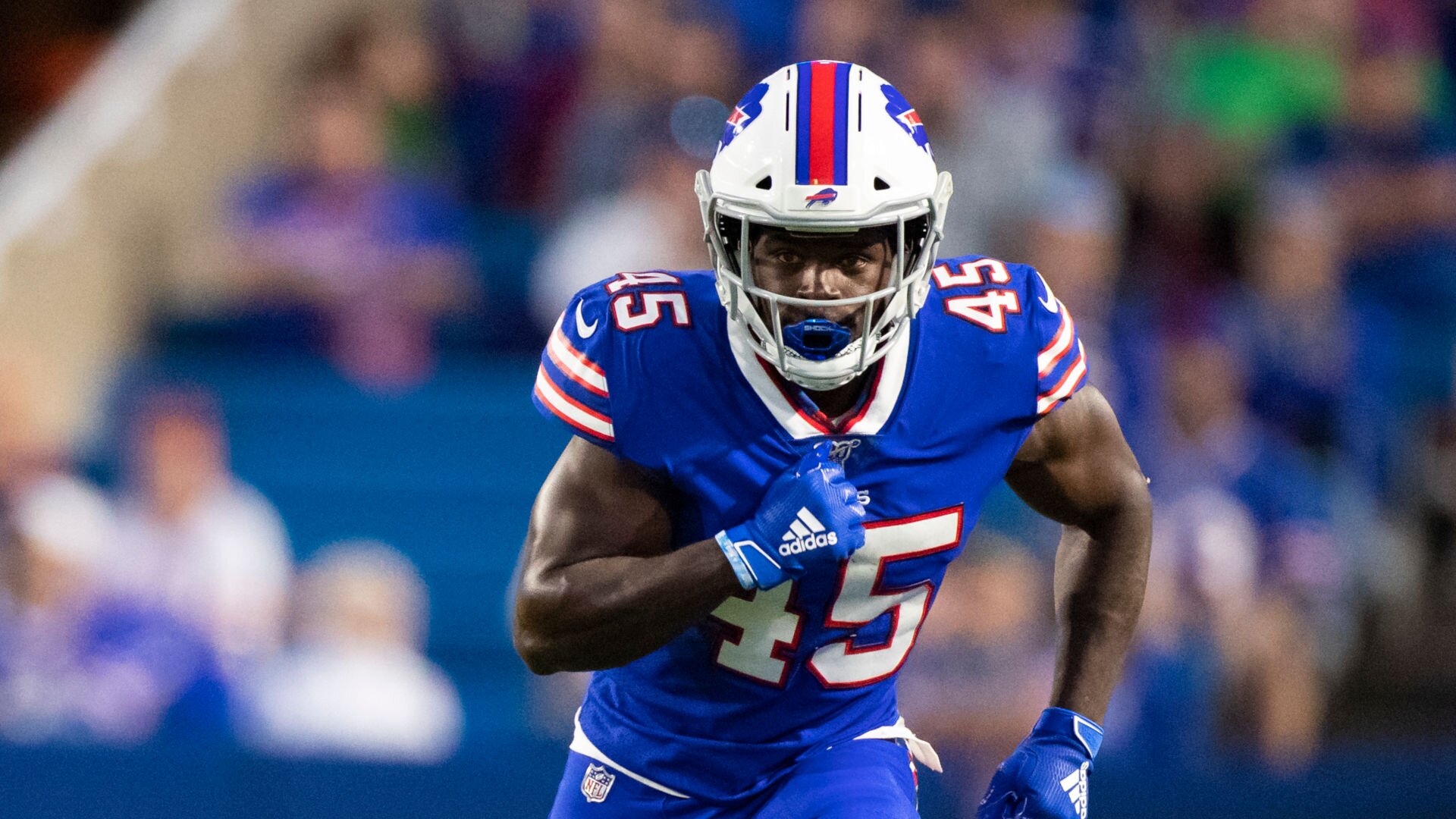 A beloved figure among Bills fans everywhere, no one can forget Christian Wade's introduction to the NFL in the 2019 preseason. Making the bold decision to leave his career as a Rugby superstar in England, Wade arrived in America without any prior experience on the gridiron. Challenged with the impossible task of catching up to the decades worth of football knowledge accumulated by his peers, Wade embraced the opportunity. In his first ever professional carry, Wade scampered 65 yards to the house, flashing incredible speed along the way. Wade followed up this storybook performance the very next week by nearly scoring once again in his second career touch. After breaking 3 tackles, Wade had a clear path to the end zone until his rugby instincts took over, leading him to the middle of the field where he was ultimately brought down just shy of the goal line. Wade has spent the past two seasons as an international exception to the practice squad, but that exception has officially run out. Wade will have an opportunity to compete for a roster spot in 2021, but as he enters camp at 30 years old, the odds of him being in the Bills' long term plans at RB appear to be slim.
Impending Free Agents:
T.J. Yeldon
After spending the past two seasons in Buffalo, T.J. Yeldon is back on the market as an unrestricted free agent this offseason. Although his role was much more limited than in years past being that he was inactive most weeks, Yeldon never complained and stepped up whenever he was called upon. Yeldon only appeared in 3 regular season games in 2020, rushing for 70 yards on 10 attempts while also catching a 22 yard bullet pass for a TD in garbage time versus Tennessee. However, his role was ramped up in the postseason after Moss went down. Yeldon's biggest impact came in the AFC Championship game, where he had 4 receptions for 41 yards in a 38-24 loss to Kansas City. Yeldon is still a very effective pass-catching back that can make an impact in games. The Bills could show interest in bringing Yeldon back, but it would not be surprising to see him seek out more playing time elsewhere.
Taiwan Jones
Returning to Buffalo for a second stint after helping deliver the dagger to their season as a member of the Houston Texans in the previous year, Taiwan Jones proved to be an incredibly valuable core special teamer once again. Paired with Siran Neal, the two formed one of the league's best gunner combos all season long. Jones' impact also flashed in the AFC Championship game, as he flew down the field to recover Mecole Hardman's fumble on a punt return in the first quarter, setting up a quick touchdown for the Bills offense. While he is rarely utilized on offense, Jones is certainly worth a roster spot and the Bills will likely look to bring him back in 2021.
Depending on the Bills' evaluation process, the RB room could either look very similar or very different in 2021. Brandon Beane echoed his confidence in his young RB duo at his end-of-season press conference, stating that it is "unfair to point blame on the running backs" in regards to their struggles in 2020. That being said, Beane could very well be planning on running it back with Singletary and Moss next season while placing an emphasis on addressing run blocking this offseason. However, it is not out of the question that they may try to add some speedier options to help diversify their backfield moving forward.