While all the buzz around free agency and the draft picks up, it is equally important when approaching those phases of the offseason to take a step back and evaluate where each player and position group is at. Every great team needs strong quarterback play in the modern era, and the Buffalo Bills were lucky to have exceptional production from that position all year long. That being said, can this level of performance be sustained? How reliable is the depth behind Josh Allen? Where can the Bills improve? All of these are reasonable questions to ask, so let's dive into the current state of the Bills QB room to see where they are heading in 2021.
Josh Allen
Out of every standout player in the 2020-21 season, no player took a greater leap forward than Buffalo Bills starting QB Josh Allen. Not only has Allen made astronomical strides in terms of raising his completion percentage from a lowly 52.8% in his rookie year to sitting towards the top of the league with an impressive 69.2% in 2020, but the improvements can be seen in almost every statistical category. For instance, Allen's TD/INT ratio has steadily improved year after year, from around 1/1 in 2018 to 2/1 in 2019. However, in 2020, that ratio skyrocketed to a mark of 3.7/1, meaning that for every 1 interception Allen throws, he matches it with nearly 4 more touchdown passes. That is an incredible level of production, one that the Buffalo Bills will surely take every year.
Allen's steady progression from one of the rawest prospects in recent memory who many wrote off as a bust before he ever stepped on an NFL field, to a superstar in year 3 is by far one of the most impressive cases of player development the league has ever witnessed. Allen's developmental success can be attributed to multiple different factors. Of course, there is the patience of the Bills coaching staff to work with him and embrace the bumps along the way without benching him. Also, there is the continuity with OC Brian Daboll, which has allowed Allen to build a heightened comfortability in the offense. Then, there is GM Brandon Beane, who worked diligently to surround Allen with the necessary pieces for success, the most significant being providing him with an elite WR1 in Stefon Diggs. However, the biggest credit has to go to Allen himself, who put in countless hours working with QB guru Jordan Palmer to correct his mechanics in the offseason. All of this combined together formed the perfect storm to help develop Allen into the special player and leader he is today.
Heading into 2021, Josh Allen is still not perfect by any means. He still can be reckless at times and needs to protect the football much better without fumbling. However, it is now more clear than ever that the Bills have found their franchise guy. Allen embodies everything that the City of Buffalo is about, and there is no doubt that he can improve upon his MVP caliber season moving forward.
Jake Fromm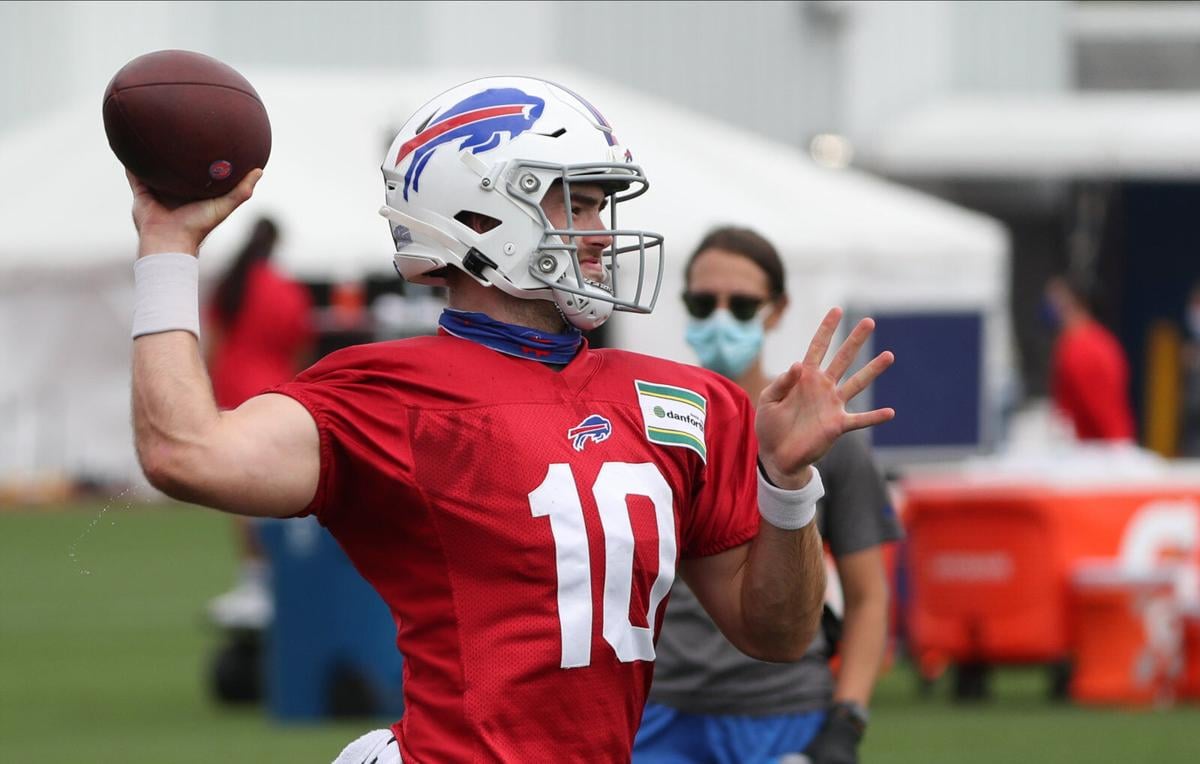 The 2020-21 season was strange for a lot of reasons, but perhaps no one had a stranger rookie season than Jake Fromm. After a memorable collegiate career at the University of Georgia, Bills GM Brandon Beane deemed Fromm "too good to pass up" when he was still sitting there in the 5th round. At that point, it was evident that the Bills viewed him as a potential long term backup to Josh Allen. No more than two months after the draft took place, controversy hit. Insensitive text messages sent by Fromm in 2019 leaked online in which he stated that only "elite white people" should be allowed to buy guns. Fromm publicly apologized, but obviously this was a rocky start for someone trying to earn the respect of his teammates. Then, preseason was cancelled, removing any chance to see Fromm in action unless disaster struck. Fromm sat as the 3rd string QB for the entirety of the season, but his experience was unlike any other on the team. As an added safety precaution amid all the COVID-19 protocols in place, the Bills decided to have Fromm practice away from the team in case an outbreak took place in the QB room. Clearly, this idea was a wise one. Although it luckily did not happen to Buffalo, a similar situation left the Denver Broncos without a QB in Week 12, leaving them with no other choice but to start practice squad WR Kendall Hinton at the position against the New Orleans Saints. Overall, it is fair to say that Fromm's rookie season did not go as planned for everyone involved.
Heading into next season, no one really has a clue of what to expect from Jake Fromm. It is difficult to pinpoint where he is at in his progression, or if he can be trusted in a primary backup role simply because we have not seen him play yet. Because of this strange situation, it is hard to envision a scenario in which the Bills do not either bring back Matt Barkley or another veteran QB to compete with Fromm in training camp.
Davis Webb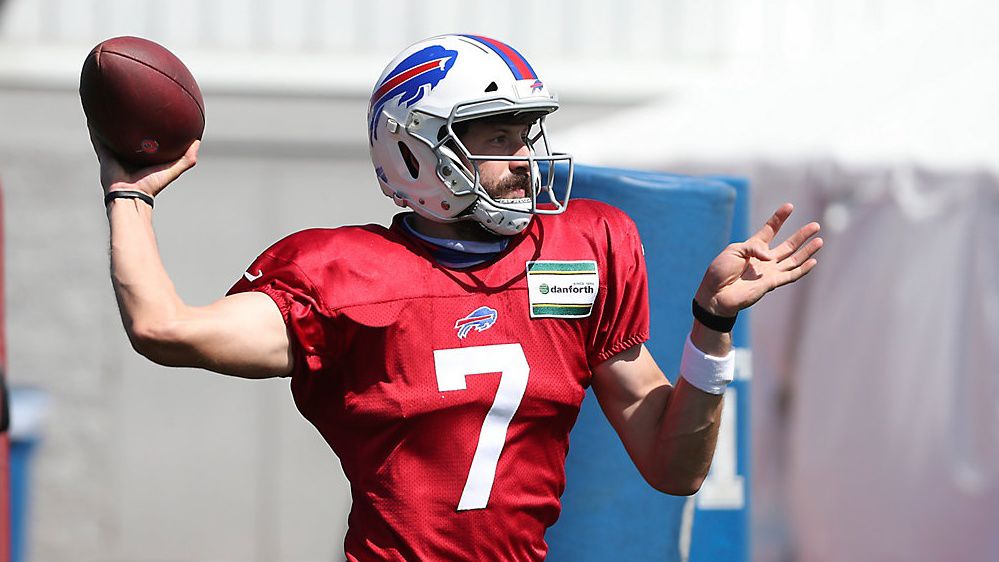 The Bills signed Davis Webb to a reserve future/contract following the conclusion of their season. Formerly a 3rd round pick in 2017, Webb spent his first two seasons in East Rutherford, New Jersey splitting one season with the Giants and the other with the Jets before landing on the Bills practice squad, where he has spent the past two seasons. Webb may not be the answer as the backup to Josh Allen, but what he has brought to the team has been valuable. When the Bills offense gathered together for a workout in Florida this past offseason, Webb was out there leading most of the drills. In fact, Davis Webb even stepped in at other positions when needed, including the defensive backfield. Webb's leadership and knowledge of the game is certainly a valuable asset to the team, and when his playing career is over, he clearly has a future in coaching if he wants.
Impending Free Agents:
Matt Barkley
Matt Barkley has been the primary backup to Josh Allen ever since he stepped in off the street to start against the Jets in Week 10 of the 2018 season, shockingly leading the Bills to a 41-10 victory. Since then, Barkley earned a two-year extension and stepped in whenever he was needed. Barkley appeared in 5 games in 2020, mostly during garbage time when the game was all but over. A bulk of his action came in the Bills' Week 17 rout of the Miami Dolphins, in which Barkley played the entire second half. In that game, Barkley completed 6 of his 13 pass attempts for 164 yards, throwing 1 TD pass to Gabriel Davis and an interception to Xavien Howard prior.
Barkley is an unrestricted free agent this offseason, leaving his future in Buffalo up in the air. There is a chance that the Bills decide to bring him back given the uncertainty surrounding Fromm and his value as a mentor to Allen. However, the Bills may want to upgrade at the backup QB spot, finding someone who gives them a better chance to win should Allen ever go down for a period of time. No matter what happens, Bills fans should appreciate everything Matt Barkley has done to help Josh Allen as a tremendous teammate these past few years.
Buffalo is pretty much set at the quarterback position as of now. It is possible that they try to upgrade at QB2, but with limited cap space at the moment, do not expect any major shake ups within this group.