For the first time under Head Coach Sean McDermott, the Buffalo Bills were not a team highlighted by their defense in 2020. After he and General Manager Brandon Beane spent the last two seasons building up the offense, Josh Allen and Co. took off. Yet it wasn't just that the offense out-performed the defense, the defense genuinely took a step back last year. We'll examine where each unit stands heading into the offseason with The State Of the Bills. 
Defensive Tackles
Note: The Bills do not have as hard of a definition between nose and three technique defensive tackles as some teams either in play style or body type. The differentiation here is where their primary gap responsibilities lie. Any player who lines up primarily in the 'A' gap (next to the center) will be considered a nose tackle while any player who operates in the 'B' gap (outside of the guard) is considered a three-technique. 
Three Technique: Ed Oliver
It's pretty clear that the Buffalo Bills are much less frustrated with Ed Oliver than the fanbase is. The 9th overall pick has been relatively quiet in his first two years in the NFL, racking up only eight sacks in two seasons. General Manager Brandon Beane gave a vote of confidence for the soon-to-be third year player,
"Ed is playing really well. If people want to look at just sack numbers, he doesn't have those but he impacts the game. Not only the pass game but the run game. At the end of the day the sacks will come as he continues to learn the game. Ed faces a lot of doubles (double teams) too. He might have started slow but I thought three quarters of the year he played well and helped our defense."
Beane's claims about Oliver's impact as a run defender are not backed up by data, but the 287 pound defensive tackle was not brought in to be a stout run defender. He did make a leap in his pass rushing this past season from his rookie year as he's learned to use his hands better. The transition from playing pure nose tackle in college might be taking longer than expected, but Oliver is trending in the right direction as a pass rusher. Once he learns how to marry his hands with his quickness and speed, he will be a productive player. Year three will be critical.
Three Technique: Quinton Jefferson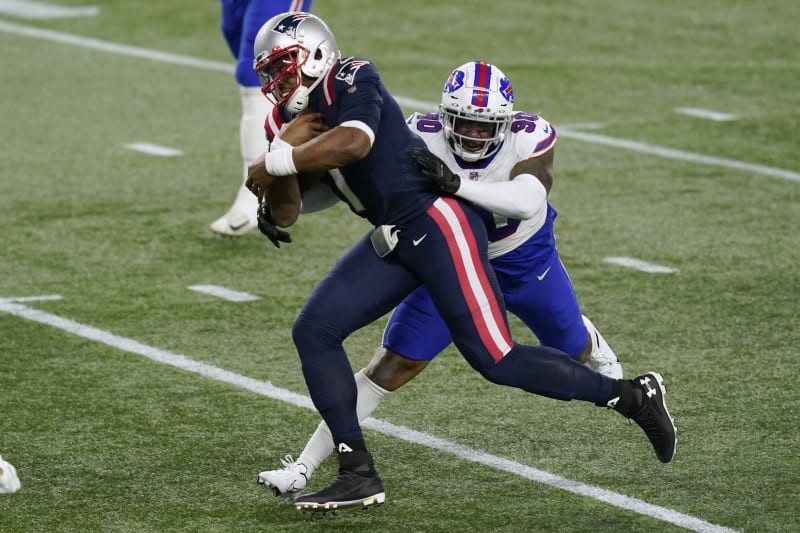 Quinton Jeffereson was not brought in to stop the run. The 290 pound converted edge rusher was brought in to reinforce the Bills pass rush and he did just that. He was able to get consistent pressure on the quarterback from the B gap and racked up 30 quarterback pressures in the Bills defensive line rotation which was 2nd behind Oliver among defensive tackles according to PFF. He may have drawn the ire of Bills fans for being yet another sub-par run defender but he was still a solid contributor and was pound-for-pound the best interior pass rusher for the Bills in 2020. The condensed cap may make him a casualty, but he should be the lowest on the list of defensive lineman to be cut.
Nose Tackle: Harrison Phillips 
While many Bills fans would point to the loss of Start Lotulelei as the reason for the Bills' struggles in the run game last year, the truth of the matter was that Harrison Phillips' slow start was more to blame. The former third round pick was coming off of an ACL injury the year before and took time to regain his form. He's a versatile player who has played at both the three technique and nose tackle position for Buffalo in his three seasons on the roster. His best spot (and where he primarily played in 2020) is to man the interior and absorb double teams in the run game. His long arms and strong bull rush are very good assets for a team that lacks both at the defensive tackle position. He played better down the stretch in 2020 and should be back to where was at the start of 2019 before the injury. He's an ascending player that the Bills will be counting on heavily next fall. Only Oliver's development means more to the Bills' interior rotation than Phillips.
Nose Tackle: Star Lotulelei
Lotulelei is a problem that does not seem to have an easy solution. Possibly the worst contract that Brandon Beane has handed out to a former Carolina Panther, Lotulelei is an albatross on the team's restricted cap space. His renegotiated deal in February of 2020 means that his dead cap number for this year is 12.3 million dollars according to overthecap.com if the team were to cut him.
All of that would be fine if he was a productive interior player. Even before he opted out of 2020, Lotulelei was a rank average run defender as the team's primary nose tackle. His stiff, upright playing style is not optimal for taking on double teams. At best he absorbs blockers but does defeat blocks and create pressure in the running game. Again that would be fine if he produced as a pass rusher for the Bills from the A gap, which he does not. Lotulelei has a high water mark of exactly four sacks in his eight year career. The Bills have found younger, more effective nose tackles since signing the former Panther in 2018 but there doesn't seem to be an easy way to move him off the roster and make room for someone else.
Hybrid: Vernon Butler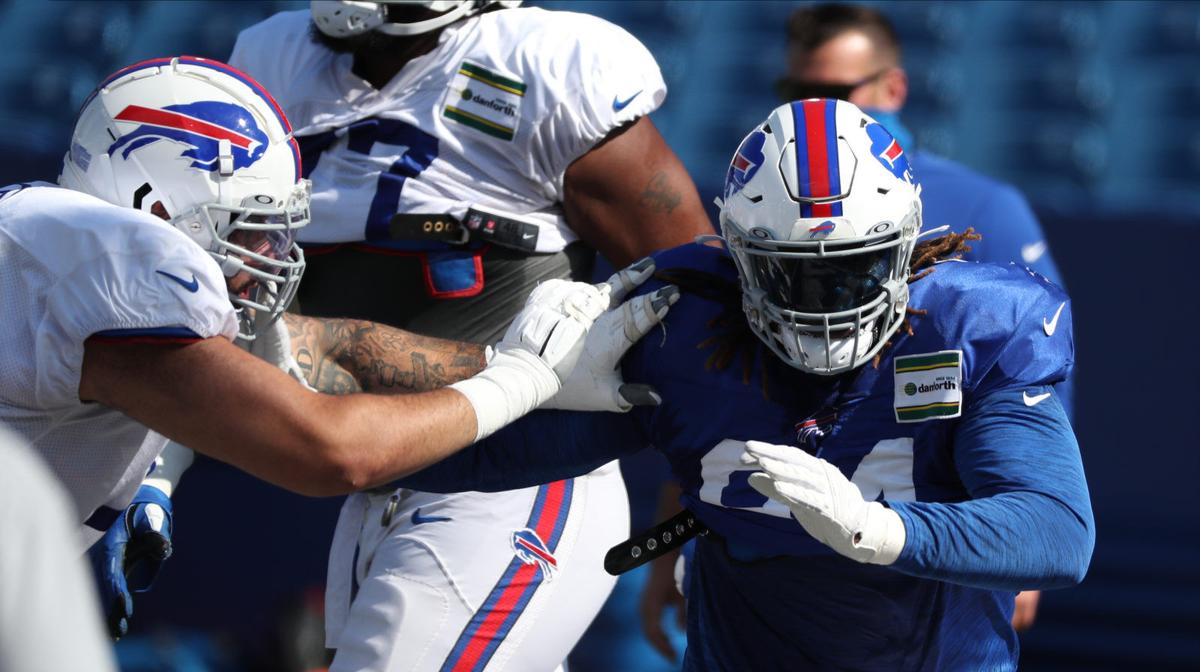 Not every lottery ticket pans out. Butler is a 6-4, 330 pound athletic interior defender with the profile of a dominant all-around player. He simply doesn't play like it. Butler another cautionary tale about looking at sacks as the only metric of production after his six sack 2019 campaign. The former first-round pick looked like he was turning the corner after his final year in Carolina. Beane took another chance on Butler with a two-year 15 million dollar contract with the Bills but Butler has never had more than 20 pressures in any one season according to both PFF and PFR. Last season he only played 13% of the team's defensive snaps and notched just four pressures according to PFR. With only one year left on his deal and a low dead cap number, he's a reasonable lock to be cut in the new league year.
Hybrid: Justin Zimmer
Bills Mafia favorite Justin Zimmer was a great find by Beane this season and won fans over with his hustle and some timely big plays. Zimmer played incredibly well down the stretch and found a home as a versatile undersized nose tackle who can also fill in at three-technique at times. Zimmer is very stout against the run for a sub-300 pound player and plays with the quickness that the Bills covet. Zimmer earned more time on the field as the season went on and will likely be a larger part of the defensive rotation next year. We'll have to see if his productivity per-snap goes down with more time on the field if that is indeed his future with the team.