Brandon Beane has made it abundantly clear this past April that he is willing to select players not necessarily based on what they can contribute to the team now, but what their potential value is for the future. Of the 31 players Beane has selected during his time as the Bills General Manager many scouts and analysts would agree that the vast majority of the players, especially those taken in the higher rounds were not NFL ready coming out of college, that many would require substantial development and grooming before Beane could see a return on the investment. For several years now, the Bills have been waiting on a handful of players to arrive, the question must be asked after a long wait: Is the future now?
Tremaine Edmunds
In 2018 Brandon Beane made a selection that will forever cement his place in Buffalo Bills lore when he selected Josh Allen, the big armed project from Wyoming with the 7th overall pick. In three years-time Allen has gone from a potential draft bust candidate to a bonified MVP candidate, giving credence to Beane's ability to see beyond a player's flaws and into their future. While Beane certainly struck gold with the selection of Josh Allen, a pick that has completely altered the course of this franchise, taking it from a perennial basement dweller to a legitimate Superbowl contender, not all of his gambles have paid off quite like the Allen one has. Linebacker Tremaine Edmunds was taken just 10 picks after Josh Allen, a freakishly talented 19-year-old with unworldly potential but with some minor flaws in his game. While he has had some successes, transitioning to the league as a teenager, averaging nearly 100 tackles in his first three seasons many are growing a little impatient with Edmunds' timetable. While he is still ridiculously young, having just turned 23 years old as he is set to enter his 4th professional season, many are waiting for him to put it all together, to trigger all of his talents and become the linebacker that he is capable of being. While Edmunds has been decent, earning two Pro-Bowl nods and flashing some of that star like ability on occasion many realize that without him playing to his full potential this defense may never turn the corner and return to its former glory. 2021 can be the year for Edmunds to finally put it all together, having now settled into the defensive scheme and adjusted to the speed and physicality of the NFL he should be ready to unleash the beast so to speak. Edmunds was hindered by a shoulder injury early on in 2020, an injury that clearly mired his performance. He struggled making contact, fending off blocks and being physical at the point of attack. He was also under much more duress than years prior, he struggled to navigate the traffic in the middle and find the ball quickly. Much of that had to do with the absence of nose tackle Star Lotulelei up front, who was a Covid opt out. While Lotulelei was by no means a star himself in 2019, he did a good job of eating blocks and controlling the line of scrimmage enough to allow Edmunds the extra time he needs to diagnose plays and react. With a healthy start and the return of Lotulelei Edmunds should be able to play more freely, using his length and speed to track the ball and be more of an impact in the middle of this defense.
ED Oliver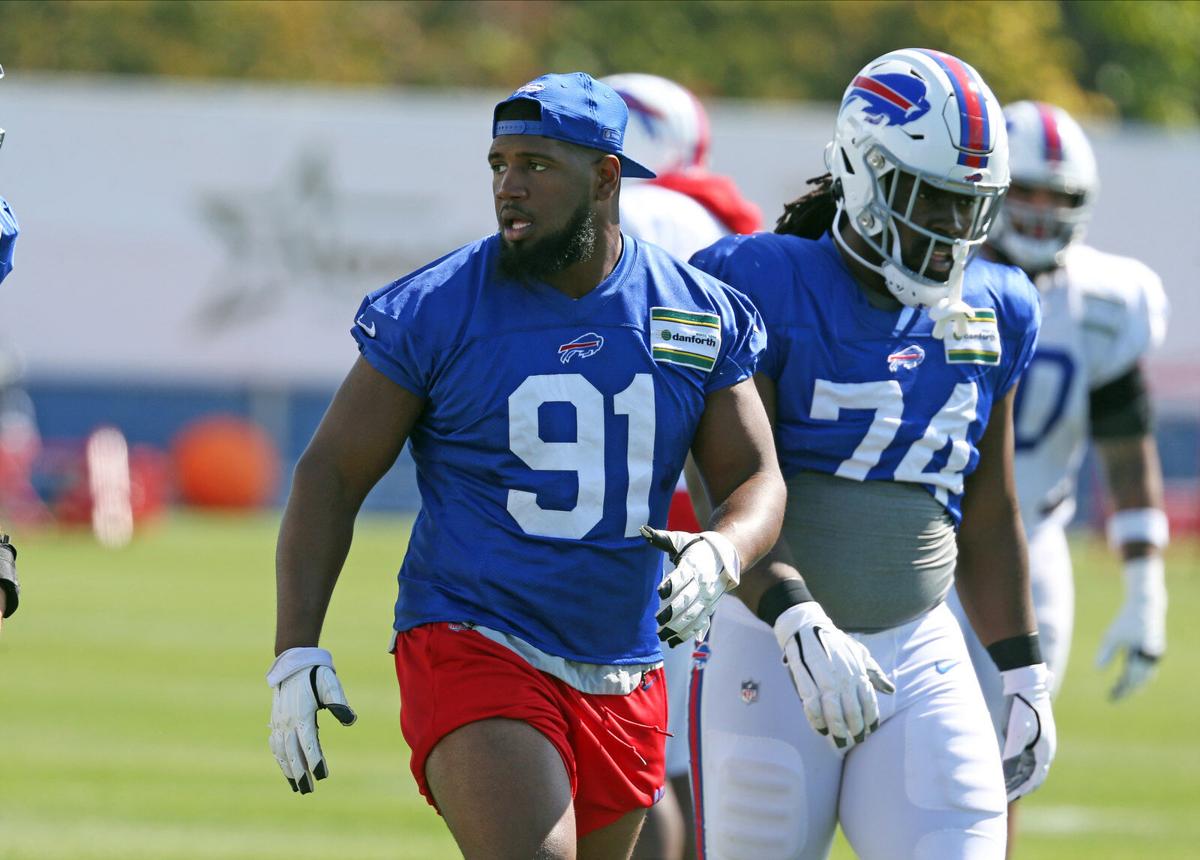 Another of Beane's high ceiling players the Bills are still waiting on to develop into the interior pass rush terror that was promised is former 2019 1st Rd pick defensive tackle Ed Oliver. Once upon a time Oliver was considered by some to be a potential #1 overall pick, he was that athletic, that powerful and flashed the ability to be that dominant of a player. Though eventually QB Kyler Murray went on to become the number 1 pick Oliver would only last a few more selections before the Beane nabbed him at 9 overall. The hype surrounding the 6'2-290lbs defensive tackle was immense, he was pegged to be an instant game wrecker, someone who could spend a career in the opponents backfield making plays and terrorizing quarterbacks. Some even made the bold comparison to L.A. Rams superstar Aaron Donald, the two shared similar builds, the same raw power and the freakish athletic ability that the comparison seemed fitting. The less than stellar start to Oliver's career was not entirely unpredictable, though his talents were vast he was extremely unrefined when he arrived in Orchard Park, many of the analysts myself included believed he was not well prepared for the transition to the NFL at 290lbs. He played a non-traditional nose guard at Houston, instead of absorbing blocks and protecting the linebackers he was tasked with beating centers across their face, shooting gaps and playing in the backfield, a style which ultimately produced great results but did not prepare him for McDermott's gap system. With two years under his belt now and a 2021 that is set for him to return to his natural position of the 3-tech, playing the outside shade of the guard Oliver is primed for a breakout season. Not only is Oliver back to his natural spot but this year he will be joined by a new cast of pass rushers, players who can not only be lined up on the edge, but who can conceivably bump down inside next to Oliver on passing situations. Free Agent addition Efe Obada is a tall, long athlete who possesses great speed and burst off the snap and is comfortable rushing from the inside, top draft picks Gregory Rousseau and Carlos Basham also have the size and speed to push down inside on occasion and had some good success at getting to the QB from that alignment in college. Their presence on the interior can help Oliver to free up on the inside and put him in a position to win more match-ups, resulting in more production. Year three for Oliver is poised to be a breakout season.
Cody Ford
In 2019 Cody Ford was billed as a player with 1st Rd talent, the scouts and draft analysts raved about his long list of talents. They lauded him for his size and athleticism, his capacity to handle both power and speed, his ability to move up into the second level and cover up linebackers, or work in the trenches to uproot and drive out defenders. Above all they loved his NFL readiness, many who evaluated Ford considered him a complete lineman who had all the tools and high-level experience needed to step in early and play at a high level. That is why, when Ford was still sitting on the board 6 picks into the second round, Brandon Beane made the move to go up two slots and draft him. While many around the NFL celebrated the trade up, considering it a smart move to draft a highly rated lineman in the 2nd round the question around Buffalo was, where would Ford play? The debate surrounding him during the draft process was where he would fit best in the NFL, at tackle or at guard? While at Oklahoma he played well at both spots and could seemingly transition to either in the NFL but with Quinton Spain and Jon Feliciano rounding out the interior the need was most glaring at right tackle. Ford started 15 games but in retrospect he did not perform particularly well at tackle ranking 78th out 98 and in 2020 with the injury to Feliciano set to keep him sidelined for several weeks, the decision was made to move Ford inside to guard. Unfortunately, injuries shortened Ford's season before the jury could return a verdict on his performance, though he struggled at right guard and was later moved to left he did not get enough reps there for a true evaluation to be made. While former 2nd round pick Forrest Lamp was signed to bring in competition both Beane and McDermott appear to be high on Ford, they seem willing to give him every available opportunity to develop into the player they intended him being. The hopes are that Ford can return healthy this year, that he can get acclimated to the left guard with a pre-season and time to find his groove going into the regular season.

Devin Singletary
Just a few picks after Cody Ford was taken, Beane drafted a running back, the shifty, the elusive Devin Singletary from Florida Atlantic. While Singletary lacked ideal size and the desired speed to take it the distance his ability to create yards and make people miss was highly intriguing. While the offense was set to be geared around the development of Josh Allen in 2019, Singletary was an integral part of the team's success. He rushed for 775 yards while averaging just north of 5 yards per carry as a rookie and was one of the leading creators of missed tackles in the league. He also showed the ability to contribute out of the backfield snagging 29 passes for 194 yards and 2 scores, a rookie performance that certainly increased his stock moving forward. Singletary figured to take on an expanded work load in 2020 but the addition of rookie Zack Moss and the regression of the run blocking up front as the offense shifted almost exclusively to the pass, seemed to falter those plans. Singletary's sophomore campaign was somewhat of a disappointment, as his yards and yards per carry dropped off some as did his overall impact. His yards fell to 687 and his yards per carry dropped down to 4.4. While he did not seem to have the same burst or elusiveness, he did the year prior, the blame was not entirely his, though many fans wanted to see the Singletary experiment come to an end as calls for a new running back, namely Travis Etienne got much louder around draft time. However, Beane chose to stick with his 3rd round picks at RB and Singletary has seemed unphased entering his 3rd season, he recently posted a clip to social media of him shirtless in the gym, appearing much leaner, perhaps the transformation has increased his speed and explosiveness? One thing is for sure, that with camps and a preseason being green lighted this year, Singletary and the offensive line will have time to create the cohesion that is needed to propel a successful running game. While last year was a drop off for Singletary and the Bills run game his third year in this system could be a righting of the ship, the Bills are set to pay Josh Allen a tremendous amount of money and can no longer risk keeping him as the featured running back, Daboll will have to make this run game a priority in order for the Bills to not only repeat but take it a step further this offense is going to need to feature balance.
Dawson Knox
Perhaps the rawest player selected in the 2019 draft by Brandon Beane was TE Dawson Knox, a superb athlete who converted from QB to tight end at Ole Miss. Unfortunately, Knox was buried in the offense by the likes of D.K. Metcalf, Deebo Samuel and AJ Brown and was rarely part of the offensive production still Beane saw enough promise in the young prospect to move up in the 4th round and select him. While his first two seasons were cluttered with highs and lows, making some phenomenal plays while turning in some frustrating blunders there is still hope. Knox has been learning the nuances of the position on the fly, having been thrust into the game plan from the onset, a difficult proposition for any player at any position. The upside to Knox, is that what we have gotten from him up until this point has been largely based on his athleticism, recording 52/676/ 5 in his first two seasons as a pro. While his production has been quite modest, especially for being a member of a pass heavy offense there may be light at the end of the tunnel for him, as he did seem to become a larger part of the offense down the stretch last season, hauling in 10 catches for 65 yards and 2 TDs during the Bills playoff run, proof that both Josh Allen and Brian Daboll are growing more confident in Knox. His late season come on, could be proof that Knox is primed to turn the corner and become the mismatch weapon Beane hoped he would become when he moved up to select him two years ago. While this passing attack has been potent it has lacked a true tight end threat who can push the field vertically while providing a reliable red zone option, if Knox can assume this role, this offense could be unstoppable.
Understandably there are a lot of "what ifs?" involved in this process, counting on five young players to breakout and become the type of impacts they were drafted to be, but when analyzing each player's individual maturation and the situation they find themselves in going into 2021 it is very possible all of these players hit their stride, if this happens the Bills could not only be on the cusp of a spectacular season they could be embarking on a dynasty.