Written By Greg Boucher
The beginning of Star Lotulelei's career in Buffalo was certainly a shaky one, expectations were high on the former 1st round pick of the Carolina Panthers especially after he signed a 5 year $50M deal. Fans were sold the story that the massive, 6'2-320lbs defensive tackle was going to pair well with veteran DT Kyle Williams and bring his brand of power and disruption to the Bills front. Initially fans did not get what was promised of him as Star seemed to struggle absorbing blocks and controlling the line of scrimmage. His big money, big impact was never really felt; though he was never brought in to be a 50 tackle/ 10 sack type of player Star failed to create any relevant production, setting a career low in stops with 14 in his first year, earning a terrible PFF grade (56.5) for the second consecutive year. Aside from his personal lapse in production, statistically the Bills defense only improved marginally, moving up from 18th overall in 2017 to 16th in 2018 and with that the buyer's remorse spread like a plague throughout western New York.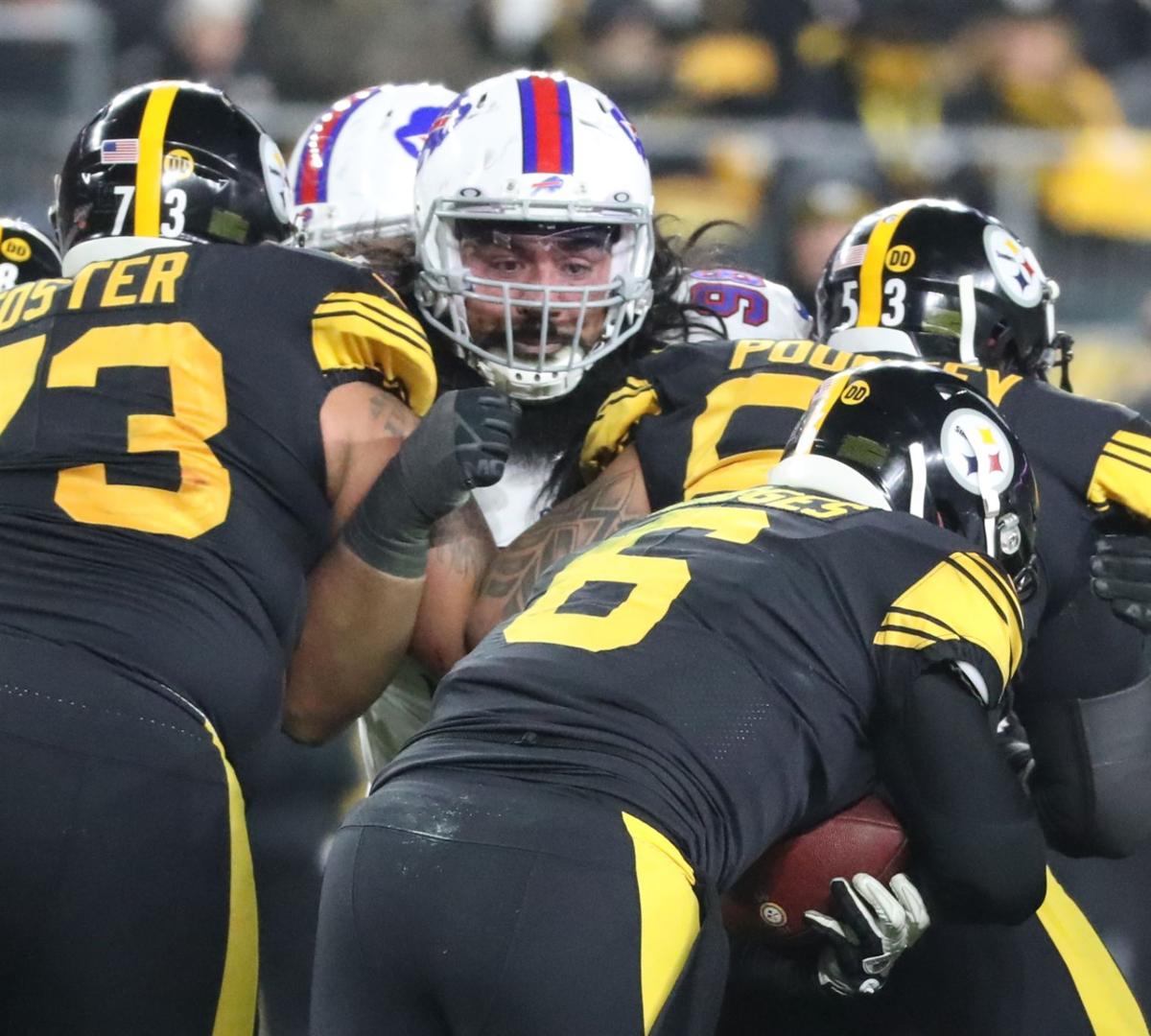 In 2019 the interior of the defense began to show its true potential, Star was visibly more disruptive as the season progressed, he consistently controlled the line of scrimmage and stood ground against double teams and though he didn't finish the plays, his presence in the backfield allowed other to reap the benefits. One of these players was second year LB Tremaine Edmunds who was far more impactful than the year prior. Watching the film, he needed to fend off fewer blockers, he appeared to be moving more cleanly in the box; able to utilize his freakish abilities to make plays at or behind the line of scrimmage. He doubled his tackle for a loss production, from 5 to 10 and was certainly more of a downhill force stopping plays before they began. Another recipient of Star's improved play was rookie DT Ed Oliver, though he struggled with the adjustment early on and was limited in reps by the mid-season point Oliver began living up to his hype. Fans were treated to some flashes of what scouts saw in him during his time at Houston, he was explosive off the ball, he man handled lineman and was active in the backfield. There was a stretch, when things began to click for Oliver, where he recorded a sack in 4 of 6 consecutive games. When highlighting the impact of Star, it would be a disservice not to mention the emergence of Shaq Lawson who had his best year a pro and Jordan Phillips who had a monster year alongside Star, recording 9.5 sacks and earning himself a handsome payday with the Arizona Cardinals. It would also be worth mentioning that both Lawson and Phillips' production dipped in their first seasons away from Star as well. With Star fulfilling his duties as a block stuffer, a bouncer for Edmunds and Oliver the defense improved from 16th overall to 3rd overall, finishing 10th against the run, fourth against the pass and second in points allowed. Perhaps the Star factor is real?

We thought 2020 would be the year it would all come together for this defensive front and the return on the Star investment but all that changed when Covid-19 swept America and changed professional sports as we know it. Many players in the NFL decided to opt out of the season, for concerns of the virus and how practicing, playing and traveling could affect them or their families if they contracted the virus, one such opt out was Star Lotulelei. This decision though for understandable reasons put the Bills in a compromising position.
Brandon Beane made a move he and Sean McDermott were comfortable with, hauling in ex-Carolina players they had relationships with and signed former 1st round bust Vernon Butler as a stop gap for the missing Lotulelei. This was the equivalent of slapping a Band-Aid on a gunshot wound and hoping for the best. Butler was a major disappointment, throughout, especially when you consider the money Beane threw at him $15M over two years. Needless to say the Pegulas did not quite get their money back on that investment. What hurt this defense the most however, was not overpaying Butler to do a job he wasn't suited for in the first place it was the regression of both Oliver and Edmunds.
Lotulelei's abscence ripple affect on ED Oliver
With Harrison Phillips returning from a severe knee injury and depth at the position a question mark, Oliver was asked to play more of the 1-Technique, and by alignment he was subjected to a major upsurge in double team blocks. Oliver is a physical specimen but at 285lbs he is not equipped to succeed in that type of system, at least not at this point in his career. While playing out of position regularly, Oliver enjoyed fewer reps where he was able to utilize his talents, where he could dominate single blocks and cause havoc in the backfield. Sure, he flashed at moments throughout the season, serving up some big splashy plays but the anticipated jump in production never materialized this season as he disappeared for long stretches fighting to sustain the line of scrimmage.
Lotulelei's abscence slows down Tremaine Edmunds
Oliver was not alone in the regression caused by Lotulelei's absence, LB Tremaine Edmunds suffered as well despite a shoulder injury that hampered him early on. To close observers it was evident that without Lotulelei front of him eating blocks taking up space, Edmunds struggled to create clear paths to the ball on his own. True Edmonds made a lot of tackles in 2020, but how many of them were at or behind the line of scrimmage? Edmunds made his impact felt five and six yards downfield, often times even further. His tackles for a loss total dropped significantly from 10 to 4, and his blitz production was among the worst in the NFL. Defensive Coordinator Leslie Frazier dialed up an Edmunds blitz 70 times in 2020 which only produced 2 sacks, 0 hurries and 4 QB knockdowns. Perhaps that speaks more to Edmunds' flaws than the lack of a Lotulelei but even the biggest Edmunds hater would have to admit having the big man in front of him would have helped his development tremendously in 2020.

There is a lot of questions to be answered in 2021, mostly on the defensive side of the ball. One of the biggest questions looming over the Bills, as Edmunds moves closer to the end of his rookie contract is, is the former 1st rounder a legitimate centerpiece to build around for the future? With Star Lotulelei set to return, and the hopes he can live up to his price tag and become the force in the middle that does all of the dirty work so players like Oliver and Edmunds can play up to their potential and this defense can return to the days when it was one of the NFL's most elite. Perhaps the Star factor is real?