It is no secret that 2020 was a record setting season for the Buffalo Bills offense as they dominated some of the top defenses and ignited scoreboards all over the league. The Bills averaged nearly 30 points per contest enroute to a 13-win season, an AFC East crown and an appearance in the AFC Championship game. It was a season where Josh Allen surfaced as a legitimate MVP contender and Stefon Diggs proved to be one of the most uncoverable wide receivers in the game as the two hooked up 127 times for 1,535 yards and 8 scores. What is exciting Bills fans everywhere and prompting Superbowl aspirations, is that this record setting unit returns almost fully intact. The only piece missing will be the speedy veteran John Brown whose relevance in the offense and production last year were limited due to injury. With the emergence of 4th round pick Gabriel Davis and the staggering $10M owed to Brown, he was subsequently released in March. The loss of Brown however, is not anticipated to be a significant one as General Manager Brandon Beane quickly signed veteran Emmanuel Sanders who in his 10th year was still highly productive (61/726/5) for the New Orleans Saints. Rounding out this talented squad is Cole Beasley, who at 32 years old is still one of the best slot wide receivers in the game. While Diggs, Sanders, Beasley and Davis look to eat the lion's share of snaps this year there is a player who is once again emerging as a dark horse candidate to not only make this team but make a real impact and that is 2nd year WR Isiah Hodgins.

Casual fans may not be familiar with Hodgins, the former 6th round pick out of Oregon State University did not arrive in the NFL with much notoriety or acclaim. His rookie season did not even outlast pre-season camp, as a shoulder injury sidelined him and ultimately ended his rookie campaign before it officially began. Those who followed Hodgins through college and into Bills camp this past season are well aware of the talent this young pass catcher possesses. For starters Hodgins is a tall, slender bodied receiver, who stands almost 6'4 and weighs about 210lbs. While he has decent measurables what is most striking about him is his exceptional pair of hands. Hodgins was certainly not in the conversation for top wide receiver in the 2020 draft but he was noted by many scouts for being one of the best natural catchers available. At Oregon State he compiled 176 catches, 2,322 yards and 20 TDs all statistics which ranked him near the top in school history. Hodgins was best known for his ability to win contested balls, utilizing his length, his coordination and body control extremely well. With his strong yet soft hands and precise concentration Hodgins was able to snatch balls away from defenders and make the difficult grabs appear routine.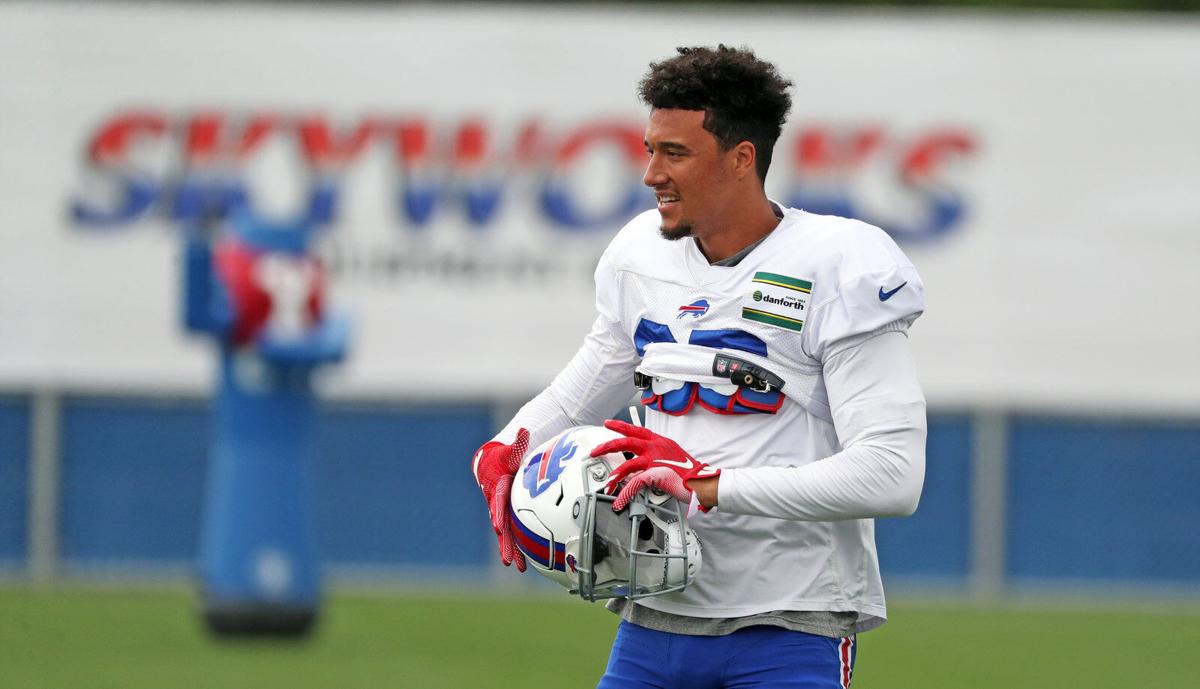 Despite his size, his quality production and exceptional hands Hodgins wound up at the back end of the draft because he lacked speed. Something he reaffirmed to scouts when he posted a 4.61 forty at the combine, a slow time for wide receivers considering the scouting minimum threshold is considered 4.5 seconds. Scouts feared he would struggle on his release and that he would not be able to create enough separation on routes or provide enough vertical threat to produce consistently. While speed is a large part of what makes a wide receiver successful it is sometimes an overvalued attribute when evaluating a prospect. Above all else wide receivers have to catch the football when it enters their radius. Hall of famer Chris Carter posted a 4.63, future Hall of Famer Larry Fitzgerald clocked in at 4.63 and potential Hall of Fame inductee Anquan Boldin posted a pedestrian 4.71 time. I am not suggesting Hodgins has the makings to be any of the aforementioned players but it is proof that one doesn't need to be a track star to succeed in this league. In fact, many players who posted impressive times have had disappointing careers. J.J Nelson and Jacoby Ford posted a 4.28's, Tyrone Calico posted a 4.3, Chad Jackson ran a 4.32 and none were able to parlay their lightning quick speed into a successful career.

Hodgins faded out of relevance after his injury and not much was reported on him other than that his surgery was successful. We had not seen or heard much of him until the recent mini-camp but the it appears Hodgins is healthy and has picked up where he had left off last August. Hodgins has showed some improved game speed, he appears quicker on his releases and sharper coming out of his breaks. His play has drawn positive attention from two very important people who can ultimately determine his fate in Buffalo, HC Sean McDermott and QB Josh Allen. "Isaiah is off to a phenomenal start because of his process in the offseason to get himself healthy. Now here we stand in the final week of offseason practices and I think he is putting himself in position to make a real move." HC Sean McDermott said in a recent interview.

When asked about the 2nd year Hodgins Josh Allen had this to say about him recently. "He's a longer bodied guy, he's surprisingly quick, you know, I'm not talking long speed – he's got that too. Just short-area quickness, getting off a jam and getting a good release. He can do a lot of different things. They've been moving him between the X and the Z, so he's got the ability to play multiple positions. You see him high-point a nice thrown ball today, go up and get it, and not everyone has the ability to do that. His body control has been fantastic. Beyond that, he's a guy that likes to have fun, he has good energy, he's a fun guy to be around. Never a bad moment for him. He's enjoying the process. I know he wasn't super happy with what happened last year with the shoulder, but he's been here grinding and getting better with our training staff and it will pay dividends when he's out here on the field."

While Hodgins has turned some heads and put himself on McDermott and Daboll's radar this off-season there is still a mountain to climb going forward. With four roster spots cemented with Diggs, Sanders, Beasley and Davis, Hodgins will have to battle for the one or two open slots. Brandon Beane resigned bullet fast, X-factor Isiah McKenzie this off-season. McKenzie has been utilized in a variety of ways over the last few seasons, on screens, reverses and throwbacks as well as being a viable deep threat. He has also flashed the ability to return kicks and could be the guy to replace the departed Andre Roberts. Aside from McKenzie, Hodgins will have to contend with the former Houston Cougar burner Marquez Stevenson whom they selected in the 6th round back in April. Stevenson has some upside, most notably his elite speed and he is also an accomplished collegiate returner. Hodgins lacks the pure speed of both McKenzie and Stevenson as well as their versatility to return kicks. As I noted earlier the success of a wide receiver is not gauged solely on their foot speed, above all else they have to catch the catchable balls and quite often the uncatchable ones as well, and Hodgins certainly has those skills. He will definitely be a player to keep an eye on as the team returns for pre-season camp and he gets the opportunity to show his ability versus other NFL teams. Hodgins can very well be the dark horse…. Again.