The CFR Draft team put together a first round mock draft to see how the board could shake out for the Bills at pick thirty. With picks made by Leroy "Muddawg" Winslow, Mike Back, Greg Boucher, Scott DelleFave, Thomas Frank Carr, and EJ Daniels.
Jacksonville Jaguars: QB Trevor Lawrence, Clemson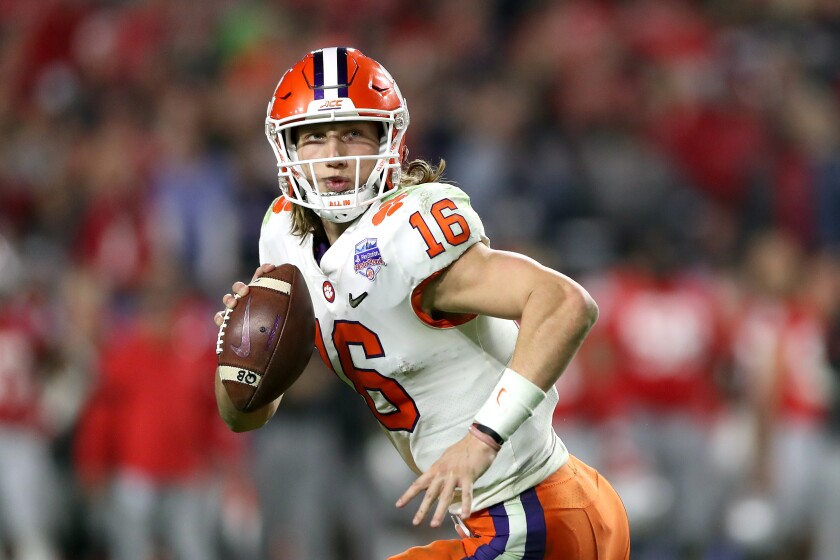 LW: The Jags need a QB, and Lawrence is the cream of the crop
2.New York Jets: OT Penei Sewell, Oregon
LW: The Jets stick with Darnold, and get the best OL prospect since Orlando Pace. The OT tandem of Sewell and Becton can potentially be the best they've had in decades.
3. Miami Dolphins: WR Devonta Smith, Alabama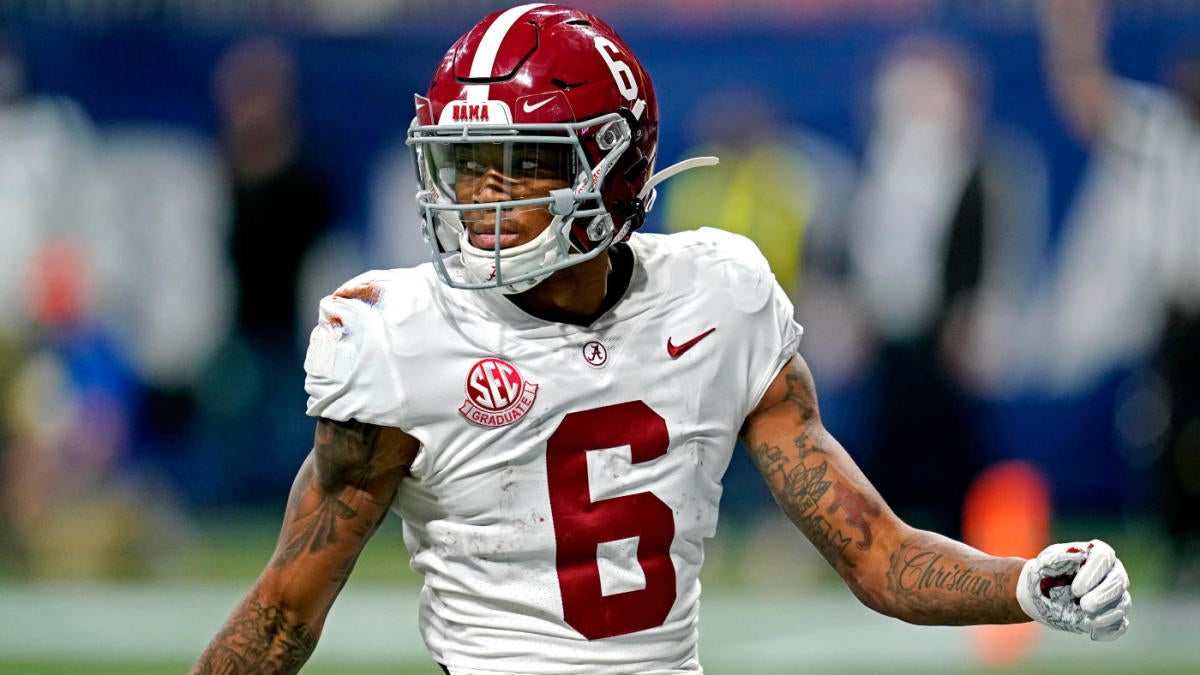 LW: They reunite Smith with Tua to upgrade the Dolphin's passing game
4. Atlanta Falcons: QB Zach Wilson, BYU
LW: The Falcons get a guy that can sit behind Matt Ryan and eventually be his successor  
5.Cincinnati Bengals: TE Kyle Pitts, Florida
LW: This is a no brainer. Give Joe Burrow more weapons, and Pitts goes to a coach that can utilize his skillset
6. Philadelphia Eagles: WR Ja'Marr Chase, LSU
GB: The Eagles leave two of the best remaining quarterbacks on the board going with Jalen Hurts. Giving him the most complete WR in the draft
7. Detroit Lions: CB Caleb Farley, Virginia Tech
GB: Detroit was absolutely atrocious on defense last year bringing in the top cover guy in the draft is a step in the right direction
8. Carolina Panthers: QB Justin Fields, Ohio State
GB: The Panthers begin their rebuild with the most versatile QB in this year's draft
9. Denver Broncos: LB Micah Parsons, PSU
GB: Denver has spent a lot of draft capital building the offense. By drafting Parsons, they make their depleted defense a priority.
10. Dallas Cowboys: OT Samuel Cosmi, Texas
GB: Dallas' once formidable line is falling apart. Protecting Dak Prescott should be a top priority; and the 6'7 Cosmi's athleticism should help him contribute right away.
11. New York Giants: WR Jaylen Waddle, Alabama
MB: Daniel Jones is in desperate need of additional weapons. Waddle becomes an immediate upgrade to the position
12. San Francisco 49ers: EDGE Greg Rousseau, Miami
MB: Rousseau on the opposite side of Joey Bosa, will be a problem for even the best OLs in the NFL.
13. Los Angeles Chargers: OT Christian Darrisaw, Virginia Tech
MB: Protecting Justin Herbert will be the number one priority in this year's draft.
14. Minnesota Vikings: OT Rashawn Slater, Northwestern
MB: Slater plugs an immediate hole, where the Vikings struggled last year.
15. New England Patriots: QB Trey Lance, North Dakota State
MB: In a dream scenario, Lance falls right into the Patriots' laps. Getting their QB of the future.
16. Arizona Cardinals: EDGE Kwity Paye, Michigan
SD: With Chandler Jones and J.J. Watt both north of thirty. Picking the consensus top edge rusher in the draft who still needs some refinement. Will give Paye the opportunity to learn from, two of the best edge rushers in the last ten years. Making this pick a steal.
17. Las Vegas Raiders: EDGE Joseph Ossai, Texas
SD: Ever since the Raiders traded Khalil Mack to the Chicago Bears, the Raiders have lost their defensive identity and leadership; Ossai brings that.
18. Miami Dolphins: CB Patrick Surtain II, Alabama
SD: Surtain's size and man coverage skills will translate nicely into Brain Flores' man heavy scheme. Since the Dolphins had success with Patrick Surtain Sr. it seems only fitting they make this pick.
19. Washington Football Team: WR Rashod Bateman, Minnesota
SD: Drawing comps to Pro Bowl WRs like Keenan Allen. Bateman's uncanny suddenness will allow him to be a consistent separator for whoever will be under center for The Football Team, and a nice compliment to stud WR Terry McLaurin
20. Chicago Bears: OT Jaylen Mayfield, Michigan
SD: The Chicago Bears have a decent amount of needs. Despite this, the biggest need is to clearly bolster their OL and they get one of the best OL in the draft class.
21. Indianapolis Colts: OT Tevin Jenkins, Oklahoma State
EJ: With the uncertainty surrounding Anthony Costanzo. Keeping the strongest unit on their team solid, will only benefit new QB Carson Wentz.
22. Tennessee Titans: EDGE Jayson Oweh, PSU
EJ: The Titans have been lacking a consistent pass rush for about three seasons now. While drawing comps to Titans' great Jevon Kearse, drafting Oweh seems like a no brainer here.
23. New York Jets: OT/OG Alijah Vera- Tucker, USC
EJ: New head coach Robert Selah builds his team from the inside out, and solidifies his OL of the future. Giving the Jets the best young OL in the NFL with Penei Sewell, Mecki Becton, and Vera- Tucker
24. Pittsburgh Steelers: QB Mac Jones, Alabama
EJ: Even though they still have Ben Roethlisberger on the roster. The Steelers cannot keep living in the past and letting Ben hold this franchise hostage. Drafting the best QB available is the best move long term for the Steelers.
25. Jacksonville Jaguars: OT Alex Leatherwood, Alabama
EJ: New head coach Urban Meyer will make sure his new franchise QB is protected at all costs.
26. Cleveland Browns: EDGE Jaelan Phillips, Miami
TFC: The Browns need a body opposite of Myles Garrett now that Olivier Vernon's future is uncertain with an Achilles injury.
27. Baltimore Ravens: S Trevon Moehrig, TCU
TFC: Ravens continue to ignore WR and edge to grab another versatile coverage safety who can play in the box and deep, adding to the strength of their defense.
28. New Orleans Saints: WR Rondale Moore, Purdue
TFC: Moore is explosive, plays bigger than his frame and is exactly what the Saints offense will need no matter who the QB is.
29. Green Bay Packers: DI Christian Barmore, Alabama
TFC: Regardless of what base front they run in 2021 under new defensive coordinator Joe Barry. Barmore will provide an inside presence, to who can take advantage of the single blocks provided by Kenny Clark.
30. Buffalo Bills: CB Jaycee Horn, South Carolina
TFC: Horn provides size, physicality and a nasty streak to bully WRs that the Bills just don't have. He's a good compliment to Tre'Davious White stylistically and would provide better balance than other options available.
31. Kansas City Chiefs: RB Najee Harris, Alabama
SD: The Chiefs selected RB Clyde Edwards-Helaire at the end of the first round last year, but they don't have any urgent needs. So why not take another RB to create a downright deadly (and cheap) one- two punch with Harris being a monster back to compliment Edwards-Helaire's finesse as he stands 6'2 230lbs
32. Tampa Bay Buccaneers: EDGE Carlos Basham Jr, Wake Forest
MB: Shaquille Barret is most likely gone to free agency so Basham should be able to fill that void nicely.