WR Rondale Moore Purdue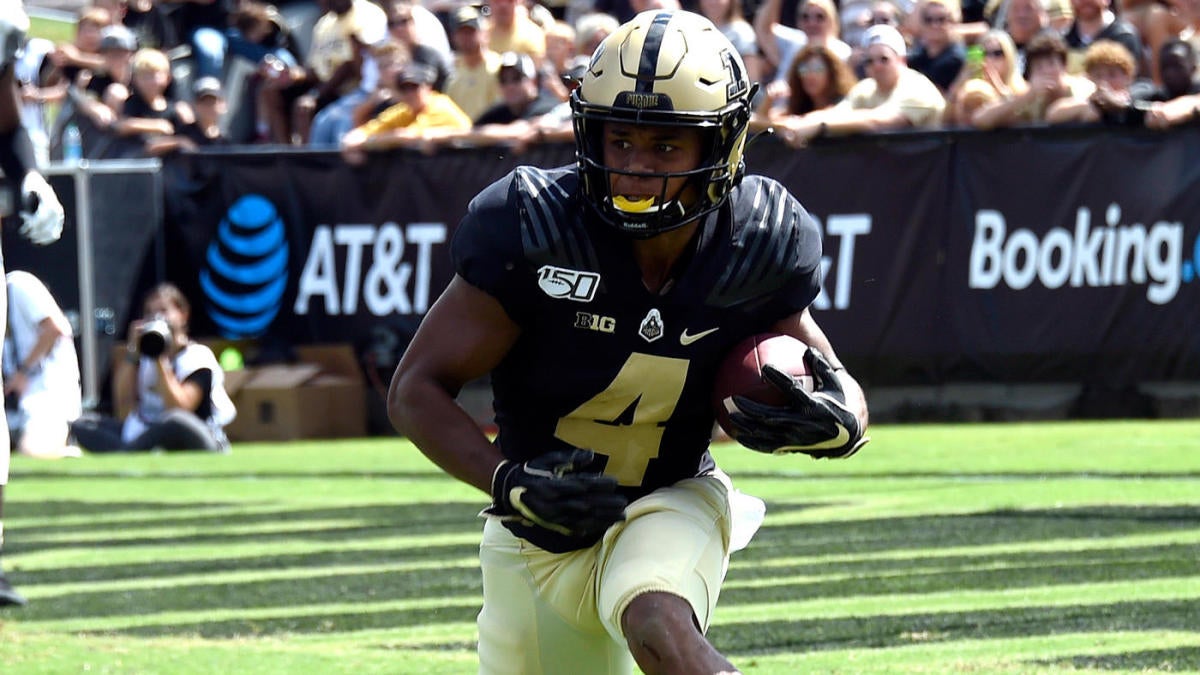 Moore is without a doubt one of the most explosive play makers in the country, though small in stature he is stacked with tons of speed and power. He is one of the best, if not the best run after the catch weapons in all of college football and has the ability to turn routine plays into 6 points perhaps better than anyone else, that is when he is on the field of course. After an historic freshman campaign that led to All-American honors where Moore hauled in 114 receptions/ 1258 yards/ 12 TDs he has only played in 7 games over the two seasons that followed. Nagging lower body injuries have kept him sidelined for the majority of two seasons and hampering his production when he was available. While his durability is a major concern so is his attention to detail, while Moore is one of the most electrifying players in the country with the ball in his hands, the issues has been getting his hands on the ball cleanly. For such a talented player, Moore has shown issues with his concentration, bobbling, juggling and dropping some very catchable passes. Aside from his durability concerns and his occasional dropsies, the issue with his size is a concern, Moore is only 5'8/180lbs. while he has proven to be produce in college, he may not be so productive in the NFL, vs bigger, faster more proficient defenses. Moore is a very realistic possibility for the Bills in the 1st RD, and though he has tremendous upside he is not without major red flags.
DE Jaelan Phillips Miami
Phillips may be the best pure pass rusher in this draft, he has superior get off, bendy hips and great length that he uses well. He has a deep arsenal of rush moves, he understands how to get skinny and slip through seems, he understands how to use leverage and create windows for himself and he knows how to transition between speed and power extremely well for someone with such little playing experience. Phillips only has one high end year of production under his belt, and that is where the issue with him comes into play. Phillips started his career at UCLA before a slew of injuries, most notably a string of concussions derailed his career which led to his early retirement from the game all together. Though he had renewed his love for the game and his passion for being one of the nations best players, no amount of hard work or soul searching can overcome concussion issues. It is a medical fact that once a person suffers one, they are more likely to sustain another. Though 2020 was symptom free for Phillips if Beane looks to draft him with the 30th pick he and his medical staff better be extremely thorough.
RB Travis Etienne Clemson
Etienne has been one of the premier running backs in all of college football for the past few years, many consider him the most complete back in the draft. He has the home run speed, the vision, the ability to catch the ball and also the pop to return kicks. Etienne's career will go down as one of the most productive in college history amassing over 6,000 total yards and 78 TDs. While Etienne's ability is without question, one of the issues with him as is with most running backs is longevity. NFL running backs have perhaps the smallest career windows of all the positions, injuries are a frequent obstacle. Since 2017 seven RB's have been selected in the 1st RD (L. Fournette, C. Mcaffery, S. Barkley, R. Penny, S. Michel, J. Jacobs, C. Edwards-Helaire) together they have missed a combined 72 games. The concern with Etienne is that unlike most RB's coming out for the draft he has played a full four seasons, having touched the football nearly 800 times over that span, meaning the tread on the tires has already begun to wear down. While there is no way to predict which RBs will stay healthy and which ones will not, drafting any RB in the 1st Rd comes with great risk. Aside from the worries of longevity are the matters with Clemson's offense. Etienne had the luxury of playing alongside one of the greatest QBs in college history, on one of the greatest offenses in history. While Etienne is a great runner a portion of his production is the direct result of defenses lightening the box to defend Clemson's passing attack and to account for the running ability of Trevor Lawrence. The concern is can Etienne be as dynamic a player on a less dynamic offense, running behind a line that does not necessarily dominate in the run game? If Beane decides to go with Etienne he will most likely have to take him at 30 and with that come all of the inherent risks of a 1st Rd running back.
DE Gregory Rousseau Miami
At first glance Rousseau is everything you would want in a defensive end, standing nearly 6'7 and 265lbs. He is very athletic and possesses a pair of powerful hands he is learning how to use. While Rousseau has a ton of potential that has yet to be unlocked, being a former WR and Safety in high school Rousseau is an extremely raw prospect but none the less an extremely intriguing one. In 2019, in his only full season before opting out Rousseau had a breakout year recording 55 tackles/19.5 for a loss/ 15.5 sacks, while his numbers seemed absurd and warrant him top 10 consideration the means in which he produced were very concerning. Very little if any of Rousseau's sacks came from the edge, the vast majority of his damage was done on in the interior beating guards and centers with his sweeping quickness and length. On the edge, Rousseau seems to struggle some, he is not as calculated with his rush moves and for some reason does not play as fluid as he does on the inside. This is worrisome for a player who looks to make a living off of the edge. While the potential is there, he is a rare athlete with exceptional size and length the issue is will all that natural ability translate to the NFL? Rousseau is a first-round prospect for sure and may very well be on the board at 30 when the Bills pick, Beane will have to be sure that his coaches can smooth out the rough edges before selecting him.
CB Caleb Farley Virginia Tech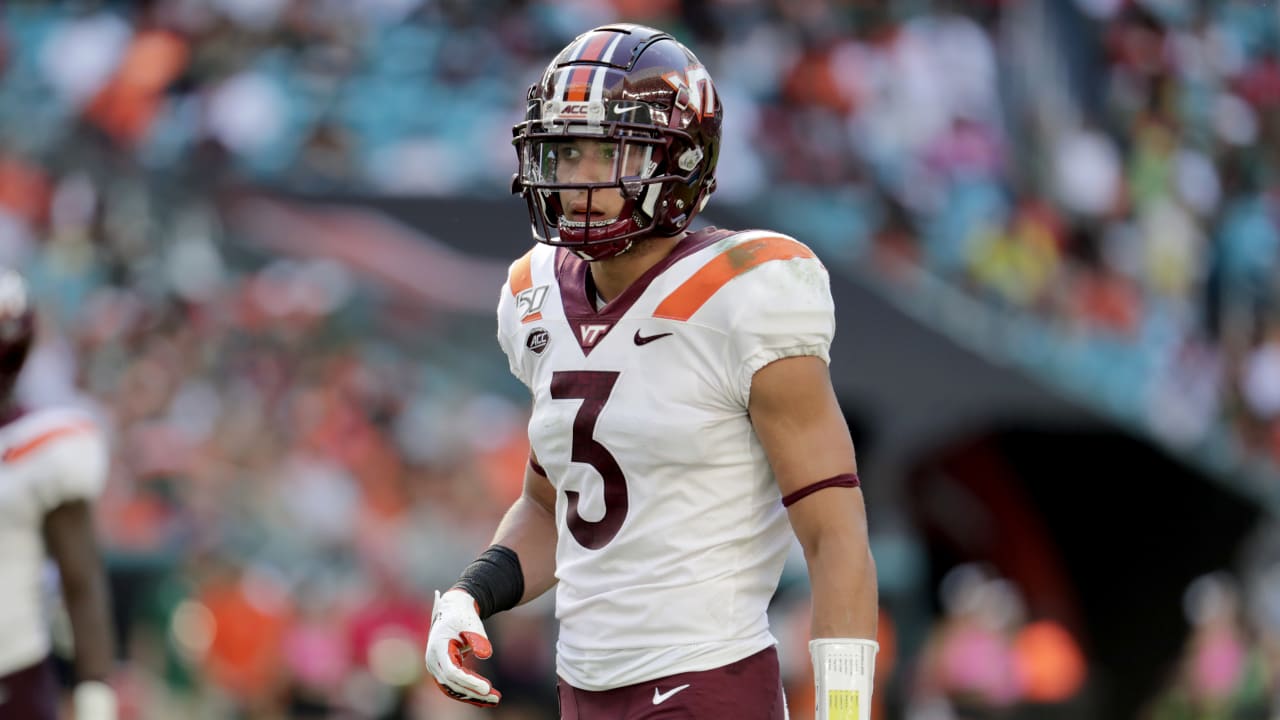 Farley has long been considered one the top tier cover guys in this draft, he has elite size (6'2/207lbs) and athleticism to become a premier corner in the NFL. Prior to his 2020 opt out Farley had been a productive corner, in two seasons at Virginia Tech he made 56 tackles/ 6 INTs/ 19 PBUs though he is a converted QB/WR Farley has made the transition appear seamless, his ball skills and instincts are top notch and his ability to be physical on the perimeter and be a willing participant vs the run are all what have made him a sure-fire top 15 pick. Unfortunately, Farley is not flawless, certainly not as his medical records are concerned. He suffered a non-contact ACL injury as a freshman and dealt with "back spasms" in 2019 that forced him out of some action but what is even more concerning is what was labeled as back spasms has now been identified as a herniated disc. Earlier this month it was announced that Farley would forego his pro day work outs and undergo surgery to repair the disc. While it is anticipated that he will make the recovery from surgery in time to participate in team workouts post draft, the question about his prolonged health is very real. Back issues are not easily resolved, they have tendencies to linger and effect players especially those playing contact sports where their bodies are often contorted and stressed frequently. While Farley has all the on-field skills to be a top cover guy or years to come he does have the medical concerns, Beane will have to be very careful if teams begin to pass on him.
DT Tyler Shelvin LSU
Many are in love with the mammoth 350+ pound block eating ability of Tyler Shelvin, and what his presence could mean for this Buffalo defense and the development of DT Ed Oliver and LB Tremaine Edmunds. He is the most natural 1-tech in this draft and is an impossible assignment to move one on one and can be extremely disruptive to opponents blocking schemes. While he has some serious value in the trenches there are some major concerns when it comes to the LSU product. First and foremost is his weight, as a freshman he stepped on LSU campus at nearly 400lbs. but was able to shed the fat and maintain a playing weight of about 350lbs while he was on the field. After opting out this past fall to "prepare for the draft" Shelvin had ballooned back up to a reported 370lbs. which is a direct reflection on his work ethic and self-discipline when not being monitored. While many other players who opted out used the time to better their talents, to train and up their draft stock it appears Shelvin did not exactly seize the moment. Though he was able to wrangle in his weight for his pro day it begs the question: Will Shelvin have the self-control and discipline to maintain his playing weight as a pro? Shelvin is a high day two pick, but with his weight control issues he can easily eat himself out of the NFL once his back account is stacked. Beane will have to do his homework on Shelvin if he is serious about bringing him in.
DE Jayson Oweh Penn State
There may not be a freakier specimen in this entire draft than Jayson Oweh, at 6'5/260lbs he is faster than almost every WR and CB in this draft. At his pro day he recently clocked in with an out of this world time of 4.38 in the 40-yard dash. For all of his physical gifts, and there are many it is his production on the field that has many worried. It is apparent that he has the tools to become an epic pass rusher at the next level but we have yet to see it. Over three seasons in Happy Valley Oweh has only reached an opposing QB 7 times, a very disheartening number and while sacks are the sexy stat it is true that Oweh was able to disrupt plays far more than he was able to make them in college but it is still a chink in his otherwise outstanding armor. If you are going to select a pass rusher in the early parts of the draft, as high as 30th you want to know he can get home, that he has the needed football IQ and instincts to develop into a formidable presence. While many believe the sky is the limit for Oweh there is a gamble in taking him, where his athleticism suggests he belongs. Despite all of his freakish combine numbers he has not given the greatest assurance to scouts and GMs on the field that he is the play maker many project him to be. If the Bills decide they cant pass up on Oweh, they will need to be patient with him.
G/T Alex Leatherwood Alabama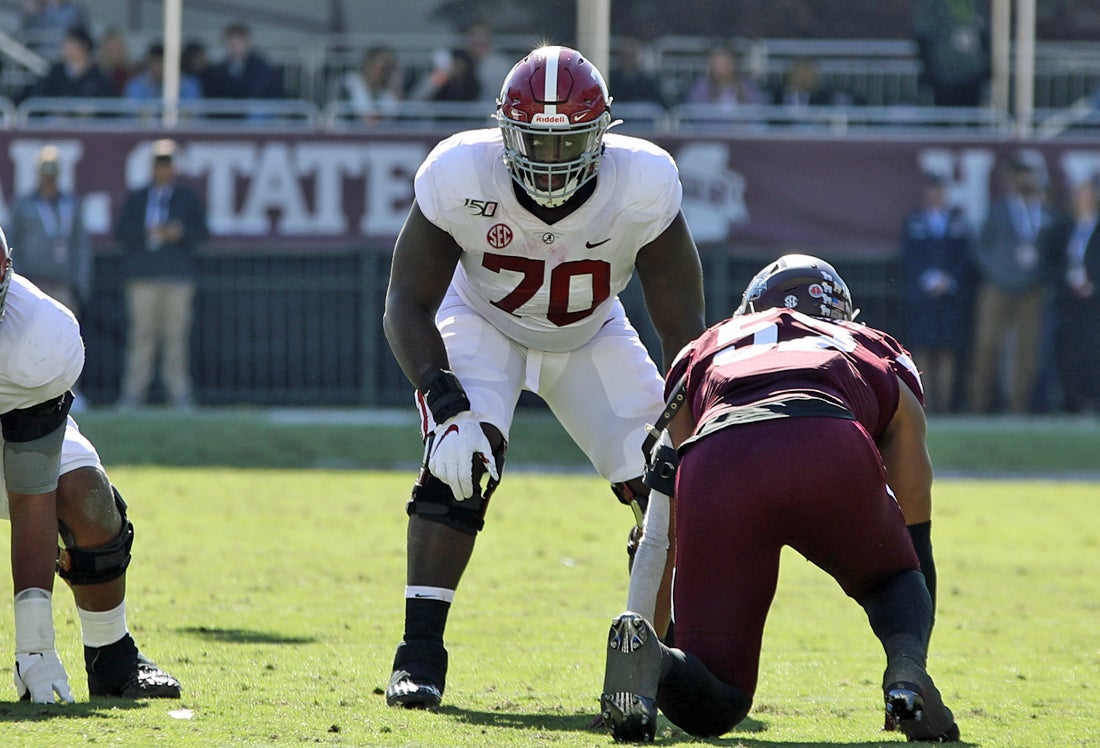 There are not many players as well built for today's offensive line than Alabama's Alex Leatherwood, he stands 6'6/315 pounds and has the build of a WWE wrestler and the nimbleness of an NBA power forward with the great arm length to match. At his recent Pro-Day Leatherwood crushed it, as many expected he would, aside from freakish measurables he ran a perplexing a 4.96 40-yard time. While Leatherwood had a solid career at Alabama playing at college football's highest levels winning the Outland Trophy awarded to the nation's top interior lineman and with his great success the only question surrounding Leatherwood is his ability to dominate. When considering his physical tools, his size, his length and his rare athleticism he has very few moments on film where he is able to physically dominate his opponent. He has some bad habits, some technique issues, he plays high and despite his great arm length he struggles to keep defenders at bay and lock them out. For his great athleticism he has trouble with speed rushers, for all his strength he does not manhandle defenders as he should. The concern regarding Leatherwood is his ceiling, he may have already reached his peak, that for all of his rare abilities he has he may never be able to consistently apply them to his craft. Bringing Leatherwood in may be the enticing move based on measurables and pedigree but his technique and inconsistencies are a concern.
S Hamsah Nasirldeen FSU
Nasirldeen is a player who has been climbing up draft boards lately in large part because he possesses rare size and speed for the safety position, standing 6'4/220lbs. He is an explosive athlete whose skills allow him to do a multitude of things for a defense, he can play the traditional safety, he can be used as a spy, he can come down inside the box and be a blitzer. Most importantly he can be used as the tight end equalizer, a player who has the size to match up with the larger bodied tight ends while also having the length and athleticism to cover them stride for stride. While at FSU Nasirldeen was very active, he tallied 234 tackles/ 4 INTs/ 9 PBUs/ 1 Sask. The issues with Nasirldeen are that while he is physically impressive, with a ton of potential, he is not overly great at one specific element. While his coverage ability is adequate, he lacks instincts, while he is an able tackler, he does play reckless and at times comes up short. Aside from some of his consistency issues, Nasirldeen also suffered a major knee injury at the very end of 2019, tearing his ACL and had not recovered in time to start the 2020 season, as he only suited up to play in two games last year, so the health and long-term durability of his repaired knee is still somewhat of an unknown. Nasirldeen has an abundance of potential at the next level but will require the right defensive scheme and patience from a coordinator to maximize it. If Beane looks to add him in the 2nd or 3rd round Lezlie Frazier will have to be on board with a plan on how to use him, and the medical staff will have to be confident his knee is fully healed.
WR Anthony Schwartz Auburn
Many wide receivers have speed, few have the world class speed that Schwartz does. In fact, he may be one of, if not the fastest players in all of college football. At his pro-day recently, Schwartz set the clocks on fire with his blazing fast 4.26 forty time. He has good size, for a speedster standing at 6'1/180lbs with a decent amount of muscular tone. While Schwartz was never the featured target in the Auburn offense, he was able to be relevant despite the unstable QB play and an offensive system that seemed dysfunctional at times. Over his three-year career he compiled 117 receptions/ 1433 yards/ 6TDs while adding another 322 yards on the ground and another 7 TDs via jet sweeps and reverses. While his speed was often on display the speedster never truly became the vertical threat one would expect from a player with his wheels avg just 12.2 yards per reception, hardly home run hitting production. While Schwartz is fast, he lacks the savvy of a seasoned WR, he struggles tracking the deep ball, his hands are not consistent, he juggles too many passes and he plays extremely frail. Drafting Schwartz on day 3 will instantly upgrade the speed of the Bills offense and will certainly be a low-risk high reward type of move but the concerns about his speed translating to the NFL are very real. If Beane decides to take a chance on him, Dabol will have to be very patient with him and set the expectations for his impact on the lower side until he can be groomed into an NFL receiver.