Written by John Sparaco
If there was one word to describe the Buffalo Bills performance in their second preseason matchup with the Chicago Bears, it would be dominance. Buffalo dismantled "Da Bears" by a score of 41-15 led by mostly their second team, as most of the Bills' starters did not appear once again this past week. The Bears did field some starters, including superstar pass rusher Khalil Mack, two-time Pro Bowl safety Eddie Jackson, and QB Andy Dalton. Despite this, the Bears were clearly outmatched from the very beginning, as their defense was picked apart by none other than former Bears second overall draft pick from 2017, QB Mitchell Trubisky.
While the Bears' defense did not have any answers for Buffalo's offense, they did not look sharp in other phases of the game either. Buffalo stifled Chicago's offense for most of the first half with the exception of one chunk play that turned into a 73-yard score. Once again, the Bills defensive line was dominant from start to finish. Even the special teams performances were lopsided. Bills rookie DE Boogie Basham got his hand on Chicago's lone PAT attempt forcing a missed kick, and rookie WR Marquez Stevenson cruised to an easy punt return touchdown against the Bears' unit. Considering what they have shown so far, there is plenty of reason for the Bills to be excited about the depth they have.
Arrow Up:
QB Mitchell Trubisky
Preseason revenge games do not come around too often, but Mitchell Trubisky was certainly prepared to make a statement this past Saturday. The former number two pick dropped 34 first half points on his former team, completing 20 of his 28 pass attempts for 221 yards and 1 touchdown. Trubisky repeatedly marched the Bills offense into Bears territory with ease, showing the poise and command Bears fans have been clamoring for with their quarterbacks for years.
The Bears decided to move on from Trubisky this offseason, letting him walk to Buffalo for cheap after he was unable to find a suitable starting opportunity. While the Bears were able to land a new promising talent at QB in Justin Fields, Trubisky's success in Buffalo's system to this point has cast some doubt over HC Matt Nagy's job security. Perhaps quarterback was never the issue in the Windy City, but as they figure that out over there, the Bills must feel lucky to have an insurance policy like Trubisky in the building. Even if his stay in Buffalo only lasts one year, being in this current situation has already allowed Trubisky to showcase that he is worth taking a flier on as a starter again in the future. A strong audition for a player with untapped potential.
FB Reggie Gilliam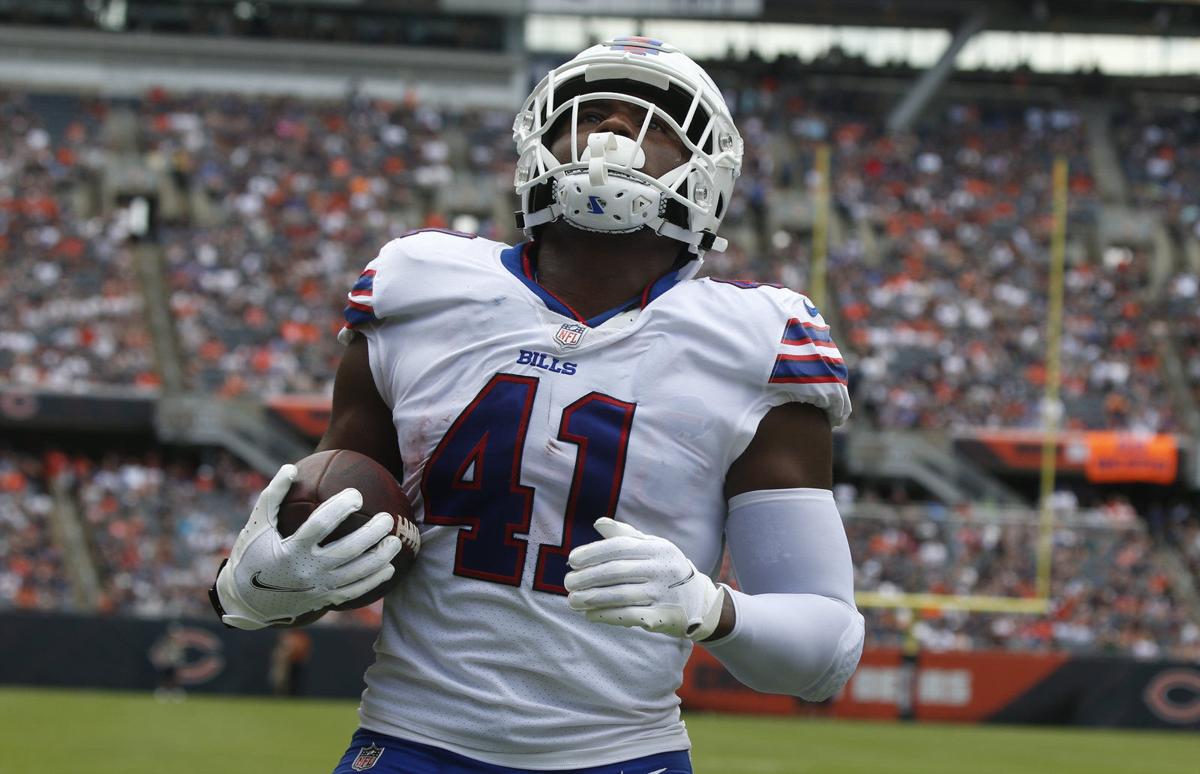 The early career arc of Reggie Gilliam has been unique to watch unfold. He first signed with the Bills as an undrafted free agent fullback out of Toledo last spring, but the team converted him to tight end before camp where he ultimately ended up making the 53-man roster. One year later, Gilliam is a fullback once again.
It is rare to see a fullback get as involved as Gilliam did on Saturday, but the young fullback put on a clinic as both a runner and lead blocker. Gilliam rushed for two touchdowns on eight carries, even bouncing one of his carries to the outside, which is a trait not commonly seen from fullbacks.
The presence of a fullback opens an array of possibilities offensively. Offensive Coordinator Brian Daboll did not utilize a true fullback last season, but his willingness to evolve seems to be paying dividends for the run game. Gilliam has done well paving holes for Devin Singletary and Zack Moss, which has resulted in a noticeable uptick in success in that facet of the offense. Not only that, but Gilliam showed that the team can count on him in short yardage situations, which could allow Buffalo to dial back on QB keepers, preventing Josh Allen from taking too many unnecessary hits. Between Gilliam's performance as a blocker, runner, pass catcher, and special teamer, he has made a strong case to stick on the final roster.
OT Spencer Brown
Tackle depth was a highly discussed concern last week, and although that is still an issue, Spencer Brown gave plenty of reasons to be encouraged after his performance on Saturday. After previously struggling at left tackle, the return of Dion Dawkins allowed the Bills to take a look at their 2021 third-round selection at right tackle. Brown started the game on the right side, where he drew quite the challenger. The rookie went head-to-head with former Defensive Player of the Year, Khalil Mack. Not only did the 6'8" tackle hold his own against the future Hall of Famer, he silenced him.
Brown used his size to his advantage, maintaining good leverage to buy Trubisky time. He excelled in space as well as both run and pass protection, even driving Mack into the ground at times. Brown appeared to be very comfortable on the right side, which may be the better fit for him as of now. Though he did exit with a knee injury, it looks like this issue will not sideline him long term.
Arrow Down:
OL Jordan Devey
Jordan Devey is one of the many interior lineman vying for limited spots on the Bills roster, but this past Saturday was not one of his sharpest performances. Devey struggled heavily in pass protection beside Bobby Hart, who also struggled, creating a nightmare scenario on the blindside for both backup quarterbacks, Jake Fromm and Davis Webb.
Among Devey's lowest moments were giving up an ugly sack as well as taking a holding penalty in the third quarter. Though his spot on the roster was far from guaranteed, Devey's performance has placed him in a very bad position heading into the final preseason game.
CB Siran Neal
The Bears only had one offensive highlight in the first half, but unfortunately for Siran Neal, it came at his expense. Neal was directly in coverage when Andy Dalton threw a 73-yard touchdown pass over his head to WR Rodney Adams. Though Neal was in position to make a play by the time the ball arrived, he did not get his head turned around on time, which ultimately caused him to fall flat on his face instead of breaking up the pass or at the very least, making the tackle.
It is not entirely fair to hold one play against a player, but given that it was such a decisive victory, very few negatives stood out. Neal has not had the best preseason to this point, but the Bills can still count on him to contribute in a variety of roles. It may be time to start worrying about the Bills' depth at outside cornerback however, as they do not currently have a ton of reliable options to play there on the roster.
P Matt Haack
Matt Haack was an honorable mention in the arrow up section last week for his strong performance, but this past game was a different story. Haack's first punt went for just 29 yards, which is definitely not ideal for field position. Fortunately for Buffalo, this was only a preseason game, so it did not matter. However, the team cannot afford to have Haack shank punts once the games begin to count. This has been an issue in the past for Haack, but his ability to place punts inside the 20 make him valuable.
Once again, there were not too many negatives this week, so one mistake was enough to land both Neal and Haack on this list. Both players remain in good position to make the roster, especially since Haack has no direct competition as of now.
The Bills will host the Green Bay Packers in Orchard Park for their third and final preseason game this Saturday at 1pm ET. Unlike the past two games, Josh Allen and a majority of the starters are expected to see some action this weekend. Following the conclusion of the game, the Bills must officially cut down their roster to 53 by 4pm ET on Aug. 31.