Eleven days of practice are in the books for the 2021-22 Buffalo Bills. What a week it was for the future of the franchise.
This past Friday, the Bills locked in their star quarterback, Josh Allen, to a record breaking six-year, $258 million deal including $150 million guaranteed, the most handed out in NFL history. Since putting pen to paper, Allen is officially committed to lead the team through 2028 at the very least.
Despite having a better week than most, Allen was not the only member of the Bills to have a good week. In fact, it has been a great stretch for essentially the entire organization, with a multitude of different players thriving on both sides of the ball.
Some of the players highlighted in last week's article have not stopped shining since camp began, including WR Jake Kumerow and DL Efe Obada, whose string of standout performances have elevated their odds of cracking the final roster. For the sake of avoiding being repetitive, this article will spotlight some other names this week, though Kumerow and Obada are certainly deserving of more recognition.
Arrow Up:
DE AJ Epenesa
Last week, the rookies received most of the praise when it came to Buffalo's myriad of pass rushers. However, it may be last year's high draft pick, AJ Epenesa, who is primed for the most success this season based on recent reports.
"AJ is ready. Hands down. AJ is ready," asserted veteran teammate Mario Addison, who has had a front row seat to Epenesa's development since he entered the facility as a rookie last season.
Epenesa has drawn rave reviews for his performance in camp to this point. After reshaping his body over the past year, the game appears to be slowing down for Epenesa as he learns to win at the line of scrimmage with more than just power, but his speed as well. Epenesa has blown up a bunch of plays so far during practice, piling up the sacks that he missed out on last season.
If Epenesa's success translates to game action, Buffalo's pass rush has the potential to be relentless considering the amount of talent they have the luxury of rotating in and out.
DE Darryl Johnson Jr.
Johnson has excelled in his limited opportunities as a pass rusher, but it is his abilities on special teams that continue to give him the best odds of holding onto a roster spot.
"Pre-game when I talk to the other coordinators he's the first guy that they bring up" said Bills special teams coordinator Heath Farwell when meeting with the media. "It's a mismatch having a guy that big and that fast running down the field, he's just a huge factor they have to account for."
At 6'6" and 262 pounds, Johnson is an outlier when it comes to dominant special teamers. It is highly uncommon for a player with his size to move as well as he does. Although the Bills' defensive line unit is crowded, the praise given to Johnson this past week speaks volumes. If he continues to succeed in both areas, it will be difficult to keep him off the final roster.
LB Tremaine Edmunds
On Thursday, Tremaine Edmunds flew all over the field, making multiple plays in what several reporters labeled his best practice of camp so far. He recorded an interception on the first pass of the day, cutting off Cole Beasley on a rare misfire by Allen. Additionally, Edmunds reportedly showcased his athleticism to make an impressive pass breakup among other plays.
Edmunds is one to keep an eye on this season, as he looks to earn a long-term extension just like his fellow draft classmate, Josh Allen. If Edmunds continues to convert on plays just as he has been doing in practice, his length paired with the size on the defensive line will make life miserable for opposing quarterbacks.
Bonus: The Offensive Line 
This has nothing to do with performance specifically, but ever since Allen signed his contract extension, things have been looking up for the Bills' offensive lineman.
"I can't wait for Xmas," tweeted Bills starting RG Jon Feliciano, who fully expects to be spoiled once Christmas time rolls around.
Last year, Allen gifted every one of his lineman custom golf clubs. As long as they continue to keep him upright, Allen will certainly return the favor. Even if his financial advisor attempts to talk him out of it.
Arrow Down:
WR Marquez Stevenson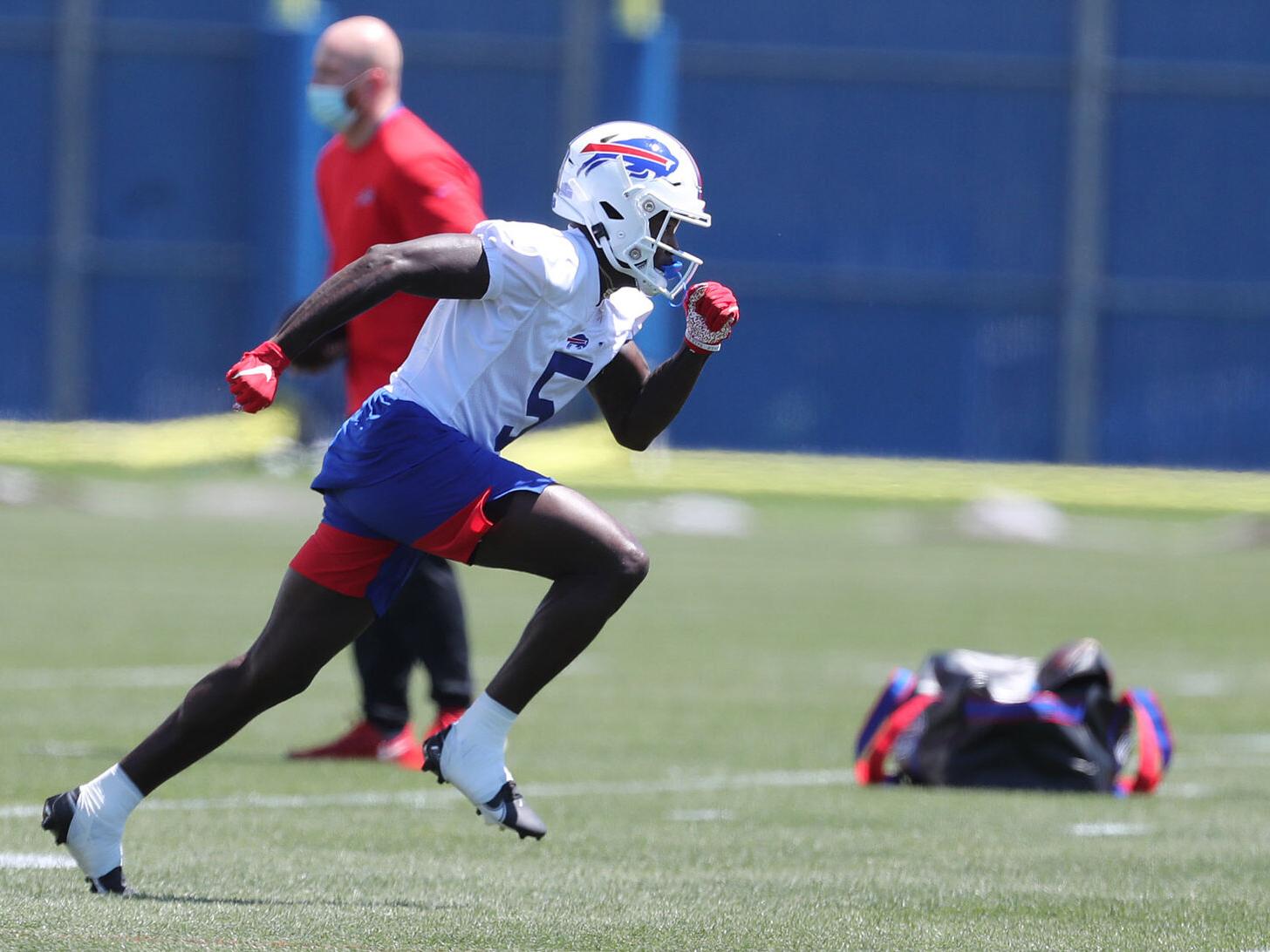 As mentioned last week, Isaiah McKenzie is running away with the kick/punt returner job. That has not changed since, and arguably his biggest competitor heading into camp, Marquez Stevenson, was unable to convert on one of his most important opportunities thus far.
Stevenson has been relatively quiet during camp, but during the "Return of the Blue and Red" scrimmage at Highmark Stadium on Saturday, he muffed a punt despite there being no actual coverage on the play. Mistakes like that can be devastating for anyone, but it was especially noteworthy considering the success of guys like McKenzie and Kumerow who both appear to be way ahead of him at this point. 
TE Dawson Knox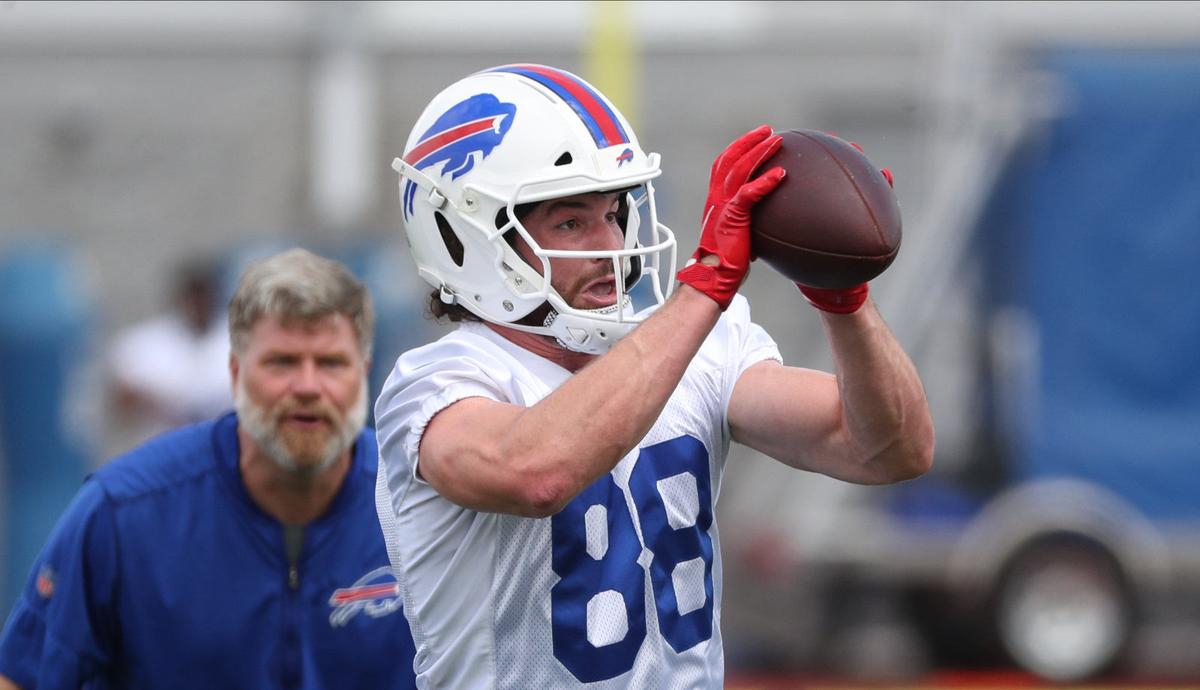 Much like Stevenson, Knox lands on this list primarily due to one crucial mistake. Though his roster spot is not in jeopardy, Knox dropped what would have been an easy touchdown pass from Trubisky during Thursday's practice.
Drops have been a recurring issue for Knox ever since he was a rookie. Though every report suggests he has been reliable for most of camp, stories like this will surely leave fans with an uneasy feeling in the pit of their stomachs. Knox will need to consistently prove on a weekly basis that he can be trusted to haul in routine catches before that uneasiness can start to fade away.
CB Dane Jackson
Despite trying to avoid repeats at all costs, it was challenging to find anyone other than Dane Jackson for this last spot. Hardly anyone on the Bills seems to be having a "bad" camp, but considering the hype surrounding the CB2 battle this summer, some may be disappointed to hear that this has not been a close race.
Levi Wallace is running away with the job at the moment, taking almost every single snap with the first team during the open practice. While Jackson reportedly had his best day of camp on Thursday, according to Sal Capaccio of WGR550, Wallace has been overall the more consistent performer.
Jackson will have the opportunity to potentially claw his way back into the race once the bright lights turn on for preseason action, but it will be an uphill battle it seems.
The Bills will travel to Detroit for their first preseason game against the Lions this Friday at 7pm ET. It is currently unclear how long Buffalo's starters will play, but Lions HC Dan Campbell already disclosed that his starters will see about one quarter of action. This will be an important opportunity for those on the roster bubble to showcase themselves on national television, as the game will air on NFL Network.