Now that the 2020 season and the Bills historic journey has finally come to an end falling one game shy of the Super Bowl it is time to turn our sights to the off-season. (My favorite part of the season) where Beane and company can fix the flaws that kept us from winning it all. As I approached this mock I did so with the mindset that Brandon Beane will most likely resign RT Daryl Williams who had outstanding season and deserves the contract but I do not see OG Jon Feliciano returning. I also believe he will be unable to resign LB Matt Milano who will price himself out of Buffalo. I also believe as a means to appropriate funds for an expected Allen deal, Beane will cut ties with DE Jerry Hughes and WR John Brown this offseason who will be on the hook for nearly $20M next season.
Needs: LB/ CB/ DE/ OG/ TE
Round 1: LB Zaven Collins (6'3-260lbs.) TULSA

PROS: The Nagurski Award winner brings the rare combination of size and speed to the field that defensive coordinators love. He is an explosive player who moves just as seamlessly downhill as he does laterally. He reads and reacts extremely well and navigates through traffic like a player half his size. He is just as productive stopping the run and chasing down quarterbacks as he is dropping into space. In 2020 Collins tallied 54 tackles, 7.5 tackles for loss, 4.0 sacks & 4 INTs while taking 2 of them back to the house. The kid is a playmaker and is just scratching the surface of what he can do, Bills would be ecstatic to find him on the board at #30 and may even consider moving up to get him

CONS: If there is a flaw in Collins game, I didn't see it, my one concern is that he wasn't tasked with playing a ton of man coverage so that part of his game is still uncertain though he has the athleticism to hold up there I am sure.

BOTTOMLINE: I believe Matt Milano will find himself making lots of money elsewhere in 2021 so it is indicative that Beane locates a player who shares a similar skill set to replace him. It is not an easy task finding a LB who can cover and attack like Milano, but Collins is that guy and more. With one pick Collins gives us a viable pass rusher and edge setter, while being a ball hawking playmaker.
ALSO CONSIDERED: LB Nick Bolton MIZZ/ CB Asante Samuel FSU
Round 2: G Trey Smith (6'5-325lbs.) TENN

PROS: Smith is a massive man, with bulldozer power and the brawlers mentality when it comes to playing in the trenches. He is tough to out muscle and push off his spot, moves exceptionally well for his stature, he's quick to pull and lead around the outside and is on target when finding the trap. He has the quick get off and nimble feet to get up to the second level and cover up LBs. He is well experienced and SEC battle tested, having competed against many first RD defenders in his career. Smith is experienced at left tackle before finding a home at guard, so he does have the versatility Dabol likes upfront.

CONS: There is not a ton of negatives that jumps out when watching his film, his technique is not always clean; he can get high at times and his hands can get wide allowing defenders to slip under him but all and all he is solid. *2018 he was shutdown with blood clots in his lungs.

BOTTOMLINE: Depending on how the board falls, Smith can be gone but this should be the target here in the 2ns RD if the value is there. The Bills want to establish the run in 2021 and help ease Allen's workload, this is how you do it, bring in a guy who immediately makes you better.
ALSO CONSIDERED: CB Paulsen Adebo STANFORD/ TE Pat Freiermuth PSU
Round 3: DE Patrick Jones (6'5-260lbs.) PITT

PROS: Jones is a dog on the defensive front, the type of guy who brings a coveted blend of physicality and athleticism to the position. He has great length, loose hips, and plenty of strength to be a force on all downs. He has a great get off and terrific short area quickness which allows him to beat blockers off the ball and around the edge. He is active as hell, when he reads pass, he turns into a heat seeking missile locked on opposing QBs, taking them out 21.5 times throughout his career. Aside from the pass rushing qualities Jones is a strong edge setter, physical at the point of attack and does not hesitate to squeeze down and take on blockers. Jones plays with great passion and intensity and would be a terrific addition here in Buffalo.

CONS: There aren't many holes in his game, like most young pass rushers Jones will have to expand his arsenal to succeed in the NFL. His aggressiveness can sometimes cause him to get tunnel vision and misread blocks, he also needs to be quicker to disengage from blockers he's locked out.

BOTTOMLINE: The ceiling is extremely high for Jones given his natural gifts and his knack for making impact plays. With Hughes and Addison both in their 30's and not long for this roster the Bills will need a pass rusher who can threaten the edge consistently, with Epensea opposite him we can have a formidable tandem to pair with Lotulelei and Oliver on the interior.
ALSO CONSIDERED: S Hamsah Nasirlideen FSU/ WR Chatarius Atwell LU
ROUND 5: CB Kary Vincent Jr (5'10-185) LSU

PROS: Extremely silky and fluid athlete who has the hips and foot speed to cover in the NFL it also helps that he is a track star. Has the knack for baiting throws and jumping the ball. He does not let his height restrictions limit his jump ball ability, he is not shy about going up and competing with bigger WRs. He flashes moments of very sticky coverage, has the quick-change of direction to stay close on snappy routes.

CONS: Right now, he's a better athlete than an instinctive CB, he trusts his speed more often than his feel for routes. He has a tough time bringing down thicker pass catchers on his own, Decided to opt out in 2020 so he will at the least be rusty when he enters the NFL.

BOTTOM LINE: I believe Beane will address the CB2 position in Free Agency but he will still look to bring in competition for the position, Vincent can add depth at both CB2 and in the slot where he may be better suited and would make a solid special teams asset with his speed.
ALSO CONSIDERED: WR Simi Fehoko Stanford
ROUND 5: WR Trevon Grimes (6'4-215) UF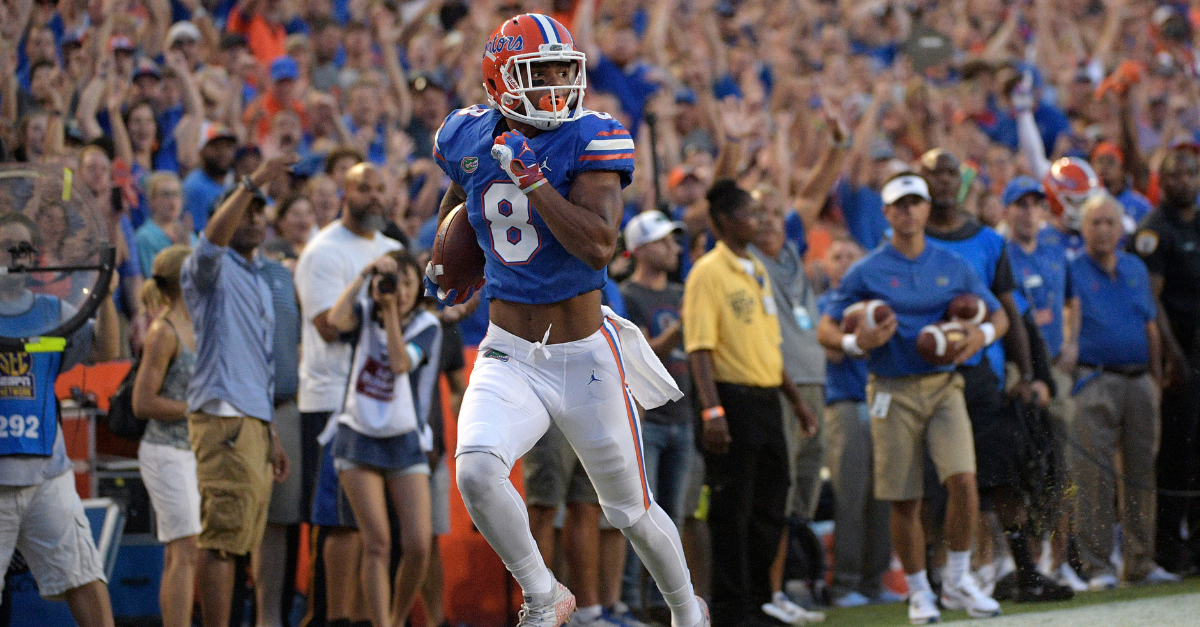 PROS: Grimes is a quality WR prospect who was overshadowed some at UF but despite that he still managed to produce. He has the gift of un-coachable height and the long arms to match which he used to rack up yards and scores. He doesn't appear to be a blazer, but he possesses enough speed to push defenses vertically and to break off routes and find the soft spots. He is a hand catcher, who uses his size advantages well to highpoint balls and out leap defenders like a power forward.

CONS: He is not as imposing as his size would indicate, very thinly built. His ability to separate at the next level concerns me and his production was almost certainly a biproduct of defenses keying elsewhere.

BOTTOMLINE: I believe Bills part ways with John Brown and I think they take this opportunity to bring in a WR who creates more of a physical mismatch in the red zone and can compete with Isaiah Hodgins as the package WR.
ALSO CONSIDERED: TE Trey Mckitty UGA/ S Tre Sterling OKST
ROUND 6: DT Khyris Tonga (6'4-330Lbs.) BYU

PROS: Size jumps of the screen with this guy, he's built like a rhino, wide and thick but has a surprising burst for a big man. He's extremely disruptive, collapsing pockets and reestablishing the L.O.S. with his blend of size and short area quickness. Has good use of hands when stacking blocks and maintaining his gap.

CONS: More of a straight-line defender, won't offer much moving laterally. He's a one-dimensional pass rusher who won't offer any counters. Flexibility and change of direction is a problem.

BOTTOMLINE: Bills suffered in 2020 without the presence of a true 1Tech to eat double teams and keep Edmunds clean, Star Lotulelei returns in 2021 but adding depth and a possible future replacement here makes a lot of sense.
ALSO CONSIDERED: TE Nick Eubanks MICH/ OT Jake Curhan CAL
ROUND 7: RB Max Borghi (5'10-197) WSU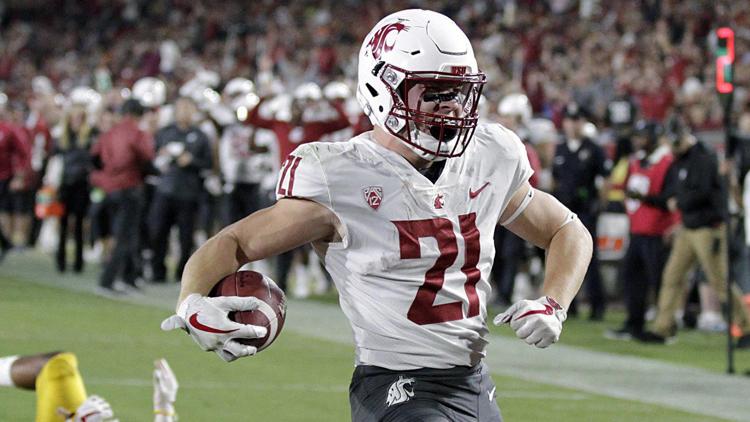 PROS: Borghi reminds me a lot of Danny Woodhead, his running style features the same quick cuts, the open field jukes and he is a tremendous asset in the passing game. Borghi shows good vision, finding his seems and getting to the second level quickly, doesn't waste time dancing around and often makes the first tackler miss. He's a shifty back who can find his way on this roster through special teams and as a package RB.

CONS: Not overly fast, won't run away from NFL defenders. Frame is small, needs to add some upper and lower bulk for the NFL game. Missed significant time in 2020 with a back injury.

BOTTOMLINE: Daboll loves backs who can contribute in the passing game, Borghi has the hands and the nifty open field moves to be utilized there.