GM Brandon Beane has done a tremendous job this offseason maneuvering the budget and finding ways to stretch every dollar on his way to reloading this roster. To his credit, he was able to bring back all 22 starters from a year ago, from a team that won 13 regular season games, the AFC East crown and two playoff games. While all the assumed starters are returning, he also made moves to add great depth and talent to this team, signing veteran WR Emanuel Sanders, speed back Matt Breida and super intriguing pass rusher Efe Obada. The Bills squad is as complete as it has ever been heading into the NFL Draft putting Beane in a position to infuse versatile talent, increase team speed and find pieces to cultivate for the future. Here is my take on a post-Free Agency mock draft.
RD1
DE-Jaelan Phillips
6'5 255lbs
Miami
Bills were a bend but don't break defense last year and were fortunate enough to make the plays when they mattered, but they lacked explosiveness off the edge and it may have cost them a trip to the Super Bowl. Beane has already filled the two biggest off-season needs resigning Milano and Williams and can now address the pass rush deficiency in the draft. Phillips, the former 5-star recruit underachieved at UCLA before transferring to Miami last season where he finally realized his potential, racking up 45 tackles, 8 sacks, 15 for a loss and 1 INT. Phillips is my #3 ranked defensive end and is a long, athletic edge rusher who possesses some top end get off with good closing speed while having enough functional strength to be a true factor off the edge. While Hughes and Epenesa figure to be the bookends for now, bringing in a top talent like Philips in round 1 makes a lot of sense, he can be brought in slowly, first being utilized as a pass rush specialist until his game is more well-rounded and eventually, replace Hughes who is entering his final contract year. With the addition of Phillips Beane can set the defensive line with some serious young talent for years to come.

Previous Mock: LB Zaven Collins Tulsa
RD2
CB Paulsen Adebo
6'1 190lbs
Stanford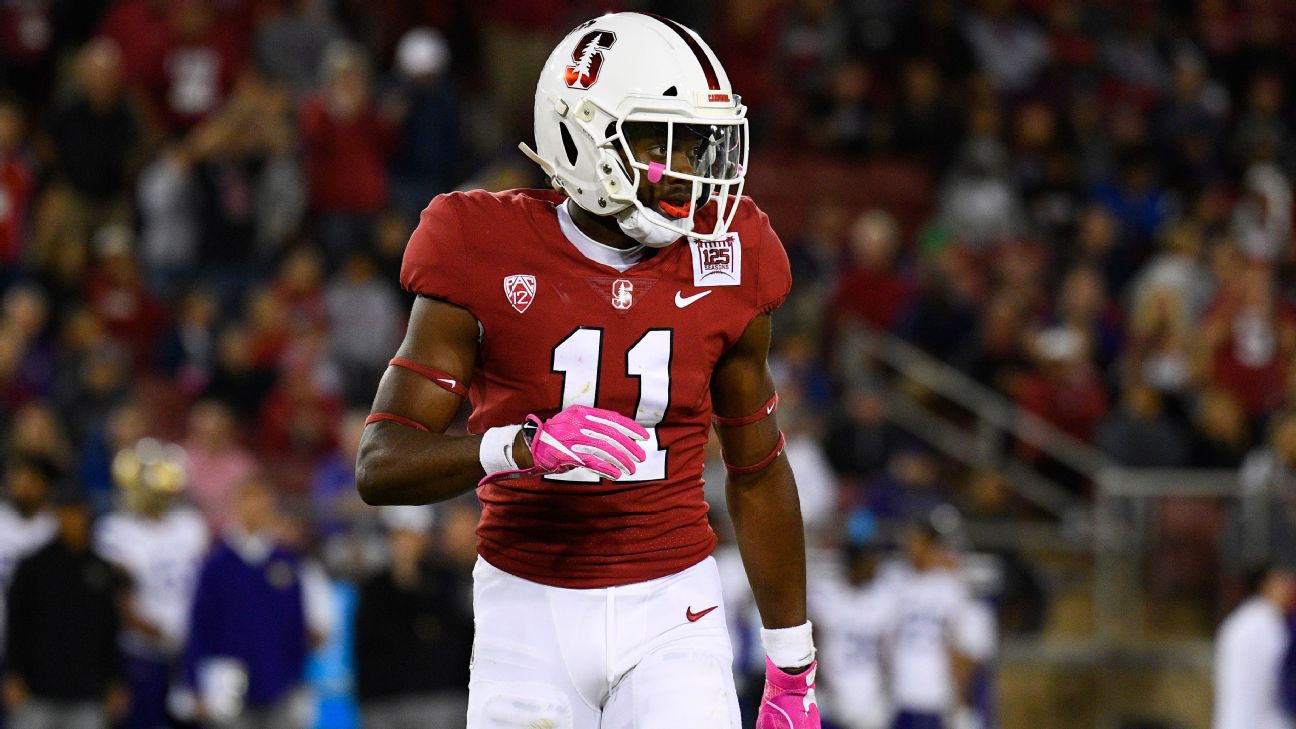 Bills have yet to find a long-term solution opposite of Tre White, that is until now. Adebo is a tall, physical corner who has the skills to play in both man and zone coverages. He has the top end size and speed to match up well on the outside vs bigger receivers while having the instincts and reactive burst to break on balls in zone. Adebo finished his covid shortened career with some staggering ball production, in only 22 games he registered 8 INTs and 27 PBUs ranking him as one of the most productive corners in this draft. While there is still some need for refinement, as there is with most rookie corners, Adebo would be an instant upgrade to the CB2 position. His ability to run, cover and make plays on the ball would bolster this secondary and help change the current "bend but don't break" philosophy McDermott and Frazier have been unwillingly implementing. Grabbing the Stanford product here will help solidify the secondary for the first time in McDermott's tenure and instantly strengthen one of the weakest positions on the defense.
Previous Mock: DE Joe Tryon Washington
RD3
G Kendrick Green
6'4 315
Illinois
Beane brought back the entire interior from 2020, the only issue is that it was a flawed unit that struggled to create running lanes and to consistently provide a pocket protection for Josh Allen. Feliciano is serviceable, Boetgger provides some quality depth and Cody Ford is still a mystery going forward. Green is a compact, powerful young man who brings a certain level of nastiness to his game, something this line lacked in 2020. He is a bull dozer in the run game who uses his big paws to latch on and redirect defenders and pave running lanes. In the pass game he is sound, with enough lateral footwork to wall off rushers and stout enough to keep from getting driven back. Green also has the versatility to kick over and play center, a trait the McDermott and Beane love in their lineman, the ability to play several spots. Getting Green in the 3rd erases any interior issues that may remain heading into the season as well as the future.

Previous Mock: G Ben Cleveland Georgia
RD 5
WR Dazz Newsome
5'11 190lbs
UNC
The Bills are stacked at WR at the moment but finding suitable successors for the veterans before they deteriorate is how good teams keep from hitting a lull. Drafting Newsome here in the 5th is the insurance policy for the future, Cole Beasley has been tremendous but he is getting older and durability has been a concern. Newsome is a perfect replacement, he is silky fast, full of burst off the snap and has that vertical speed that this offense is lacking. While playing on a UNC offense that featured several NFL skill players Newsome was able to be very productive on limited touches. In 12 games in 2020 he grabbed 54 passes for 684 yards while scoring 7 TDs. Aside from being a very good WR Newsome is an accomplished returner as well, recording over 700 career return yards. Not only is he a superb athlete full of finesse but, Newsome is tough as nails, he is fearless over the middle, he takes a lickin' and keeps on tickin' holding on in traffic and playing through contact. Despite his size Newsome is also a solid blocker from the slot, he does not shy from contact or step in between defenders timidly, he sticks his helmet in to defenders' chests and tries to drive them off the spot. Newsome in the 5th would be a tremendous value.
Previous Mock: S Devine Deablo VT
RD 5
DT Tadarrell Slaton
6'5 335lbs
Florida
For the 2nd mock in a row, I have the Bills taking Slaton accept this time he's moved up into the 5th round, I just cannot find better value and bigger need. Star Lotulelei is set to return this coming season and with that there is a lot of hope the former 1st rounder's presence will help to alleviate some of the struggles the team had up front last season, but he is 31 years old and Harrison Phillips is set to be a free agent at the end of the season so now is the time to invest in a young disruptor on the interior. Slaton is a massive man, with wide shoulders and long arms who looks much slimmer than his weight would indicate. What is intriguing about him is the quickness he possesses and the strength and leverage he is able to play with when he is dialed in. There is plenty of good film of him splitting blocks and making plays in the backfield. There is still an abundance of potential to be extracted from Slaton and put to good use in the NFL, taking him in the 5th is a great value for a developmental 1 tech with upside athleticism. It's no secret that Bills need to get bigger up front, Star is not a lock to return to form in 2021, bringing in a mountain like Slaton in the 5th provides a ton of upside if he can find his consistency.
Previous Mock: WR Jaelan Darden North Texas
RD 6
S Damar Hamlin
6'1 205lbs
Pitt
The Bills are locked in at the safety position for the time being with both Hyde and Poyer under contract for the foreseeable future but the depth behind them has question marks. Dean Marlowe left in free agency and Jaquan Johnson is not the future. Hamlin is a good size prospect with extremely long arms for the position. He enters this draft as a 4-year player with a ton of experience in a variety of alignments, he's played the deep safety, he's been in the box and he's spent some time in the slot. Hamlin is an instinctive, technical football player who shows the ability to process the field quickly which led to solid production as he registering 275 tackles, 10 for a loss, 6 INT's and 21 PBUs in his career. His mental game has certainly helped him to compensate for some of his physical limitations as he is not the most dynamic athlete, clocking in with a 4.60/ 40 on his pro day. With the amount of zone the Bills employ he can find a comfort in their system and find a way to utilize his instincts and ball skills to develop into a viable, developmental piece.

Previous Mock: DT Tadarrell Slaton Florida
RD 7
TE Cary Angeline
6'7 250lbs
NCSU
On paper the Bills do not appear to have many weaknesses certainly not on offense, Beane has done a great job of retaining talent as well as adding some key players. What is missing however is a big, long bodied tight end who can cause mismatch issues in the red zone. Angeline is a massive target with an exceptional catch radius, he has the build of an NBA power forward and can cause a lot of issues in coverage. Over the last three seasons Angeline was mildly productive notching 61 receptions/ 960 yards/ 12TDs but he still has some upside as he moves into the NFL. While his stat line is not eye popping the redemption is in Angeline's ability to block, he uses his ling reach and wide frame to lock out defenders and move them off their marks. While he is not a dynamic athlete, he has enough mobility and size to offer the Bills good value in the 7th round. He can certainly make this team and be a short yardage/red zone factor for an offense in need of a tight end with those skills.
Previous Mock: TE Nick Eubanks Michigan