Buffalo Bills General Manager Brandon Beane said that it was a priority this offseason to become a better running football team.
"Your last game if you make the playoffs, generally will tell you where you're short… Maybe a little bit more balance in the run game. I'm not talking about running it 20 times, throw it 20 times. I'm saying the ability to run it when you have to. Some things like that, that will help our offense."
While Beanes comments should almost exclusively be applied to the offensive line and improving the unit's run-blocking ability, it does bring up an interesting concept of balance in the running game. The Bills have added two young, talented rushers in the draft of the past two seasons in Devin Singletary and Zack Moss. Both are very capable running backs who are incredibly elusive. In fact, Devin Singletary has broken 68 tackles over the past two seasons according to PFF. He did that while splitting reps at the position with Moss in 2020 and Frank Gore in 2019. Singletary in particular is fantastic at breaking three tackles to get four yards.
Moss presents a similar profile, while being a bigger, more physical runner.
There's not a lot of balance at that position because there's not a lot of speed. Both players ran in the 4.6's at the NFL combine, which is why they were available in the third round. There's too much sameness. If you consider his stride and ability to run in space, the Bills most explosive runner might be Josh Allen.
That's why the Bills should consider finding a speed back to add to their platoon in 2021. Either by free agency, or the draft, the Bills could use some explosion in their rushing attack. But it's not as simple as adding a fast guy, as Beane points out,
"Speed alone won't do it, there's fast guys you see them every year in the combine. Some of them get overrated.They still have to be good football players."
With that in mind let's take a look at some potential candidates that might be a cost-effective addition that could put some juice in the Bills backfield. Today we'll look at just potential free agents.
Philip Lindsay
While Lindsay is a restricted free agent, he's in a bit of a peculiar spot in Denver. The Denver native was the team's lead back his first two seasons in the league, only to be replaced as the team's starter in 2020 by free agent Melvin Gordon. He's also vocally unhappy with the situation.
"Everybody knows that I can run inside well," Lindsay told Nick and Cecil. "But come on now, I'm 190 pounds. I can't sit there and run up the middle 24/7, that's just not my style. I have all this speed, I have great vision, I'm a person that can accelerate at any time. I just need to be put in position at times where you can get the pulling guards and you can get the screens, the draws. That stuff right there accelerates a running back especially my type." — Luke Patterson si.com
Lindsay has been one of the most explosive runners in the NFL over his first three seasons and flashed big plays when given the chance last year.
Remember, this is one of the few times we're actually looking for just highlights. Lindsay has plenty of runs for no gain on his film, but when he's given a clear path, he can make impressive things happen and would add the exact element of speed and competency that the Bills are looking for.
The outlook for the Denver running back room is incredibly murky. Lindsay could hit free agency this season if the team decided to not tender him while both Gordon and 2018 third round pick Royce Freeman are free agents after the '21 season. If Buffalo could acquire him for a two million dollar RFA tender, he would be a steal.
Matt Breieda
Breida is a speed-only threat at running back that has trouble breaking tackles or playing through contact. Yet when he gets into the open field, his 4.38 speed takes over.
Of all of the options, the former 49er and Dolphin is likely more in the realm of possibility for the Bills. He's not much more than a gadget player, but he's proven that when he gets a favorable matchup in the passing game or an open hole to run through, he's a big play waiting to happen.
Kenyan Drake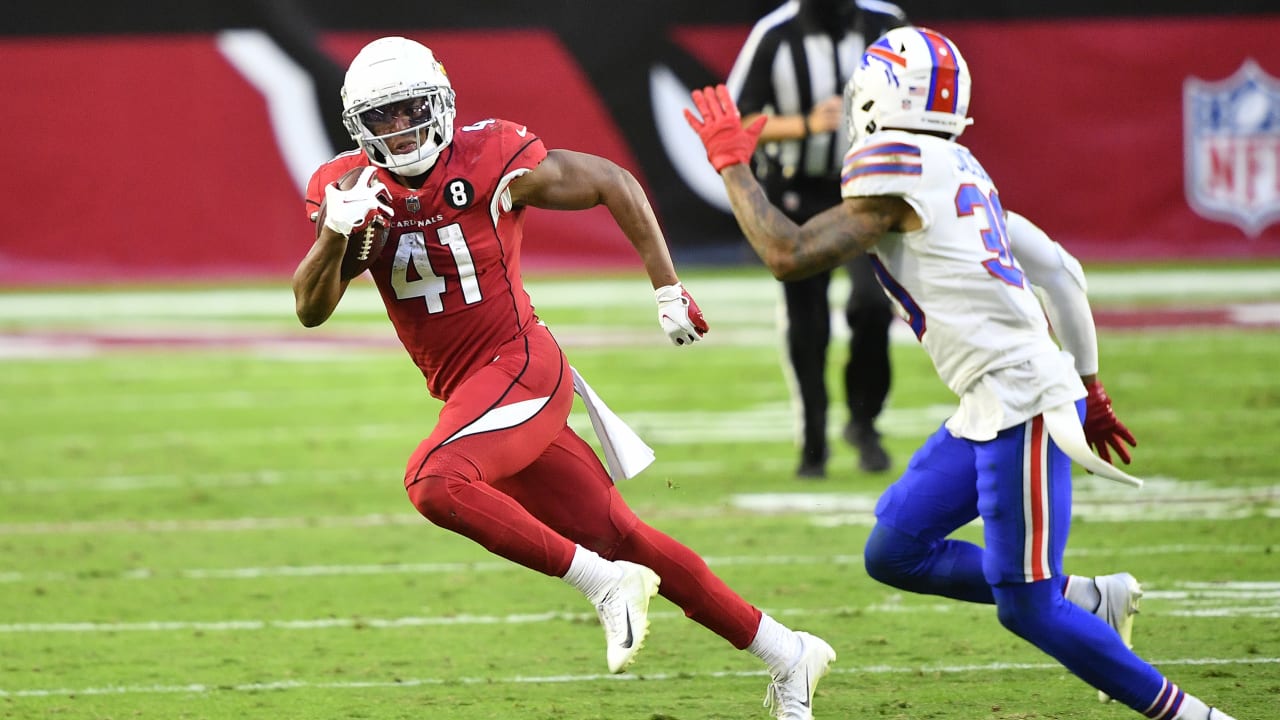 Drake may command too high of a price for the Bills this offseason, but his ability to create big plays in space fits the profile.
Spotrac.com estimates Drake's free agent value at just over eight million dollars, which is too rich for just about any team (other than the Jets) with a reduced cap in 2021. Drake has also lacked consistency in most of his stops along his career. If the running back market bottoms out in March, Drake could be a bit, but it's unlikely.
Tevin Coleman
Coleman made his name in Atlanta where he was the perfect compliment to Devonta Freeman's elusive-but-not-fast running style. Coleman is a straight-line runner that struggles to do much more than make big plays when he has a highway paved in front of him.
Injuries are a concern with Coleman as well. He's a risk-reward signing that could be had for a very modest price.
In-House Candidate:
Christian Wade
Wade has been with the Bills for two seasons now learning football after his transition from Rugby in Europe. He's about as long of a shot as you can get, but from his first touch in a Bills uniform, he's shown 'wow' speed.
Ultimately the blocking up front will decide how effective the Bills are when they run the football. If they address that Moss and Singletary can begin breaking tackles downfield and not at the line of scrimmage. Both players are quality running backs who have done a fine job with the position. However, if the Bills want to hit some home runs next year, adding a player with speed would bring balance to an already solid unit.