As many anticipated it was announced on Wednesday WR John Brown was released which capped off a busy 48-hours of moves for GM Brandon Beane. A day earlier he restructured Mitch Morse's contract in an effort to retain the veteran center, saving nearly $2M before he went on to release John Brown and DL Quinton Jefferson while restructuring DT Vernon Butler's contract. Brown proved himself to be somewhat expendable this year as he missed a large portion of the season and despite his absence the offense went on to perform at a record setting level. This coupled with the $9M that was owed Brown certainly made Beane's decision to release him that much easier. Though the offense produced without Brown in the lineup the need for an explosive, vertical threat to keep defenses from double teaming Stephon Diggs is still paramount. While Beane would love to bring in a top tier Free Agent to replace Brown's speed and game changing ability the fact of the matter is he will have to settle on drafting his replacement somewhere on day two or three. Here are a few players who fit the Brown mold that Beane could target.
Marquez Stevenson Houston
Stevenson is a straight-line speedster who possesses the quickness to get on CBs in a hurry with the burst to separate and get over the top for the big play. In four years at Houston Stevenson amassed serious production 147 receptions/ 2269 yards/ 22 TDs and has hauled in TDs of 90, 80, 70, 60 and 50 yards over his career and while he has made a name for himself on his ability to get behind secondaries, he has the vision and explosiveness to turn short gains into home runs.
While Beane may not be in the market for returner just yet it should be noted that Stevenson is an accomplished kick returner, compiling 889 yards on 34 attempts with a 26.1 avg. and 3 TDs. At 6'/180lbs. and running a reported sub 4.4 forty-time Stevenson has the skills to elevate this passing attack and fill the void left by Brown, he would fit wonderfully into this offense as not only a vertical threat but a gadget player who can be lined up and motioned all over the formation to isolate man to man coverage opportunities.
Projected Round: 4th
Tutu Atwell Louisville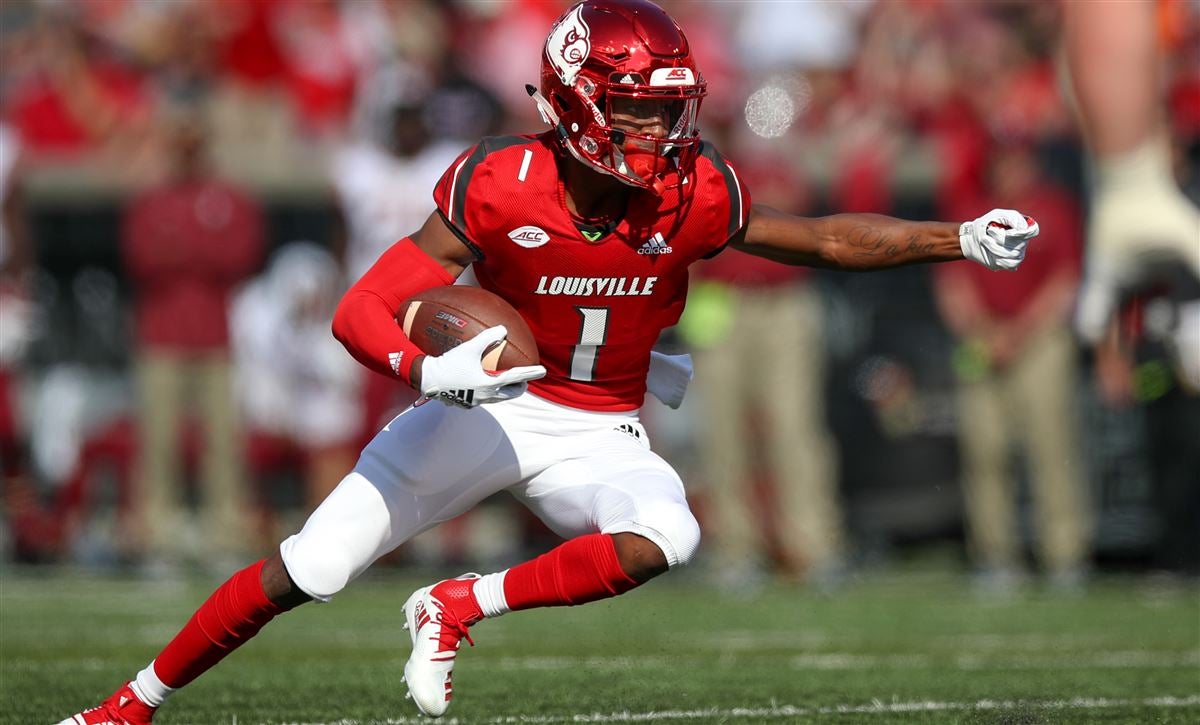 Atwell is an absolute burner; who has the elite speed to take the top off of any defense, just go watch his film and you will see him running away from defenders with ease. There are few if any DBs who can run with him step for step. Louisville reports they clocked Atwell in the sub 4.3 range, though he has yet to be officially timed by NFL scouts anything within the margin for error in the 4.3 range is supernatural.
Atwell is not the largest WR in this class by any means, standing at 5'9-160lbs with a frail frame but he has not allowed his size limitations to hold back his production. He finished his three-year career at Louisville with 130 receptions/ 2,156 yards/ 21 TDs. While Atwell is not a refined route runner and has certain limitations at the next level with his elite speed and ability to run after the catch he could make for an intriguing fit in Buffalo and give Allen that much needed vertical weapon going forward.
Projected Round: 3rd
Elijah Moore Ole Miss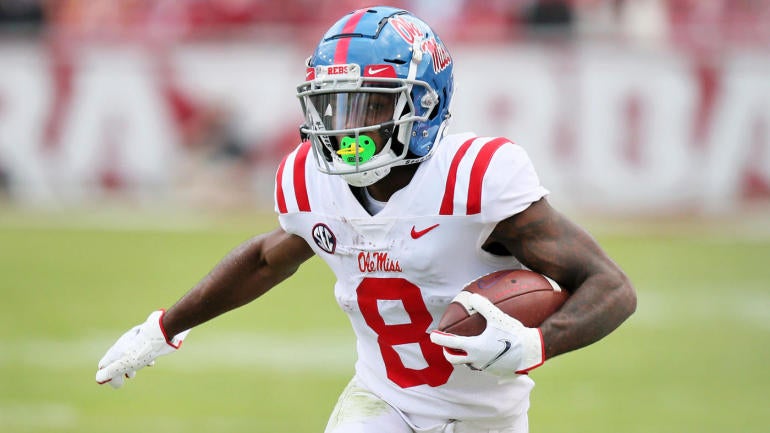 While Moore may not have the elite level speed as others on this list, he is not far behind. He has a great suddenness to his movements, and is able to get down field defenders where his polish and precision as a route runner help him to separate from defenders. In 2020 he hauled in 86 receptions/ 1,193 yards/ 8TD while at Ole Miss. Moore has the skill set to not only add the vertical dimension to the Bills offense, he has the exceptional hands and the playmaking ability to do a multitude of things to lessen the blow of the Brown departure.
He has the shake and shiftiness to be used on screens and reverses where he can exploit his speed around the edge or in the open field. Moore's versatility would make him a great fit in Daboll's system and should certainly find himself on Beane's big board.
Projected Round: 5th
Anthony Schwartz Auburn
The term "track speed" gets thrown around far too often when describing the speed of a player, with Schwartz the term most certainly applies, he has the track speed and as a member of Auburns track team he has the accolades to prove it. As a youth he ran the 100 meters in 10.15 seconds setting a world record. If it is speed this offense needs then Schwartz is a perfect fit, when it comes to the 40-yard sprint he has reportedly been clocked as high as 4.34 and as low as 4.27, impressing even Deion Sanders on his 57 yard reverse vs. TAMU that he took to the house.
While Schwartz left Auburn with very modest numbers 117 receptions/ 1,433 yards/ 6TDs the ceiling at the next level is high for the 6'/180lbs. burner. With his skill set and world class speed he could make for a great parring with Josh Allen and his ability to throw the deep ball, Schwartz might be the only player in this draft fast enough to track down his bombs.
Projected Round: 4th
Ihmir Smith-Marsette Iowa
Smith-Marsette is flashy fast with a pair of exceptional hands he has used to make some highlight reel grabs with while at Iowa. He certainly has the vertical speed to explode off the line and get into secondary in a hurry, and with the ball in his hands he has the sharp slashing moves where he can turn short gains into big ones with ease. Unfortunately, all of his talents were not put on display at Iowa this past fall as he fell victim to subpar QB play and a run first offense, managing only 25 receptions/ 335 yards/ 4TDs.
Like all of the others on this list Smith-Marsette's potential is high, he has the ability to make an early impact for this offense, not only with his speed and stellar hands but with his ability to return kicks, if Beane should move on from Roberts.
Projected Round: 5th