The off-season is finally upon us and with it comes the optimism for a replenishment of new talent but this time around it is safe to say we won't be seeing any Stephon Diggs level deals being struck. GM Brandon Beane laid that out pretty clearly during his end of the year conference with reporters this week, stating concerns with a tighter than expected cap and of course the looming Josh Allen deal. Both will more than likely put the kibosh on the hopes for a big splashy signing, so it looks like we will have to put the Khalil Mack to Buffalo hopes on the back burner for at last another year. Beane already hinted at "some tough decisions" that have to be made soon and though he didn't say which ones we can speculate that he will not be re-signing LB Matt Milano who will command a contract netting him somewhere in the ballpark of $10-13 million a year which is far too much for my liking. With that it is almost certain that Beane will likely be shedding some of the dead weight he accrued last year in DT Vernon Butler, DE Mario Addison, DT Quentin Jefferson and quite possibly WR John Brown who proved he was expendable this season as he missed significant time while the offense did not seem to falter in his absence. All and all these four cuts would save the team about $40 Million this offseason which is a good chunk of money to play with. With that money there are some sensible, low risk-high reward moves Beane could make that would improve this team. I have highlighted five cost effective signings we can to sure up this roster and make another run at a Super Bowl.
Daryl Williams Right Tackle "The Priority"
Maintaining continuity along the offensive line is difficult, finding high level talent is even more so. Beane struck gold when he brought the ex-Panther in on a 1-year flyer as he performed at a Pro-Bowl level playing 1050 snaps, earning a PFF grade of 79.4- giving up only 3 sacks on the year. Given the market and what is available at Right Tackle signing Williams should be a priority, sure we could invest a top pick in one of the tackles from a deep class, there are many highly rated that should still be on the board in rounds 1 and 2 but there is no guarantee they will be NFL ready come September. Protecting Josh Allen, our franchise QB is a must, this team will only go as far as he can take us, so keeping him up right and out of harms way should be a no brainer. Bills should Sign Williams before anyone else this offseason.
Contract: 4 Years $45M/ $11.2m per year
Jonnu Smith Tight End "The Big Upgrade"
Dawson Knox seemed to come into his own down the stretch, but he is still raw in a lot of ways and probably won't ever develop into an elite level tight end. Sure, he is serviceable, a guy who can make the catches and pick up a few yards after, but we haven't really seen him break out in his two years and quite frankly we're getting impatient. Josh Allen needs a tight end now who can stress defenses, present serious mismatch issues in coverage and be the red zone nightmare this team is desperate for. Smith is all of those things, an uber athletic TE with strong hands that knows how to beat coverage, find the open zone and make contested grabs. He is definitely an upgrade from Knox, coming off a season where he brought down 41 grabs for 448 yards and 8 TD's one of which he hauled in for 63 yards, while in a run heavy offense.
CONTRACT: 3YR/$25M/ $8.3M per year
Ndamukong Suh Defensive Tackle "The Impact Vet"
Suh has been a very productive DT for a very long time and even at 34 he is still a force to be reckoned with. He's still extremely difficult to block one on one and he is still as disruptive as ever before, getting to the ball and to quarterbacks routinely in year 10, notching 43 TKLS and 6 sacks (twice as many as Oliver). Yes, Star Lotulelei is due back next year and should bring some stoutness to this defense but beefing up this interior with the likes of Suh and Lotulelei, two mountainous men rotating in the middle would make for a monumental front. Suh's presence would help the development of the young guys around him, it would ensure Oliver stays out at the 3Tech where he belongs, facing single blocks where he can use his speed and explosiveness and finally develop into the player he was drafted to be. It would also allow LB Edmunds to move about cleanly, reading and filling without the traffic he faced in 2020. Suh would be an investment into our young core of players and should be a no brainer, if you find yourself opposing this contract just remember we gave Vernon Butler a 2YR $15M deal.
CONTRACT: 1YR/$7.5M
Matt Breida Running Back "The Speed Back"
I believe Beane will spend a top draft pick bringing in a guard to bolster this interior line to help correct this run game, but it will still need an injection of breakaway speed to feature. Both Moss and Singletary are capable backs who are more of chain movers and grinders but an infusion of speed in this backfield would be a welcome addition. Breida had a breakout season with the 49ers in 2018 which carried over into 2019, before leaving to sign a 1 YR/ $3.2M deal with the Dolphins in 2020 but found himself in a very crowded backfield and is now looking for another home. Bredia is not a feature, workhorse back, that is perfectly fine, we're not looking for him to be that here. He has legitimate 4.3 homerun caliber speed which could easily be utilized in Dabol's offense especially as a pass catcher. In 4 NFL seasons Bredia has amassed 657 yards on 76 receptions, crossing the goal line 4 times. It could be this sort of crafty signing that makes all the difference.
Contract: 1 YR $2.5M
John Ross Receiver "The Take a Flyer Guy"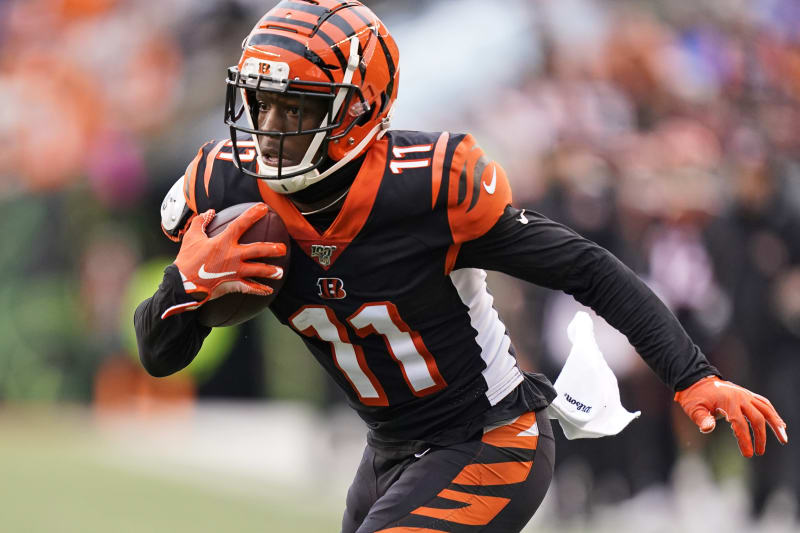 Ross is a former 1st RD pick of the Cincinnati Bengals who is probably known more for his performance at the combine, than for his play on the field where he clocked in an eye-popping 4.22 forty time but that doesn't mean the talent is not there. When he was healthy and, on the field, Ross played decent at times and delivered on his deep threat promises, scorching some secondaries along the way. In 2019, his best season as a pro Ross had 28/506/3 averaged 18 yards per catch. The problem with Ross is that he has not been able to stay healthy and, on the field, very long. In his four seasons in Cincy, he missed a whopping 37 games, playing in only 3 last season. While that should be a huge call for concern it is also a means of leverage for Beane, bringing in Ross would be a dirt-cheap option and certainly a low risk, high reward payout. Ross could potentially serve as an x-factor in Dabol's offense, taking on a more expanded Isiah McKenzie roll where he could be utilized not only in the vertical game but featured on end arounds, quick screens and other innovative type gadgets that would take advantage of his speed. If Ross is able to stay healthy and Dabol is able to incorporate his world class speed into the offense things could be quite scary for defenses in 2021.
CONTRACT: 1 YR $2.5M