RD 1 Zaven Collins Tulsa (6'4-260lbs)
I am absolutely in love with this prospect and have him going 30th to the Bills in my first mock draft of the season. I have watched a ton of his film and it is hard for me to find any real flaws in his game. Last season he set college football on fire racking up 54 tackles, 4 sacks, 4 INT's and 2 TD's in a shortened 8 game season on his way to being named the Nagurski Award winner for the best defensive player in the nation. Collins is a complete 3-down linebacker who has the athleticism at 260lbs.
To hold up well in man-to-man, he has the vision and quickness to ball hawk in zone coverage, he has the physicality and toughness to thrive in the box and shut down the run but what I love most about him, what he brings to the table that Matt Milano rarely did is his ability to cause mayhem in the backfield and get to the quarterback. Whether he is reading and reacting or blitzing, Collins sees the ball-he gets the ball, there is no wasted motions, no false steps, no hesitation. If the Bills are fortunate enough to draft Collins at #30 trust me the Milano grieving process will be very short lived.
Day 2 Jabril Cox (6'3-235lbs) LSU
Cox was an FCS superstar in 2019, putting together one of the best seasons in recent memory, 91 tackles, 9.5 for a los, 4 sacks and 4 INTs before becoming a graduate transfer and attending LSU in 2020. Many scouts wondered what the jump from the MVFC to the SEC would look like for Cox, would he be overwhelmed and overmatched? The answer was quite simply…no. Cox performed well in Baton Rouge, proving he belonged amongst the nations elite. He has a long, thick muscular frame and plenty of athleticism to match. He has a silky quickness, long strides and loose hips make his burst to the ball seem effortless. He has great seek, and destroy mindset for the position, he locates the ball and like a missile he blows it up. His bend and burst make him a natural edge rusher and with his closing speed the ceiling is high for him. Cox is also an accomplished coverage guy, physical enough to body bigger tight ends but also agile enough to mirror backs.
Cox stock is rising after a solid Senior Bowl showing but with a deep pool of edge guys this draft there is a reasonable belief he may still be on the board in the 2nd or 3rd rounds. If he is still there and the need was not filled yet, Beane would have to make the call and draft the kid.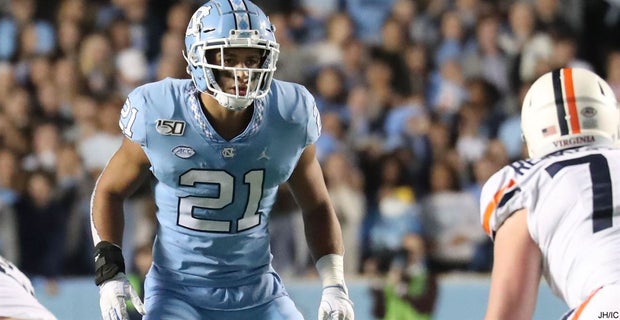 Day 2 Chazz Surrat (6'3-235lbs) UNC
When watching his film, Surrat reminds me a lot of Milano, aside from having the same physical make-up and being a converted LB, he possesses many of the same skills. He is highly athletic, very agile and reaches his top speed fairly quick. Much like Milano he is by no means a bruiser in the box, but he understands scheme extremely well and is adept at finding the seams and knifing through traffic into the backfield. His lateral movement is impressive, he scrapes and attacks well protecting from hash to the sideline and his speed makes him a good backside pursuit player.
UNC preferred to utilize his talent almost exclusively as a blitzer so he is far more versed in that aspect than he is in coverage, but his quick feet and loose hips will serve him well. Surrat had a nice senior bowl showing and is climbing up draft boards, Beane could take a serious look at Surrat as early as the 3rd round but the best value for him would be somewhere in the 4th.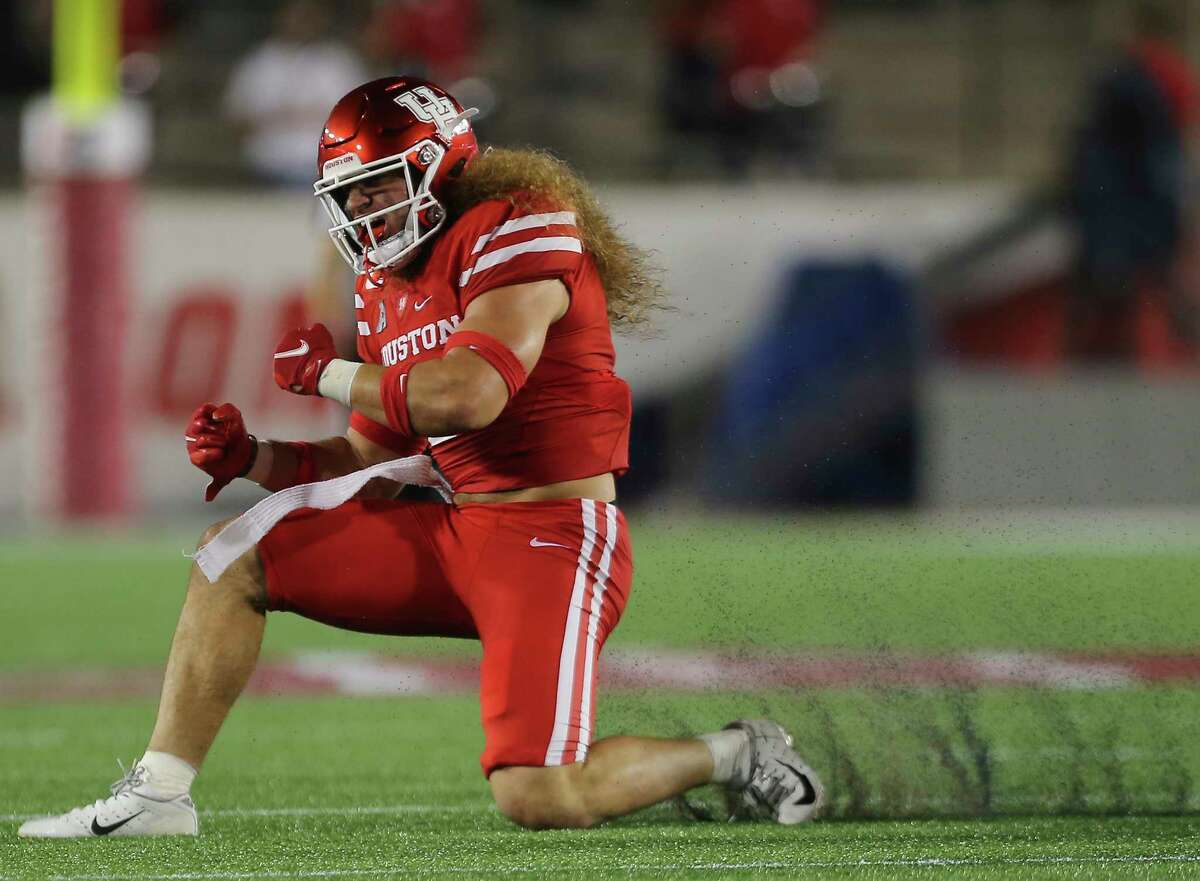 Day 3 Grant Stuard (6'1-225lbs) Houston
Stuard is a pleasure to watch, he reminds me of a Tasmanian devil in pads, running around like a wild man making plays. The term "high-motor-guy" gets thrown around a lot when evaluating defensive prospects but when applying it to Stuard it fits. He is definitely not the biggest guy for the position; he could certainly benefit by adding some weight before making the transition to the NFL, but his size certainly has not prevented him from being productive in college, mounting 158 tackles, 16.5 for a loss and 2 sacks over the past two seasons. He has very swift burst and is a superb tackler who takes great angles and applies strong technique when bringing down ball carriers.
He is also an adequate cover guy when tasked with the responsibility, he displays good footspeed and suddenness to hold up. Depending on how the board falls Beane may see more value elsewhere before deciding to address the LB position and if he waits, he is going to have to find the diamond in the rough much like Whaley did with Milano drafting him in the 5th round. Stuard isn't poised to be a high draft pick, but he could prove to be a late round steal for the Bills.