There is still a lot to be sorted out before the April 29th draft, players will hold individual workouts, colleges will hold pro-days and hopefully many will participate in a full out Indianapolis combine. With that some guys will rise, and some will inevitably fall before the first name in the draft is even called. There is no way to know which direction this draft will go, often times it's like throwing darts at a board trying to predict what names will come off the board and when, but a few things are for certain, given some of the Bills inadequacies on the defensive line if any of these players should fall to them at 30, Brandon Beane should definitely consider taking them.
DE Gregory Rousseau Miami 6'7-265lbs
The likelihood of Rousseau falling to 30 would be on the slim to non, but stranger things have happened, just go ask future Hall of Famer Aaron Rodgers about dropping in the first round. Rousseau is an absolute freak of nature, he's the type of player you create in Madden to wreak havoc on QBs and chase down ball carriers. He is a towering 6 foot 7 inches tall, with a rock-solid build to match and moves with the fluidity and ferocity of a jungle cat. He is my top-rated edge rusher in the draft, gifted with an exceptional combination of length and athleticism, there might not be another player coming out who owns a higher ceiling than him.
Although it was a stellar one, Rousseau only has one season under his belt after opting out in 2020. So, there may be some questions surrounding him, but what no one is questioning is the freakish talent he possesses. The Bills have been lacking a true edge threat since the days of Mario Williams and Rousseau would instantly upgrade this front and solve a lot of issues. If he happened to fall to the Bills at 30, Beane should not hesitate to write his name on the card and hand it to the commissioner.
DE Carlos Basham Wake Forest 6'4-280lbs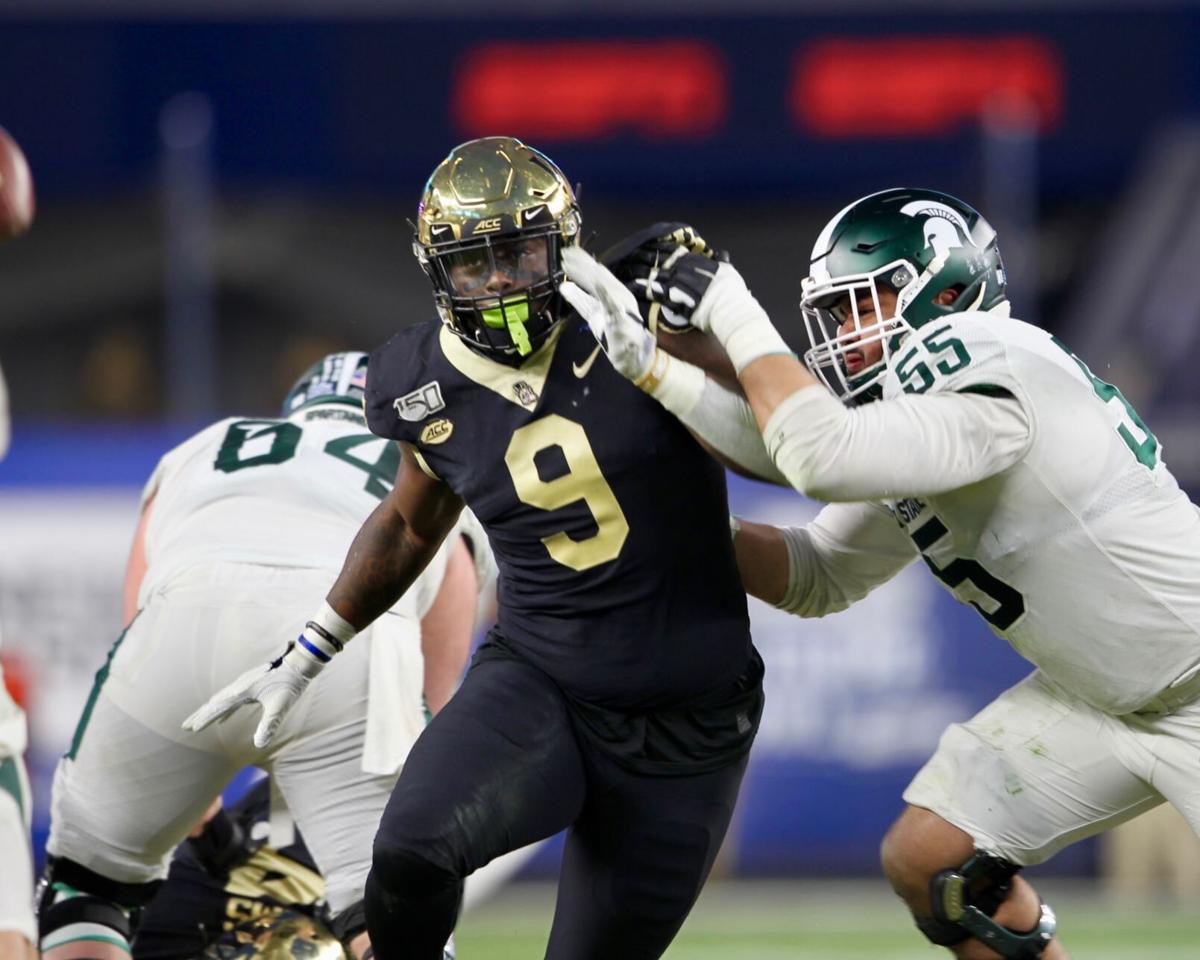 Basham doesn't have the freakish length and athleticism as Rousseau, but he has plenty of the talent. Basham is a relentless defender who owns a pair of powerful hands which he uses to press and shed lineman out of his way regularly. What jumps out about Basham when watching his film is his arsenal of pass rush moves, many rushers rely solely on their speed to bend the end or their power to push the pocket. Basham has a terrific blend of both and he does a great job of turning his speed rush into power or vice versa. What intrigues me most about Basham and makes him a good fit for Buffalo is his ability to not only rush the passer but to be stout against the run.
He has the size and strength to anchor the edge and control the line of scrimmage, making him one of the more complete edge players in this draft. Sure, Beane will have other positions to consider but if Basham is on the board here, he will have to take a long hard look at him.
DT Levi Onwuzurike Washington 6'3-289lbs
Onwuzurike may have the most natural power of any D-lineman in this draft, this guy absolutely manhandles lineman like its child's play. His ability to strike and shed blocks is a sought-after trait for scouts and he has it in spades. He is not just a block eater though plugged in to keep linebackers clean, he's a playmaker equipped with a cache of moves that free him up to seek and destroy. Onwuzurike may be sub 300lbs but he's shown the ability to play anywhere from the 0 to the 5 with equal success, his power game makes him incredibly versatile. Yes, we have an Ed Oliver in place.
Yes, we have needs elsewhere that would be more pressing than drafting a luxury lineman but in certain instances it serves a team to take the best player available and depending how the draft plays out Onwuzurike may end up being just that.
DE Jayson Oweh Penn State 6'5-260lbs
Oweh possesses exceptional athleticism for a prospect of his size, he has a tremendous get off, paired with a natural bend and dip off the edge that makes him a difficult player to contain. He is more than just a flashy pass rusher though; he has the natural length and power to stack blocks and be stout against the run, as well. He also has the high motor and closing speed to be a relentless chase down defender that would command attention not only play side but on the back end.
Though Oweh has certainly shown he has the talent and production to be a first round pick he is still relatively raw in his development when compared to other ends in this draft, Beane would not be pulling the trigger on an immediate plug in and play prospect he would be bringing in a guy who can help some today but be dominate tomorrow. When Oweh puts it all together, he has the talent to be a perennial Pro-Bowler and it's because of that, if he's available at 30, Beane would be a hard pressed not to consider him.