It is officially that time of the year where the glistening lights of all 32 NFL stadiums have temporarily shut off, leaving nothing but time to speculate and overanalyze each team's next moves as the offseason progresses. Following a superb offseason that earned him "Executive of the Year" recognition from multiple outlets, Buffalo Bills GM Brandon Beane turns his focus back to the busiest time of the year, draft season. As the league wide cap projects to sit around $181 million, making trades and signings will be much trickier than in years past. That being said, getting as much value as possible from each draft pick will be even more crucial, especially with tough financial decisions to be made on free agents such as LB Matt Milano and RT Darryl Williams. The Bills currently possess 8 picks in the upcoming draft, the first of which sitting at 30th overall. There are plenty of different directions Beane can opt to go, whether that means trading up for a coveted prospect, trading down for more picks, or even staying put. Every year, player's draft stocks rise and fall dramatically in the months leading up to the draft, making it virtually impossible for mock drafts to be accurate this early on in the process. Still, there are a good amount of potential fits that could be available no matter which route the Bills decide to take, leaving plenty of reason to take a closer look at each of these prospects that may be available for them in the early rounds.
Jabril Cox
School: LSU | Position: LB
Height: 6′ 4″ | Weight: 231 lbs
To kick things off, what better place to begin than the position that is most impacted by the Bills approach in free agency? The Bills have a tough decision to make on whether they should pay LB Matt Milano top dollar at his position, or let him walk elsewhere. Should they decide to move on from the talented linebacker, LSU's Jabril Cox figures to be a viable replacement option. After spending the beginning of his collegiate career at FCS powerhouse North Dakota State, Cox played his final NCAA season with the defending National Champion LSU Tigers. Cox possesses great ballhawking skills in coverage as well as the downhill closing speed needed to cut down opposing skill players, proving to be the exact type of prospect Beane should be eyeing at the position. Cox projects to be an early day 2 selection, leaving the door open for Buffalo if they have interest.
Wyatt Davis
School: Ohio State | Position: G
Height: 6′ 4″ | Weight: 315 lbs
One of the biggest downfalls of the Bills this season was the inability to run the ball effectively. Now, that does not mean the Bills should return to a "ground & pound" offense like they have in years past, but they do need to avoid becoming one dimensional. The Bills recently invested a second round selection in OL Cody Ford back in 2019, but after transitioning from right tackle to guard, where many believe he projected to thrive long term, his season came to an abrupt end with a meniscus tear. Recently, GM Brandon Beane reaffirmed his belief in Ford, stating "I would be surprised if he's not a starter in our front five next year" during his end-of-season press conference. Even with Ford seemingly locked in, do not rule out spending another high end draft pick to address the interior O-Line. Wyatt Davis ranks as one of the top offensive guard prospects in this upcoming draft. Initially projected as high as a top-5 pick before this season, Davis' stock fell off just a bit during the 2020 campaign. After opting out at first due to uncertainty over whether or not the Buckeyes would have a season, Davis returned to help lead his team to a National Championship appearance. While his performance was not as dominant as it was in 2019, Davis still thrived as a run blocker and projects to be a late first round pick as of now, but his stock may rise again as the draft process unfolds.
Travis Etienne
School: Clemson | Position: RB
Height: 5′ 10″ | Weight: 205 lbs
Another direction the Bills could potentially choose to jumpstart their run game would be to add a game changing playmaker at the running back position. Many are often wary of taking RB's in the first round, and for good reason. However, way down at pick number 30, the risk is not nearly as high as it would be in the top 10. For those who believe that Brandon Beane would not dare to draft a halfback in the first round, it is important to remember that Beane was a big part of the reason why the Carolina Panthers selected RB Christian McCaffrey with the 8th overall pick, recently referring to the selection as a "sleep good at night pick" last April on the Pardon My Take podcast. Drafting an RB is certainly not out of character for Brandon Beane, and securing a next level pass catching back similar to how McCaffrey is utilized could be the way to go. The back that best resembles that mold would be Clemson RB Travis Etienne, who averaged 7.2 YPC throughout his collegiate career. On top of that, Etienne recorded a career high 588 receiving yards this past season, proving he does not have to run the ball to be effective. Providing Josh Allen with a playmaker of Etienne's caliber could be a tempting option for Brandon Beane should he fall to the 30th pick.
Pat Freiermuth
School: Penn State | Position: TE
Height: 6′ 5″ | Weight: 258 lbs
When Brandon Beane met with the media at the conclusion of the season, he clearly singled out the need for more production at the tight end position. After watching elite TE's such as Travis Kelce, George Kittle, and Rob Gronkowsi each help lead their teams to the Super Bowl in the past two seasons, it is abundantly clear how impactful it is to have a legitimate threat at that position. The Bills received little to no production from their tight ends this season, as Dawson Knox took a considerable step back from his rookie season. Looking to build off a season in which he recorded 676 receiving yards and 5 TD's, Knox only caught 24 passes for 288 yards this year despite a historic year production wise from the rest of the Bills offense. Additionally, Tyler Kroft never lived up to the expectations from when he first signed, indicating a need for the Bills to go in a different direction moving forward. While the most coveted TE prospect, Kyle Pitts from the University of Florida, projects to be long gone by pick 30, Penn State TE Pat Freiermuth is not just a consolation prize. In only 4 games this season, Freiermuth outgained Knox with 310 receiving yards, following back-to-back seasons of scoring 7+ touchdowns. Freiermuth has the size, build, and speed necessary to become a dominant receiving threat at the next level. He still needs to develop more as a run blocker, but his large frame has still earned him some comparisons to Rob Gronkowski. Obviously, those are lofty expectations to have, but it is fair to at least project him as a clear upgrade over what the Bills have currently.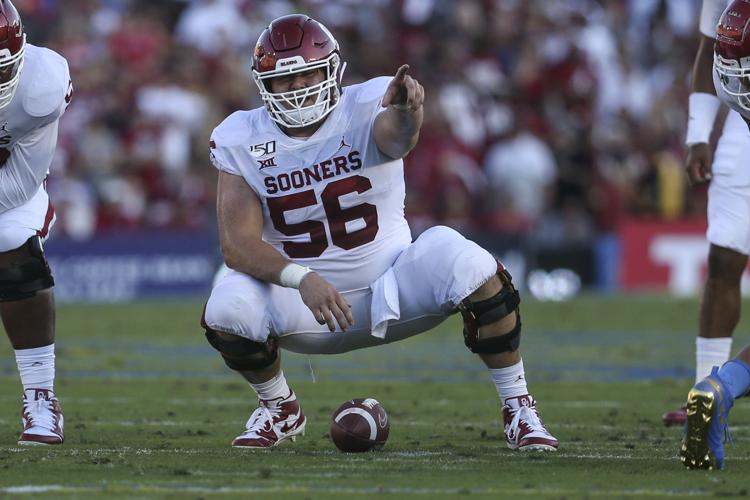 Creed Humphrey
School: Oklahoma | Position: C
Height: 6′ 5″ | Weight: 320 lbs
Here is where the tough offseason decisions come into play for Brandon Beane. Two offseasons ago, the Bills splurged in free agency to make Mitch Morse the highest paid center in the league at the time. Morse has done a respectable job keeping Josh Allen upright so far, but his concerning history of concussions casts doubt over whether he will be able to endure the last two years of his contract. If Brandon Beane chooses to move on from Morse, the Bills would save $7.6 million in cap space if designated as a post-June 1st release. That could be vital in the ability to bring back Darryl Williams to man the RT position, or even upgrade the pass rush with limited cap space at the moment. Of course, the Bills would have a couple different options in terms of replacing Morse. They could bring back Jon Feliciano, whom they love, to play center where he has filled in nicely whenever Morse was injured. The other option would of course be to find a replacement in the draft. Creed Humphrey appears to be the best candidate for the job in this upcoming draft. In 3 seasons at the University of Oklahoma, Humphrey was a stone wall in the middle of the Sooners offensive line. Humphrey earned Big 12 Offensive Lineman of the Year honors in 2020, managing to not allow a sack in over 1200 snaps combined between his last two seasons.
Brevin Jordan
School: Miami | Position: TE
Height: 6′ 3″ | Weight: 245 lbs
Yet another tight end prospect to keep an eye on, Brevin Jordan, while different in stature compared to Freiermuth, also has the potential to be a dominant receiving threat in this Bills offense. Jordan's quickness and run after catch ability stand out on tape, showcasing what makes him such a problem to defend. He moves as fluidly as a typical wideout, as his combination of size, speed, and athleticism leaves most opposing linebackers and safeties without any answers towards stopping him. Jordan joins a long line of coveted TE's from "The U", as names such as David Njoku, Jimmy Graham, and Greg Olsen are among several other notable talented Miami Hurricanes to have recent success in the NFL at the position.
Quinn Meinerz
School: Wisconsin-Whitewater | Position: IOL
Height: 6′ 3″ | Weight: 320 lbs
The biggest standout from this year's Senior Bowl came from an unlikely source, a Division III lineman out of Wisconsin-Whitewater. Quinn Meinerz absolutely dominated Senior Bowl week, showcasing his ability to toss around top talents from much bigger schools. Sporting a flowing haircut and crop top jersey, Meinerz' performance is ultimately what was most memorable about him. His draft stock rose exponentially throughout the week, demonstrating exactly why this week is so important for seniors across the nation who receive invites every year. Meinerz is a mauler in the run game with versatility at both center and guard, which is exactly the type of player Bills OL Coach Bobby Johnson loves to work with. Meinerz appears to fit everything the Buffalo Bills are trying to build, so do not be surprised if the team tries to land him with one of their picks.
Hamsah Nasirildeen
School: Florida State | Position: S
Height: 6′ 4″ | Weight: 220 lbs
Nasirildeen is listed as a safety, but he has the potential to be utilized much differently in Sean McDermott's defense. One of the major factors that stood out during the AFC Championship loss was that to keep up with the Chiefs offense, you need to possess next level speed on defense. Given Matt Milano's impending free agency, drafting a much bigger safety such as Nasrildeen to replace him could provide a revolutionary way to approach the linebacker position. Asking Nasirildeen to play linebacker is not a foreign concept to him, as the top recruit had plenty of experience as a hybrid defender leading up to his collegiate career.  At 6'4", Nasirildeen is clearly big enough to transition to linebacker full time, opening up the possibility of him becoming a chess piece for a Buffalo defense that needs more speed in coverage. Nasirildeen has a high football IQ, great instincts, and the quickness to fly around from sideline to sideline. As of now, Nasirildeen projects to be a second rounder, but there is a good chance his stock rises as the draft process develops.
Jeremiah Owusu-Koramoah
School: Notre Dame | Position: LB
Height: 6′ 1″ | Weight: 215 lbs
Yet another intriguing linebacker option for the Bills should they let Matt Milano walk, Jeremiah Owusu-Koramoah out of Notre Dame is one of the top prospects at his position in this upcoming draft. If the Bills are looking for a linebacker that can both thrive in coverage and take opponent's souls with monstrous hits, Jeremiah Owusu-Koramoah is their guy. He is exactly the type of linebacker teams covet in the modern day NFL, drawing comparisons to Tampa Bay Buccaneers LB Lavonte David, who put on a defensive clinic alongside Devin White in the Super Bowl. In order to match up with teams like Kansas City, landing a rookie linebacker like Owusu-Koramoah is an ideal way to start. Especially after the way Tampa Bay's linebackers performed against KC, his draft stock is almost certain to rise in a copycat league. Buffalo would be lucky to draft him should he fall far enough.
Asante Samuel Jr.
School: Florida State | Position: CB
Height: 5′ 10″ | Weight: 183 lbs
If you think the name sounds familiar, you assumed correctly. The son of two-time Super Bowl Champion, four-time Pro Bowler, and former first team All-Pro CB Asante Samuel of the Patriots, Eagles, and Falcons is now ready for his turn at the NFL. The entire world just witnessed another son of a former star NFL corner, Antoine Winfield Jr. shine on the game's brightest stage in Super Bowl LV. Perhaps Asante Samuel Jr. is the next to make that same impact as a rookie. Samuel Jr. recorded 4 interceptions and 29 pass breakups in 32 games at Florida State, displaying the abilities to make plays on the outside. Buffalo is in need of a young, productive CB2 on a rookie contract to pair concurrently with Tre'Davious White as his big deal kicks in. In recent years, the Bills have employed one year veteran stop gaps at the position such as Vontae Davis (who did not work out), and Josh Norman who yielded most of his playing time to Levi Wallace. While impressively earning a starting spot as an undrafted free agent in 2018, Wallace does not appear to be the long term answer at CB2 as of now. Samuel Jr. currently projects to fall around the Bills late first round pick, creating the possibility that he ends up in Buffalo if they see fit.
There are endless possibilities for Brandon Beane and the Bills front office as they evaluate and sort out their favorite prospects in this year's draft class. As the 2021 NFL Draft inches closer, those options should narrow down once free agency plays out. One thing is for certain, and that is that there are a wide collection of prospects worth getting excited about this April.